WordPress Backup Plugin
Plugins are tools designed to make your job easier. There are numerous plugins designed specifically for WordPress websites, each with its own set of functions. WordPress Backup Plugin is one of the most significant category plugins, allowing you to set up automated backups or take manual backups. It backs up all of your website's data, files, media, and other items.
With WordPress Backup Plugin you can choose whether you want to back up the whole database and files or just the database. Furthermore, in the backup plugin, there will be an option of backing up manually or automatically to backup by yourself or choose the files you wanted to back up in a certain time interval and let the system back up the selected files for you.
Why do you need to backup your website using WordPress Backup Plugin?
Obviously, the above question comes to your mind and that's great because you must gather information about the backup plugin before installing it on your website.
Let's say you have a large amount of data on your e-commerce website. If your website is hacked, you get a virus, or someone steals your crucial file, anything horrible can happen, and you'll be in big trouble. You will lose data and will have to spend a lot of money to recover it. However, if you have a WordPress backup plugin installed on your website, the plugin will back up your website files and databases according to your instructions, ensuring that you do not lose any vital data. And if your website needs to be redesigned, you only have to pay for that and about the data, you can migrate it to the new site. As a result, you will spend less time dealing with this tragedy.
This is a regular occurrence when you fail to back up your website. Another major issue you may encounter is that someone stole your important file and sold it to a competitor. You can claim and show that the file is yours if you have a backup of it; otherwise, you will lose that data. And this could be disastrous for your business.
Besides these, there are plenty of reasons why you need to install a WordPress Backup Plugin on your WordPress website. For more details visit Website Backup: What They Are and Why You Need One
How to the backup website?
Mainly there are three ways to backup your website. The first one is you can contact your host provider because they will have your website backup on their server. The second one is taking backup manually which might take lots of time, and energy, and you might forget to back up some files. And lastly, install the plugin into your website and take a backup using the plugin. This will helps you to save time and it will backup all your data according to the instruction you give.
If you want to know how you can backup your website without using the plugin then this article might help you. Understand the Website Backup. Why? and How?
Here we will only talk about how you can backup your website using the plugin. For this, we take the best WordPress backup plugin to backup your website which is: Everest Backup Plugin. Before jumping into the topic "How we can backup our website using a WordPress Plugin (Everest Backup Plugin), let's have a brief idea about Everest Backup Plugin.
The best WordPress Backup Plugin: Everest Backup Plugin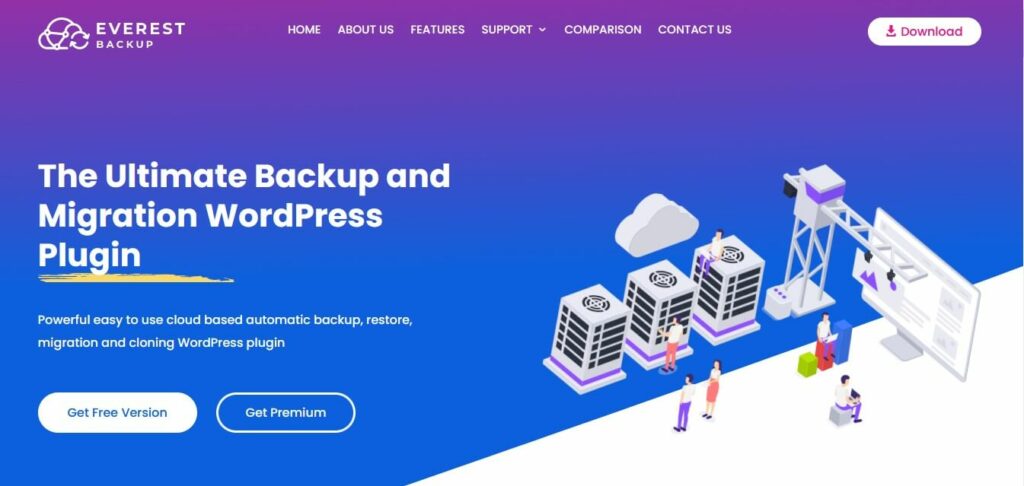 The plugin's title implies that it is a backup plugin. Everest Backup Plugin is a modern solution that performs manual and automatic backups of your website on your local webserver or any cloud server. Not only that, but Everest Backup Plugin allows you to restore files, migrate files, clone migrated files from one website to another or from one host to another in a few simple clicks, you can also create a multisite network and much more. There is a free version and a paid version with more advanced capabilities.
Benefits of using Everest Backup Plugin :
Enrol in a simple interface that allows you to backup and restore your data with a single click on a timetable that works for you.
Everest Backup is tested in more scenarios, installed on more servers, and rated higher than other competitors.
Everest Backup is a complete, general-purpose backup and restores plugin with a unique feature, Human readable logs.
Copy and paste the magic link to another domain and migrate within a minute.
Provides expert help and support from the developers whenever you are in need.
Besides standard single sites, Everest Backup supports multisite network backup and migration.
With Everest Backup Plugin you can backup your website in two ways first you can backup manually and another one is scheduled backup. Let's discuss both methods briefly. Before that, you need to install Everest Backup Plugin on your website. After that select Backup from the Everest Backup plugin. There are two choices available: a manual backup and a scheduled backup.
Manual Backup :
Go to manual backup and choose what you want to back up (plugins, themes, media, or database). After that, decide where you want to save the backup file. Then select Back Up Now. It will take a few moments before you can click on the download button. You can also cancel the backup in those few seconds.
If confused then this video might help you:
Schedule Backup:
Select Schedule Backup from the drop-down menu. To back up, set the Cron Cycle to run on a regular basis at a specific time. After that, decide where you want to save the backup file and what you want to backup ( plugins, themes, media, and database). Then enable the notify button, which will send you an email whenever the scheduled backup is finished. Finally, save the changes. The location and selected things will be backed up according to the time you specified. When it's finished, you'll be alerted.
A video tutorial is also available if you are confused about anything while backing up by scheduling.
Other best WordPress backup plugins

With Free Cloud Storage, the Most Reliable Incremental WordPress Backup Plugin. The best part is that it includes an entirely free staging environment. BlogVault backs up everything on your WordPress site on a regular basis, including the database, files, themes, and photos. Backup your WordPress database and files with BlogVault is considerably safer and easier than doing it manually. It's ideal for developers and agencies because it includes all of the tools needed to maintain and administer multiple WordPress sites. From one-click staging to seamless migrations to full website management and a white label solution, we've got you covered. Client Reporting is included right out of the box.
Benefits of BlogVault:
Incremental backups guaranteed to always work
Fastest website recovery within minutes
deploy a staging site in one click for free
Frustration-free website migrations in 1-click
real-time backups for woo-commerce stores
manage multiple websites from a single dashboard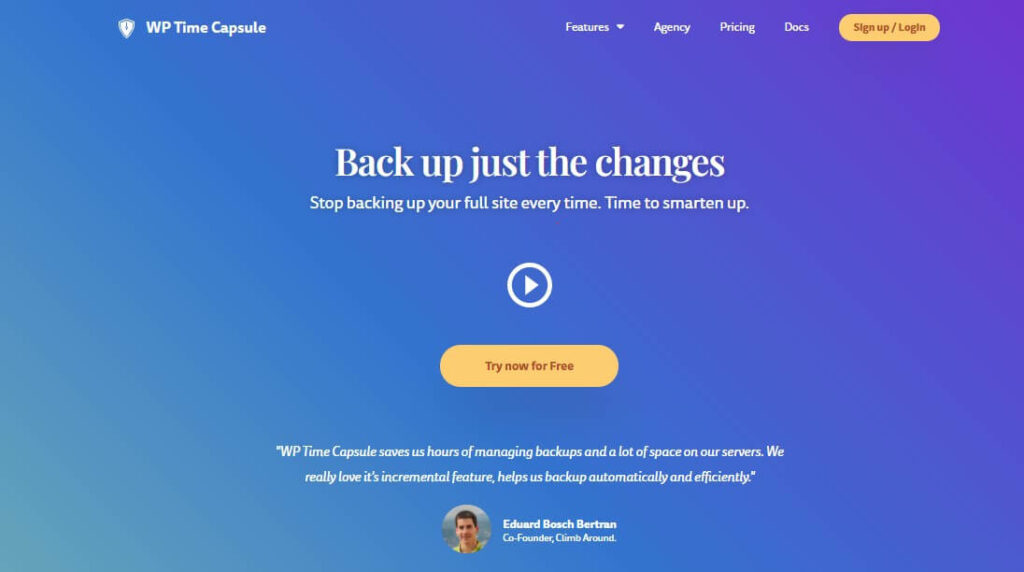 WP Time Capsule was intended to provide you peace of mind when it comes to WordPress upgrades and brings pleasure back to the platform. It detects modifications using the cloud apps' native file versioning mechanism and backs up only the altered files and database entries to your account. WP Time Capsule allows you to back up in real-time, stage your site with a single click, auto backup and update, restore backed-up files, encrypt DB backups, and be GDPR compliant, as well as backup to clone or migrate your site to a new location.
Benefits of WP Time Capsule
It only backs up and restores the altered files and databases, not the entire site.
The files and database are saved to your cloud storage app of choice, such as Amazon S3, Wasabi, Backblaze, Dropbox, or Google Drive.
To identify changes and preserve file versions, we leveraged the cloud apps' native file versioning system. As a result, backups and restores are as safe as they come.
Most crucially, you can now backup your site in real-time, allowing you to restore it to the state it was in just an hour ago. You can also set the backup interval to every 6 hours, 12 hours, or every day.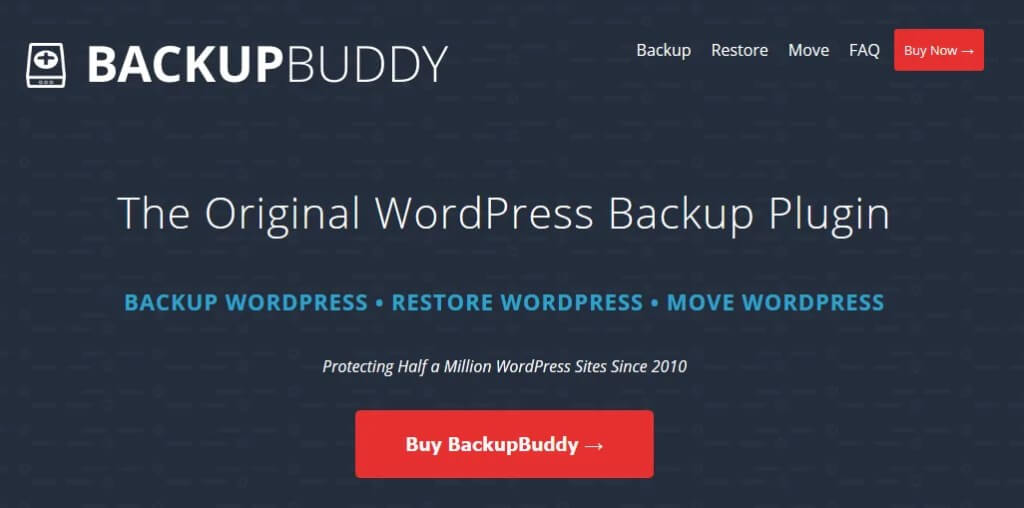 BackupBuddy is the actual WordPress backup plugin, and it can be installed on any self-hosted WordPress site. When BackupBuddy performs a backup of your site, you can download a zip file containing all of the backup files ( Files, Media library, themes, and plugins), ensuring that your backups are always yours.
Unlike other WordPress backup plugins, BackupBuddy backs up your whole WordPress installation, ensuring that you have a copy of all your WordPress website files. BackupBuddy's backup includes everything you'll need to keep your WordPress site up and running.
Benefits of BackupBuddy
Setup is simple and straightforward for complete backups.
Scans for Malware in a Hurry
Clouds can be used to store backups.
Websites can be restored and migrated.
Set up automatic backups on a regular basis.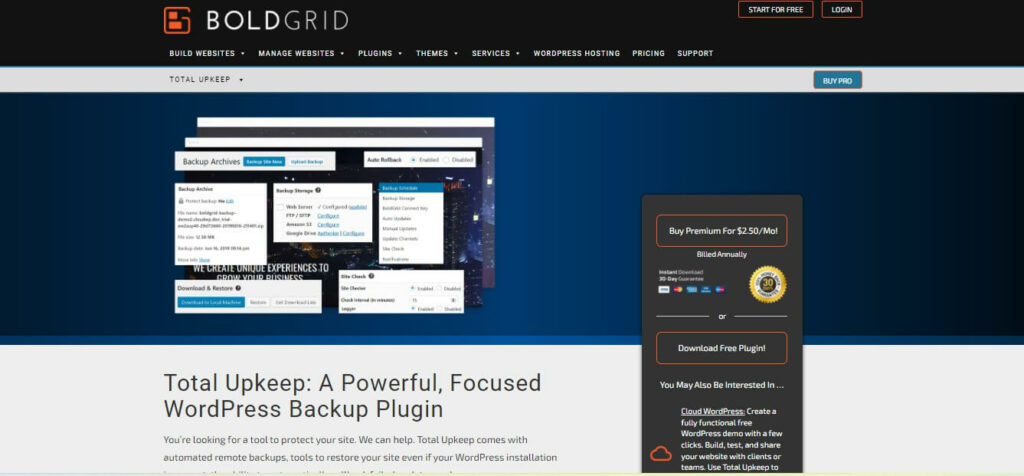 BoldGrid's website builder, which is powered by WordPress, has a backup plugin called Total Upkeep. It's an automated backup plugin that lets you recover your site quickly after a crash or transfer it to a different server. Manual backups can also be completed with a single click.
In this situation, "automated backup" means that this plugin backs up automatically before each update. If the update fails, the plugin will restore your site to a previous backup. To put it another way, it adds extra levels of security.
Total Upkeep comes with a series of tools to help you avoid website crashes and guarantee that your web hosting account has the resources you need to keep your backups safe.
Benefits with Total Upkeep
The free edition includes site migration.
Allows for simple automated backup.
Allows for remote backups to many cloud storage providers.
Keeps an eye on your website for any issues.
Its restoration script aids in the recovery of websites that have crashed.
Which is the wisest thing to do?
Three methods to backup your website files, media, database and hundreds of WordPress backup plugins. Now the choice is yours, collect backup from the hosting provider or do it manually the easiest and safest way install the plugin and take backup. If you choose the easiest, safest, and fastest way is backup using a plugin then that is your wisest decision.
After that, you need to choose the best WordPress backup plugin for your website and there are plenty on the market. So compare the plugins and choose the best WordPress backup plugin for your website.