Is it true? 😮Migrate the Website easily with Everest Backup Plugin! We all have faced lots of consequences while migrating the website. Sometimes we lose our important data due to an incomplete migration process. ☹️ And if you don't have to face any consequences and migrate the website easily then why not?
How can a Backup Plugin migrate a Website? 🤔This might be your question after hearing Everest Backup Plugin for Migration. It's obvious because we first predict the feature by its name. And you are somehow correct also. Everest Backup Plugin is a WordPress Backup Plugin, and you can backup your website either manually or schedule a time to automatically backup the selected files of your website or the whole website.
Besides this, Everest Backup Plugin can do more, and that more includes restoring the files from your Local Web Server or any Cloud Server, and you can also Migrate the website easily from one server to another or one host to another. There are other plenty of features in Everest Backup Plugin, check here.
Before discussing how you can migrate your website easily with Everest Backup Plugin, let's discuss why you need to migrate your website?, When do you need to migrate your Website? Does there any other methods to migrate the website? and others. Let's discuss these questions which will/ might evolve in your mind during the migration of your website one by one.
What is migration and why do you need to migrate the website easily?
Any sitewide modification that has a significant influence on the website's indexability and visibility to search engines is referred to as website migration. Changing the internal page structure or performing a visual redesign are examples of this.
In terms of what constitutes a site migration, there is a lot of overlap; these events can range from very basic hosting changes to major website overhauls. The point is that you're dealing with a website migration if you need to migrate your website to a new location and redirect all of your old web pages.

There are numerous reasons why a company would need to migrate its website, many of which may overlap based on your specific requirements.
The following are some of the most common reasons to transfer your website:
Hosting change: After sometime later, you might be unhappy with the website performance because of the hosting service so it's okay if you can change the hosting company. So better for you to migrate your website from the previous host provider to a new one.
New CMS or eCommerce platform: Growing business and increase in pages, functionality, and visitors are directly proportional so with the growing business you might need a new CMS or an eCommerce platform upgrade. If these things happened then better to migrate your website into new CMS so that your visitors have more rooms to see and decide and many updated functionalities.
Domain change: No worries you can change your domain name but after changing your domain name better to migrate your website from an old domain to a new one.
Website redesign: Sometimes we need to redesign our website (as google says- " you must redesign your website at least once in every 5 years ) so you redesign the website then you need to replace your old website with a new one. But replacing might lose a lot of important data so better to migrate so that you won't lose your data.
Some possible reasons for Website Migration Failure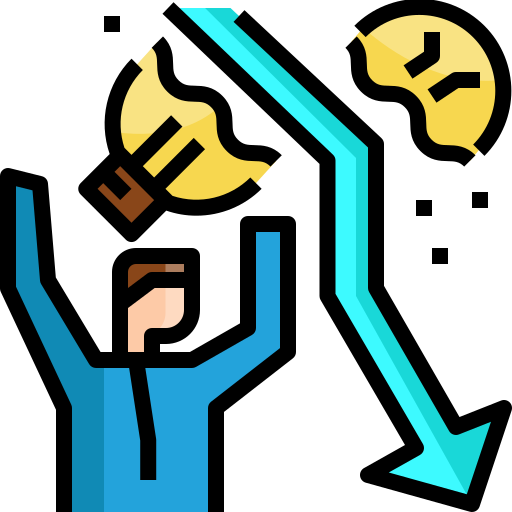 Poor Strategy
Poor Planning
Lack of SEO/UX consultation
Lack of resources/budget
Late Involvement
Poor Testing
Slow response to bug fixing
Under-estimating scale
You might think: "If all these cause a website migration failure then why should I migrate the website, I will leave it as it is".
In a panic, you might also think:" Why should I do if all these factors will cause migration failure? How do I address this to make it successful?"
The answer is simple, install the best migration plugin on your website and migrate the website easily with fewer flaws/failures. With a migration plugin, you will at least be eased if your migration fails because it will first take a backup of your website (everything inside the website). So if it fails then also you will have your all data.
So many WordPress migration plugins which to choose from? What if the migration plugin doesn't work? What if I waste my money on some stupid plugin? You might think like this and it is obvious because when you are going to invest your money in a plugin then you will hope for the best for yourself. That's why in this article we will talk about the best migration plugin, Everest Backup Plugin, for your WordPress website to migrate the website easily with fewer fails.
Migrate the website easily with Everest Backup Plugin
Migration is one of the most amazing features you will get with the Everest Backup Plugin. In just a few simple steps you can migrate your website from one host to another or one server to another. But for migration, you must install Everest Backup Plugin on both sides. For example: if you are migrating your website from one server to another then on both servers you must install Everest Backup Plugin then only you can migrate your website.
How to install the Everest Backup plugin?
Since you have installed Everest Backup Plugin, now go to migration of the website which you want to migrate and generate a migration key, and then go to the clone of another website where you want to migrate. Paste the migration key there and clone the website. It will take a few minutes to clone and once done login with the login information of the migrated website. And you can see the successful migration.
How to migrate/Clone your website?
How does the migration process work?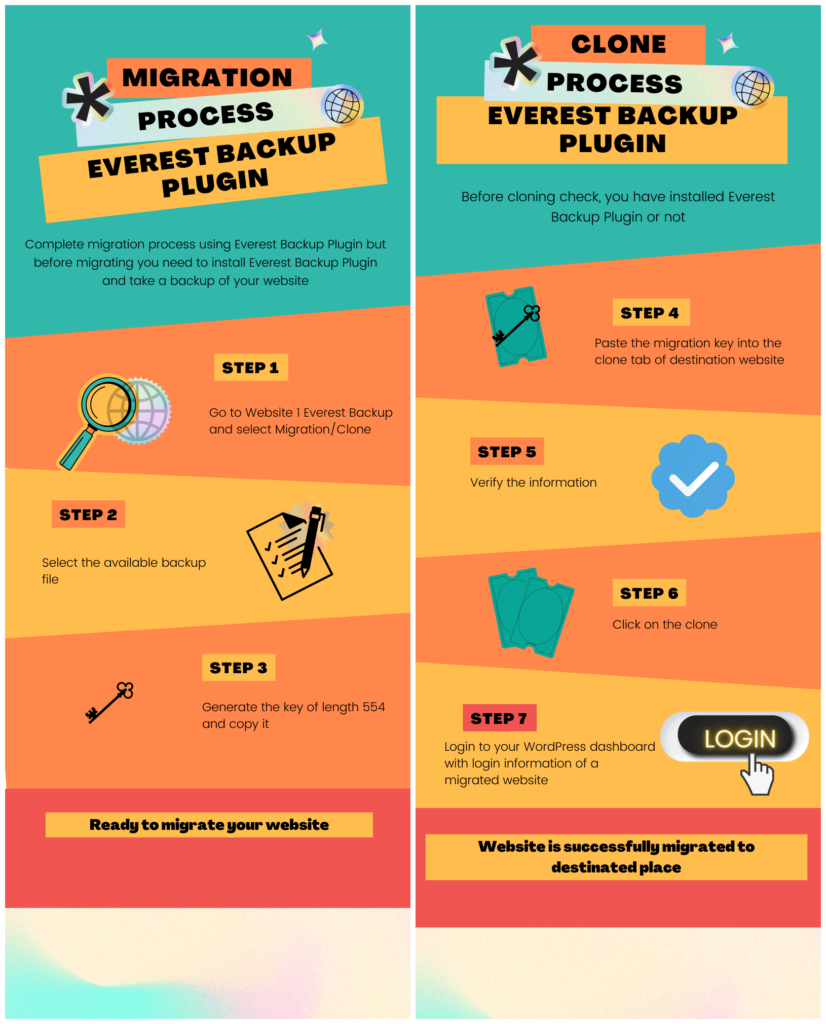 Want to know it briefly? How to migrate/Clone your website?
Things to check ✔️ after migration complete
After the migration is complete, you might think your work is done here. But no, your work is not done here because after migration there are a few things that you must do manually. Such as
✔️Internal Link checking: After migration of the website, you must check the interlinks because they might redirect to the old ones and that might leads to 404 errors which are bad for your website and SEO also. And you must do it manually the plugin won't do it for you.
✔️Meta data and copy: Sometime during the migration, you might lose metadata and reviews so manually check those and if missing then you got the backup of those and fill it.
✔️Technical checks: Not often but sometimes some technical issues can occur so better to check it rather than leave it.
✔️XML Sitemap: XML sitemap involves the whole website sitemap which you must include in Google Search Console to list your website in Google. So you must check the XML sitemap file and list it on your website Google Search Console.
Apart from these, there are others also so after the migration process is complete, check the whole website. From internal links to external links, meta description to sitemap, CSS, plugin versions, and others.
Are there any other plugins except Everest Backup Plugin? 🤔
Obvious there are plenty of other plugins except the Everest Backup Plugin with similar features. To know more about other migration plugins simply go to https://wordpress.org/ and search for migration plugin. Then you will find hundreds of migration plugins there. You can make a list of those and check them one by one if you want and choose one of them. But if you are in hurry, have no time to check one by one, confused by many options then we do have a blog that might save your time and help you to decide.
Top 15 best WordPress migration plugins