In the vast realm of content management systems (CMS), WordPress stands out as one of the most well-liked and adaptable website-building platforms. Its user-friendly interface, extensive plugin library, and customizable themes make it a top choice for bloggers, businesses, and developers. However, creating a WordPress site can be stressful, especially for those who are new to the digital realm. This is where Bitnami WordPress comes to the rescue.
In this article, we'll explore what Bitnami WordPress is, how it simplifies the installation process, and why it's a game-changer for anyone looking to launch a WordPress site.
What is Bitnami WordPress?

Bitnami WordPress is a popular software stack that provides an easy and convenient way to install and manage WordPress on your own server or cloud platform. Whether you want to run WordPress on your local machine for testing, deploy it on a cloud server, or set up a local development environment, Bitnami makes the process hassle-free.
It offers a preconfigured package that includes all the necessary software and dependencies, allowing you to quickly install and configure a WordPress website without the need for manual installation or complicated configuration.
Let's dive into the features and benefits of using Bitnami WordPress.
Benefits of using Bitnami WordPress for installation:
Advantages of using Bitnami WordPress:
User-friendly interface.
Streamlined installation process.
Eliminates the need for complex technical steps.
Minimizes the risk of errors.
Suitable for beginners and experienced users.
Bitnami WordPress provides:
Regular updates.
Security patches.
Ensures the website stays up-to-date and protected.
One-click backup and restore functionality.
Easy data safeguarding and recovery in unforeseen incidents.
Features of Bitnami WordPress:
Some of the key features of Bitnami WordPress include:
Apache or Nginx web server: Enables reliable and efficient hosting of your WordPress website.
MySQL or MariaDB database: Stores your website's data, such as posts, pages, and user information.
PHP: The scripting language that powers WordPress, allowing dynamic content generation.
phpMyAdmin: A web-based tool for managing your database.
Bitnami Dashboard: A control panel that allows you to easily manage your WordPress installation, including updating components and configuring settings.
Added Security Measures Provided by Bitnami:
Bitnami takes security seriously and includes additional measures to protect your WordPress installation. These measures include:
Automatic updates: It regularly updates the stack's components, including WordPress itself, to address security vulnerabilities and patches. To learn different methods to set auto-updates for your WordPress Themes and Plugins, refer to this article.
SSL/TLS support: It enables easy integration of SSL/TLS certificates, providing secure communication between your website and its visitors.
Firewalls and network security: It implements robust firewall and network security rules to protect your WordPress installation from unauthorized access.
How to Get Started with Bitnami WordPress?
Now that you're convinced of Bitnami WordPress's advantages let's walk through the steps to get started with this fantastic tool.
Step 1: Download Bitnami WordPress.

Begin by visiting the official website and selecting the Bitnami WordPress package compatible with your operating system (Windows, macOS, or Linux). Once downloaded, run the installer to kickstart the installation process and follow the on-screen instructions.
This will guide you through the installation process, allowing you to choose the installation directory and other configuration options.
Step 2: Choose Installation Options.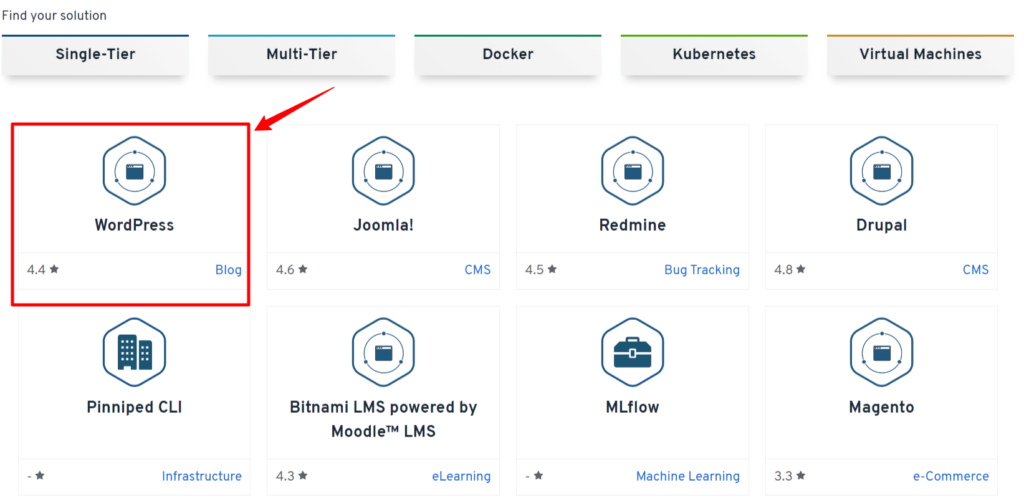 During the installation, Bitnami WordPress allows you to customize your setup. You can choose the installation directory, configure database settings, and set up your admin credentials. Make sure to choose a strong username and password to ensure the security of your site.
Step 3: Launch Your WordPress Site.
Once the installation is complete, launch your WordPress site with a single click. Bitnami handles all the heavy lifting, ensuring that your site is ready to go in no time.
Your website can be customized and built; after that, you are directed to the WordPress dashboard.
Configuring and accessing your local WordPress site:
After installation, you need to configure your local WordPress site and access it through a web browser. Follow these steps:
Open your preferred web browser and enter "localhost" in the address bar. This will take you to the Bitnami WordPress homepage.
Click on the "Access WordPress" button to access your WordPress site. The WordPress login page will be opened for you.
Enter the username and password you set up during the installation process and click "Log In." By doing this, you will be directed to the WordPress dashboard, where you can begin creating your website.
It's important to note that the Bitnami WordPress installation includes preconfigured settings and a set of default plugins and themes. You can customize these settings and install additional plugins and themes to suit your specific requirements.
Conclusion:
In a world where time is of the essence, anyone wishing to develop a WordPress website will find Bitnami WordPress to be a helpful resource. Its simplicity, cross-platform compatibility, and commitment to security make it a standout choice. With Bitnami, you can focus on what truly matters – creating and managing your content without the headache of a complicated installation process.
So, why wait? Get started with Bitnami WordPress today and unlock the full potential of your WordPress website.
FAQs:
Is Bitnami WordPress free to use?
Yes, it is open-source and completely free to use. You can download it from the Bitnami website and start simplifying your WordPress installation process.
Can I install Bitnami WordPress on my existing WordPress site?
Bitnami is designed for fresh installations. If you already have a WordPress site, it's best to use Bitnami for new projects or testing environments.
Is Bitnami WordPress suitable for beginners?
Absolutely, it is beginner-friendly, with a straightforward installation process and ample documentation to assist you along the way.
Can I use Bitnami WordPress for commercial websites?
Yes, it is suitable for both personal and commercial websites. It provides a robust foundation for any WordPress project.
How often does Bitnami WordPress release updates?
It regularly releases updates to ensure the security and performance of your WordPress installation. It can be set up to check for updates manually or to do so automatically.