Social media is widely regarded as one of the most effective marketing channels accessible today, as well as a major source of traffic for most websites, according to experts. As a result, it's vital to incorporate social media into your website's marketing and branding plan. Fortunately, WordPress makes your job a lot easier by giving you a choice of useful plugins.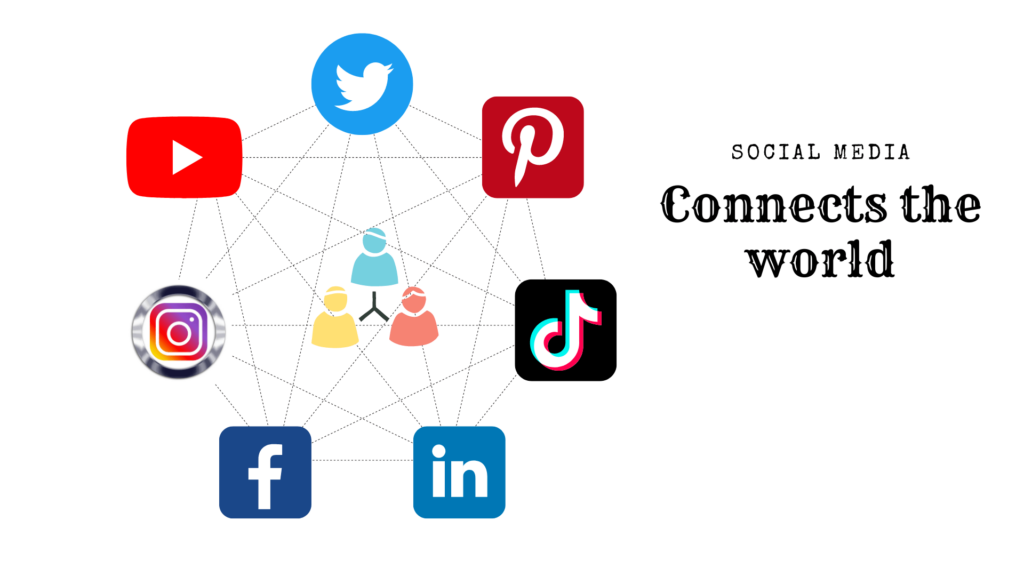 Furthermore, you will find many free and premium WordPress social media plugins so you need to choose the right one for you. And I m sure this will be the most confusing task because of a huge number of WordPress plugins with similar features. Don't worry here we will discuss some of the best and latest updated WordPress social media plugins.
Must-have features of the WordPress social media plugin
Each WordPress social media plugin serves a different purpose, so it is important to know what are the must-have features of the best WordPress social media plugin.
Social sharing button – to improve online exposure
Social icons with links – to show customers about your social business and let them follow you there
A social login page – keeps your site more secure and minimizes spam
Social comments – to spread conversation much faster
A social locking tool – to gain more followers
Social feed – add more visuals to the site
Automated posting – automate the social posting process
How to add social media plugins to WordPress?
In two ways you can install a social media plugin:
First: If you have downloaded WordPress social media plugin then go to the dashboard, on the left you will see the plugin then select Add New. After that upload the plugin and install it.
Second: WordPress dashboard>> Add New Plugin>> Search the plugin>> select the plugin >> install and activate.
Installing the WordPress plugin procedure is the same for all whether it is a WordPress Backup Plugin or WordPress social media plugin the procedure is the same for all. Just you have to know which plugin you want to and need to install on your website.
How to install the Everest Backup plugin? This might help you to install a plugin successfully on your WordPress website. Just you have to follow the steps and install the WordPress social media plugin (name that) in place of the Everest Backup Plugin.
Free and Premium Best WordPress Social Media plugins for WordPress website
Plugin Name
Free/
Premium cost
Active
installation
WordPress
version
Tested
up to
PHP
version
No. of reviews
(Rating)
Smash Balloon
Bundle
$299/year
1+ million
4.1 or higher
6.0
–
3,778(4.9 ⭐)
Shared Counts
Enterprise
$450/mo
10,000+
4.6 or higher
6.0
5.6 or higher
24(4.9 ⭐)
AddToAny Share
Buttons
Free
500,000+
4.5 or higher
6.0
5.6 or higher
1,017(4.8 ⭐)
Easy Social Icons
Free
40,000+
3.5 or higher
5.9.3
–
75(4.5 ⭐)
Better Click to Tweet
Bundle(1 site)
$71/yr
10, 000+
3.8 or higher
6.0
–
46(4.8 ⭐)
Sassy Social Share
Starting from
$11.99/yr
100,000+
2.5.0 or higher
5.9.3
–
426(4.7 ⭐)
WordPress to Buffer
Starting from
$39/yr
7,000+
5.0 or higher
5.9.3
5.6 or higher
83(4.5 ⭐)
Social Icons Widget
Starting from $49.00
100,000+
5.2 or higher
6.0
7.2 or higher
136(4.9 ⭐)
Uncanny Automator
Pro $149/yr
10,000+
5.3 or higher
6.0
5.6 or higher
73(4.8 ⭐)
Spotlight
Essential $39/yr
40,000+
5.7 or higher
5.9.3
7.1 or higher
117(4.9 ⭐)
Social Media
Share Buttons
and
Social Sharing Icons
Commercial
sites $39.98
200,000+
3.5 or higher
6.0
–
5,190(4.9 ⭐)
Flow-Flow Social Feed Stream
$49
10,000+
3.6 or higher
5.9.3
–
74(3.8 ⭐)
Smash Balloon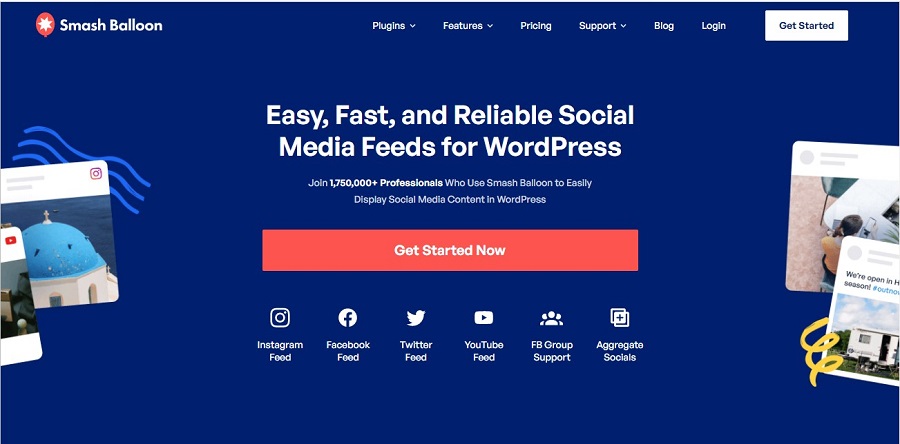 One of the greatest social media plugins for adding several Facebook feeds from different accounts is Smash Balloon Social Post Feed. It's ideal for increasing content visibility and interaction. This WordPress social media plugin is ideal for website owners who desire complete control over their social media feed. The settings may be changed from the front end, that's why it is excellent for beginners.
Features:
Intuitive Feed Creation Wizard
Powerful Feed Customizer
Downtime Prevention
Speed Optimizer
SEO Booster
GDPR Compliance
Responsive and mobile-optimized
Multiple feeds with no limitations
International Language support
Always up to date
Premium price: Facebook Feed Pro, Instagram Feed Pro, Twitter Feed Pro, and YouTube Feed Pro cost starting from $49 per year each. And for all access bundles $299 per year.
| | | | | |
| --- | --- | --- | --- | --- |
| | Personal | Business | Smash | Access Bundle |
| Facebook | $49/year | $99/year | $199/year | $299/year |
| Instagram | $49/year | $99/year | $149/year | $299/year |
| Twitter | $49/year | $99/year | $149/year | $299/year |
| YouTube | $49/year | $99/year | $149/year | $299/year |
Shared Counts

Shared Counts is a WordPress social media share buttons plugin. Sharing buttons increase traffic and engagement by helping readers share your posts and pages with their friends on social media. Facebook, Pinterest, Yummly, and Twitter buttons support social count display and tracking.
Features:
Scalable – handles 2.5 billion requests every month
Reliable – 99.98%+ success rate
Powerful – has needed the power to support serve queries of all sizes
Premium price: Personal $40/mo, Professional $160/mo and Enterprise $450/mo
AddToAny Share Buttons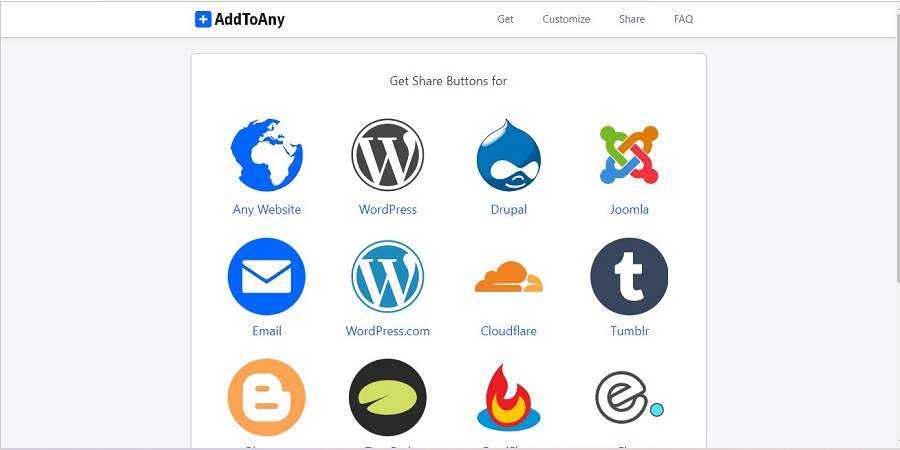 The AddToAny Share Buttons plugin for WordPress increases traffic & engagement by helping people share your posts and pages to any service. Services include Facebook, Twitter, Pinterest, WhatsApp, LinkedIn, Tumblr, Reddit, WeChat, and over 100 more sharing and social media sites & apps.
AddToAny is the home of universal sharing, and the AddToAny plugin is the most popular share plugin for WordPress, making sites social media ready since 2006.
Features:
Share anywhere – share to any service or add a custom service to share
Mobile and Responsive
Perfect icons – scalable vector graphics icons
Built for Good – lightweight code
Google Analytics Integration
No account necessary – no registration and no user account to manage
Highly customizable
Easy Social Icons

You can upload your own social icon or font-awesome social icons, set your social URL, choose whether you want to display vertically or horizontally, left or right or centre aligned, icon width height or margins.
Features:
Upload your own social icons, set the URL for that icon with sort order, target window etc.
Get the add/edit/delete option for icons
Set the icon width and height to fit in your template/design perfectly
Display your social share icon vertically or horizontally to match perfectly with your template/design.
Put your social icon set in the sidebar using the widget
Insert your social icon set in pages/posts using shortcode
Better Click to Tweet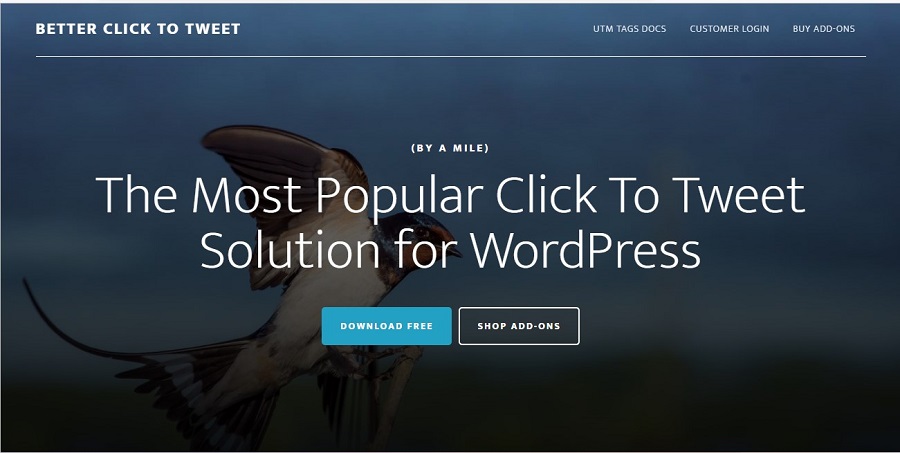 This is the best-rated click-to-tweet plugin (the ones made particularly for click-to-tweet, that is), and it works great. Simply wrap the Better Click to Tweet shortcode around the text you'd like to bring attention to, and your click-to-tweet box will appear. This plugin is also open-source, so you can look at the source code, and it encourages users to interact with your material more and share it on Twitter. This plugin is simple to use and work with, and you may take advantage of many of its features without difficulty.
Features:
It allows you to alter your Twitter handle and create short URLs on your WordPress site.
The plugin comes with a detailed and extensive user manual that explains all of the options.
You can do things like creating no-follow links, utilising a custom template, changing the anchor text, and more.
The makers of Better can provide you with a premium version of the plugin.
To Tweet and use the additional capabilities of this plugin, click here.
Premium price: Pro bundle single site $71 per year, 5 sites $272 per year and 15 sites $699 per
| | | | |
| --- | --- | --- | --- |
| Premium | Single Site | Five Sites | Fifteen Site |
| Premium Styles | $29.99/year | $49.99/year | $129.99/year |
| UTM Tags | $49.00/year | $240.00/year | $599.00/year |
Sassy Social Share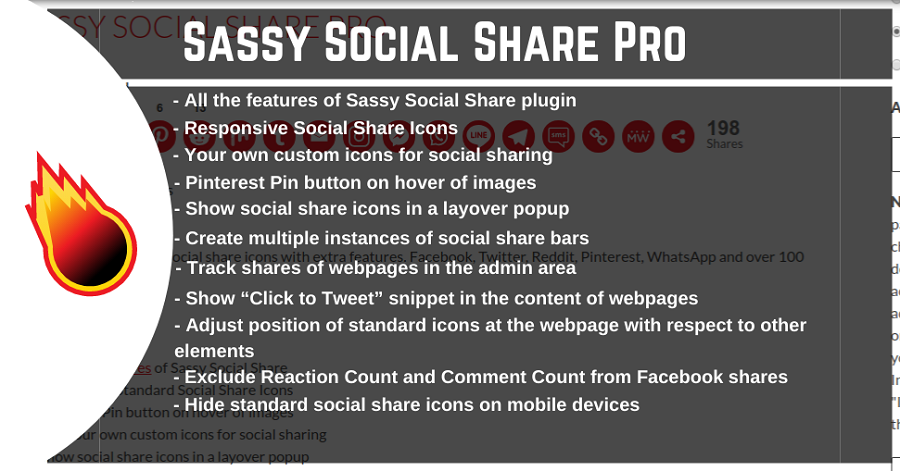 Sassy Social Share enables your website users to share the content over Facebook, Twitter, Google, Linkedin, Whatsapp, Tumblr, Pinterest, Reddit, Parler, Gab, Gettr and over 100 more social sharing and bookmarking services.
This is the Simplest and Smoothest Social Sharing plugin with optimized and great looking vector icons. You should have an online website for the plugin to function properly.
Features:
Goodreads and Snapchat Social Share Icons
Customize Open Graph Meta Tags for each page, and post individually
Responsive Standard Social Share Icons
Track social shares without depending on any third-party APIs and API Keys
Show social shares for every social share icon
Customize the subject and body of the email share
Pinterest Pin button on hover of images with the option to choose which page groups to integrate this at
Use your own custom icons for social sharing
Show social share icons in a layover popup
Create multiple instances of social share bars each having a different set of social share icons
Premium pricing: Single site $11.99/year, Up to 5 sites $33.99/year, and Unlimited sites $99.99/year
WordPress to Buffer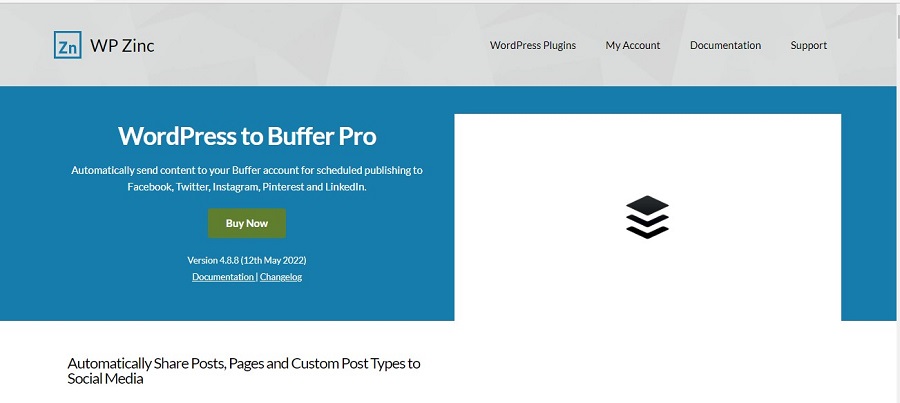 WordPress to Buffer isn't another WP to Facebook, WP to Twitter or yet another auto posting plugin. The WordPress social media plugin (WordPress to Buffer) adds the content to your Buffer queue, which is a smart schedule designed to drip feed your content to your Facebook, Twitter, LinkedIn, Pinterest and Instagram social media profiles.
You can use Buffer's default schedule or set your own social media automation schedule with days and times that work best for your audience. With Dynamic Tags, you can build truly unique status updates, pulling in your WordPress Post's Title, Content, Excerpt and more.
Buffer's technology ensures you don't accidentally send the same status twice, and with built-in protection to prevent your social media profiles from being suspended, you'll safely grow, sustain and engage website traffic and social media following.
Features:
Automatically share posts, pages, and custom post types to social media
Post direct to Instagram
Full support for pages, posts, and custom post types
Multiple, customisable status messages per post
Separate options per social network
Powerful scheduling
Conditional publishing
Automatically repost old posts
Manually bulk publish old posts
Premium price: Single $39/year, Unlimited $89/year, Lifetime $199, and Agency $299
Social Icons Widget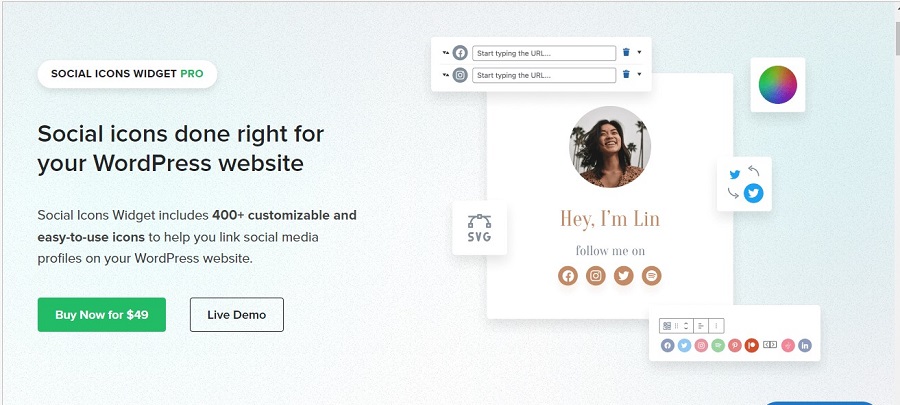 Social Icons Widget and Block help you to add quickly icons with links to your profiles from different social networks. The plugin includes several icon sets, which give you the possibility to use the widget for more than just linking to your social media profiles. You can use generic icons to add links to anything you want.
Features:
Highly customizable and user-friendly
100% block editor compatible
A broad collection of icons
Add icons to menus
Social icons shortcode
Outstanding performance
Upload your SVG icons
Premium price: 1 site license $49.00, 3 sites license $69.00, 10 sites license $99.00, and 50 sites license $199.00
Uncanny Automator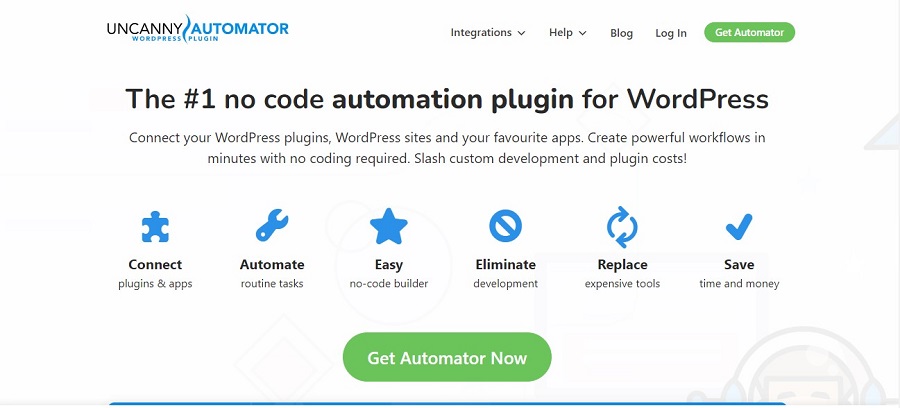 Uncanny Automator is the easiest and most powerful way to automate your WordPress site with no code. Build automation in minutes that connect your WordPress plugins, sites and external apps together using billions of recipe combinations.
Uncanny Automator Pro adds even more features and integrations, including the ability to create users and posts, delay and schedule actions, connect multiple sites together, add conditions to actions, and unlock unlimited use of non-WordPress integrations like Google Sheets and Twitter.
Besides more than tripling the number of available triggers and actions for your recipes compared to the free version, Automator Pro for WP adds support for external apps like Slack, Google Sheets, Mailchimp, Twilio and more.
Features:
Integrate with Google Sheets, Slack
Integrate with Zoom (meetings and webinars), GoTo (Training and Webinar)
Integrate with Mailchimp
Set up buttons to trigger any recipe on click
Delay or Schedule an action
Premium price: Pro (1 site) $149/year, Business (10 sites) $249/year, and Unlimited $399/year
Spotlight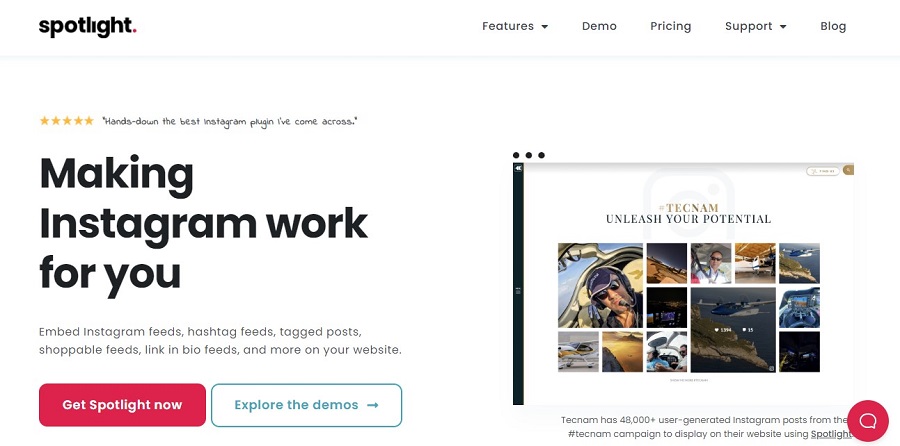 Spotlight's Instagram feeds are made to automatically blend in seamlessly with your website. From using your theme's fonts to automatically resizing to fit into any page section, all you need to do is pick a template and set up your colours.
Spotlight includes an Access Token Generator so your clients won't need to share their Instagram login details. It's the safest and fastest way for you to set up their Instagram feeds.
Features:
Easy to use
100% responsive
SEO-Friendly
Accessible
Fast and helpful support
Premium price: Essential $39/year, Pro $59/year, other coming soon
Social Media Share Buttons & Social Sharing Icons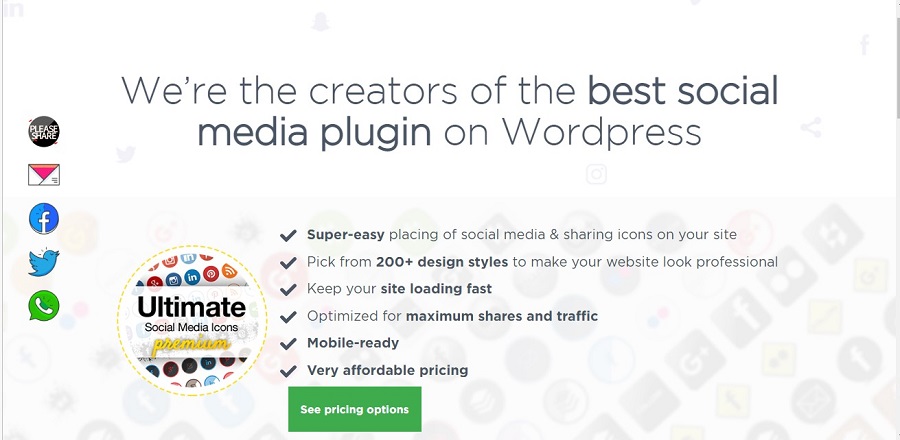 Social Media Share Buttons and Social Sharing Icons, WordPress social media plugin gives you a variety of options for incorporating social network buttons into your website. You will have access to more than 200 social networking platforms. And the most popular platforms are Facebook, Twitter, Instagram, Tik Tok, Snapchat, Telegram, Pinterest, WhatsApp, and an email sharing button.
You can also include these buttons into 16 various designs and position them just where and how you want them. They will always be visible in the image, even if the user scrolls down. Furthermore, the plugin counts and supports pop-ups.
Features:
The super-easy placing of social media & sharing icons on your site
Pick from 200+ design styles to make your website look professional
Keep your site loading fast
Optimized for maximum shares and traffic
Mobile-ready
Very affordable pricing
Premium price: Non-commercial sites $29.98 USD, and Commercial sites $39.98 USD
Flow-Flow Social Feed Stream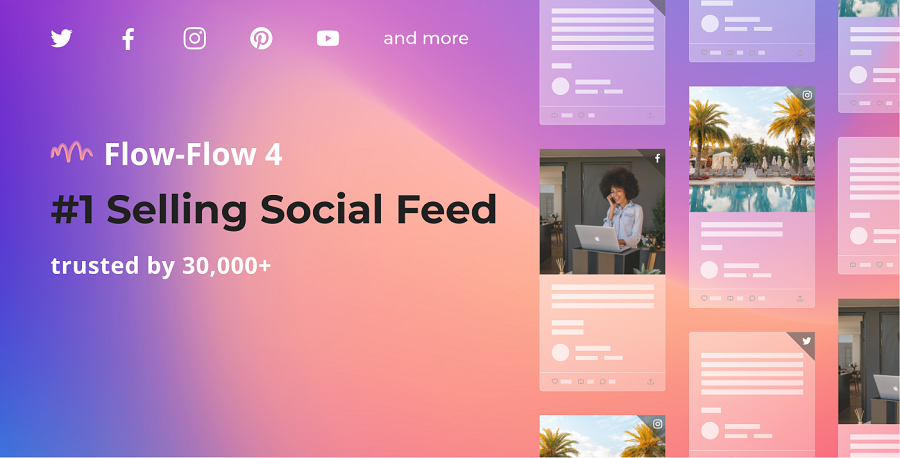 Flow-Flow — WordPress Facebook Instagram Twitter Feed Grid Gallery is a multipurpose social media wall plugin that allows to display of a mix of social media feeds in beautiful responsive galleries and widgets. For example, you can add a custom Facebook feed, Instagram feed and Twitter feed mixed in one gallery. Embedding user-generated content (UGC) from multiple sources is a great way to add social proof to your WordPress website and increase your brand presence and boost your conversions. User behaviour researches show that over 70% of users won't buy from you if you don't have reviews or social proof of any kind.
Features:
All popular social networks
Approval system
Social activity counters
Drag and Drop card design constructor
Smart caching
Multiple feeds per one social network
Responsive design, widget mode, content filtering
Fast and secure
Premium price: Get it at $49
Conclusion… WordPress Social media plugin makes your life easier
There is nothing that can be done about the fact that social media is now a part of the big change not only in the marketing field but in every possible field. However, with the help of social media plugins, the time and effort required to run professional social media channels can be greatly reduced. Before utilizing any of these plugins, make sure your WordPress theme already includes the needed features. Plugins for displaying social media sharing buttons or buttons that link to your channels are frequently unnecessary if your theme already includes these features.
You should always check social media plugins for GDPR compliance, just like you do with any other plugin. Ensure that no personal information about users is sent to social media sites inadvertently. Also, make sure that the plugins themselves aren't logging any personal information. To avoid obtaining legal warnings, it's best to clarify these topics with a law company that specializes in internet law and data protection.
To protect your data you can install the best WordPress Backup plugin and secure your important files in any cloud add-ons. There are plenty of WordPress plugins that help to grow your website and business like the WordPress social media plugin do. Just you need to get the right one for your website.