Are you looking for the best backup WordPress plugin for your WordPress website? And want it for free? Or wondering which will be the best suit for your WordPress website.
Choosing the right backup plugin is the most important thing because, in the market, we get many options of WordPress backup plugins, and almost all WordPress backup plugins are simple to use and offer nearly identical functions. It can be challenging to find the ideal one for your needs as a novice.
But some of them provide free as well as premium versions and some of them give premium only. Also some backup databases only and some backup the whole website. The best plugin to choose must be the one that provides both free and premium versions and backups of the whole website according to our command.
The following are some important considerations to make while selecting the best backup plugin for your website:
Backup Files in Cloud storage
Here, we will discuss some of the best backup WordPress plugins which are free to use on your website.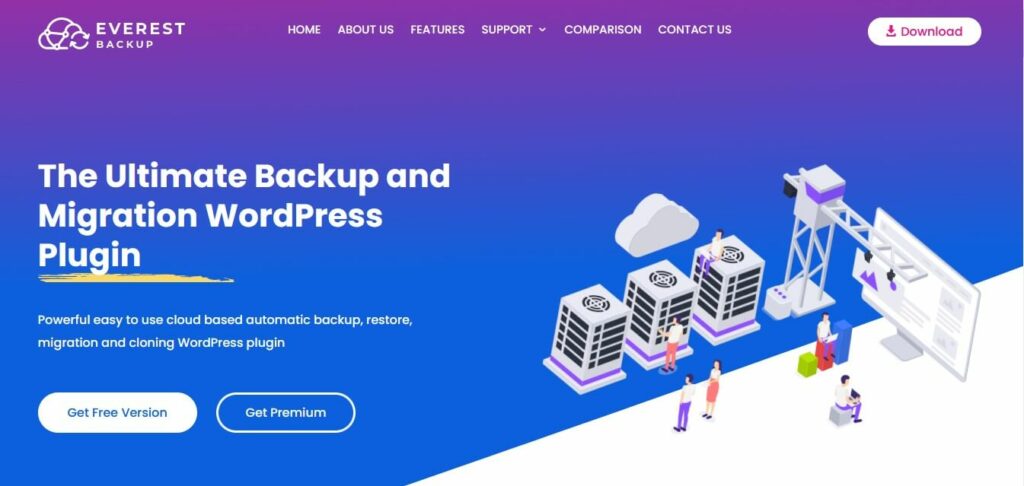 Everest Backup is a modern tool that will take care of your website's backups, restoration, migration, and cloning. It is the fastest and most easy-to-use cloud-based storage backup plugin. In a few clicks connect your Google Drive and Schedule your backup.
Everest Backup has manual as well as automatic scheduled backup and pushes them to your Google Drive and restores them with a single click.
Everest Backup is not only the best backup WordPress plugin but also the best WordPress website migration plugin. Website Migration is as simple as copy and paste. Generate and copy your migration key from the source website and paste this migration key onto your destination website. In a single click, your migration of the site happens.
Human readable logs are one of the distinctive features, no technical knowledge is needed to understand what's going on during your website backup process. Get details of each backup in your email.
The free Features of the Everest Backup Plugin are:-
Manual and Automatic Backup: For automated backups, just choose a date and time, or manually generate a backup at any time with a simple click. Similarly, the backup data can be restored with a single click.
Backup on Google Drive: Google Drive and other cloud services can be used to securely store backups. The automatic restore plan is compatible with this feature.
Migration and cloning: Run Everest Backup on both websites, then create and transfer a backup file from the first to the second. Use our "magic link" to make things easier.
No need to download and upload your files from your computer.
Advanced Reporting: Notify you, when Everest Backup completes or requires attention, ensuring that you always have a current and complete backup of your website.
Human Readable Logs: All of our logs are human-readable, which allows you to get the information happening on your backup files without the need for professional assistance.
Backups: Databases and system files (manually and automatically)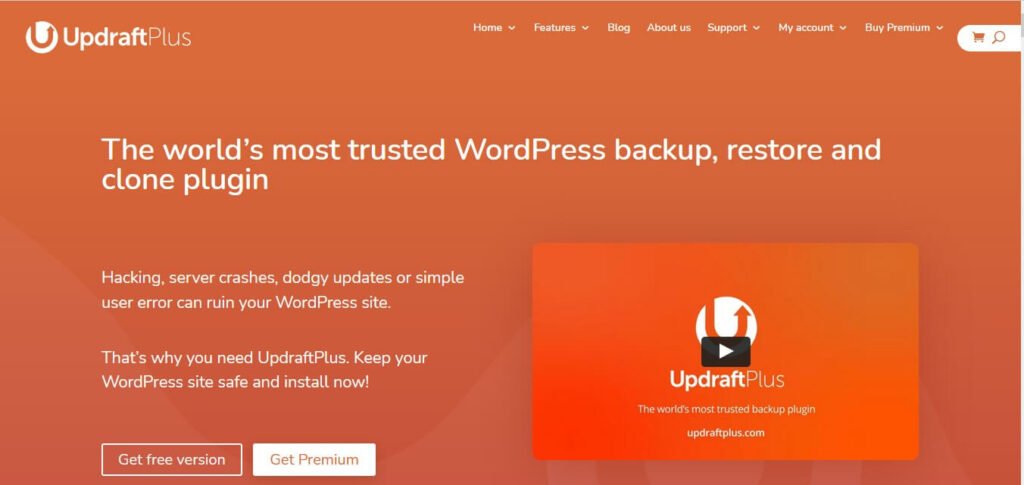 Back up your complete website to your web server, numerous cloud services, email, or even an FTP server, either automatically or manually. Backups can be restored directly from WordPress. Downloadable site migration packages are also available.
The free features of UpdraftPlus are
Backup: Using UpdraftPlus you can manually backup as well as scheduled backups of all your WordPress files, databases, plugins, and themes
Schedule: UpdraftPlus schedule backup of every 2, 4, 8, or 12 hours, daily, weekly, fortnightly, or monthly.
Restore: You can restore backups directly from your WordPress dashboard.
Backups: Databases and system files (manually and automatically)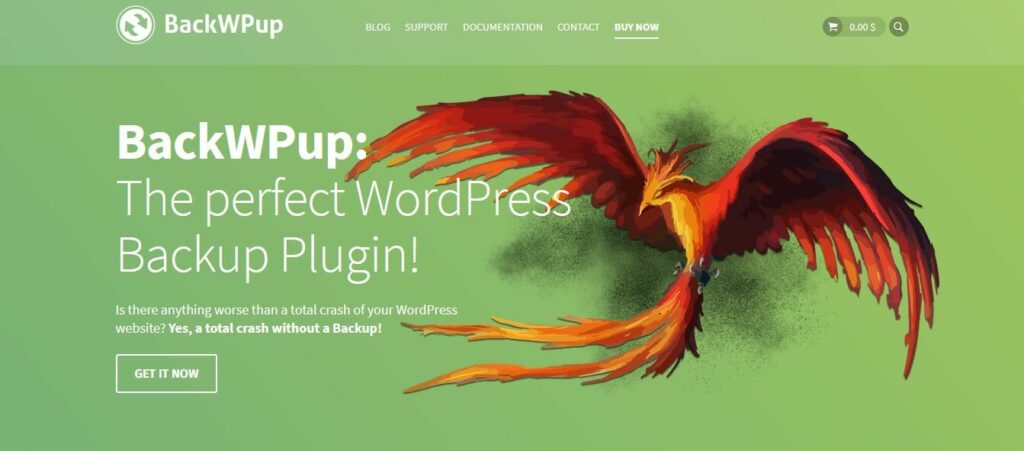 Another popular free plugin for WordPress backups is BackWPup. BackWPUp's free edition allows us to plan full automatic backups of our WordPress installations and select which content will be saved for the specified service.
You can create a database backup and export WordPress XML. This free and one of the best backup WordPress plugins also allows you to effortlessly check, restore, and optimize your WordPress database. BackWPup will also check, repair, and optimize your database.
Backs Up: Database and File System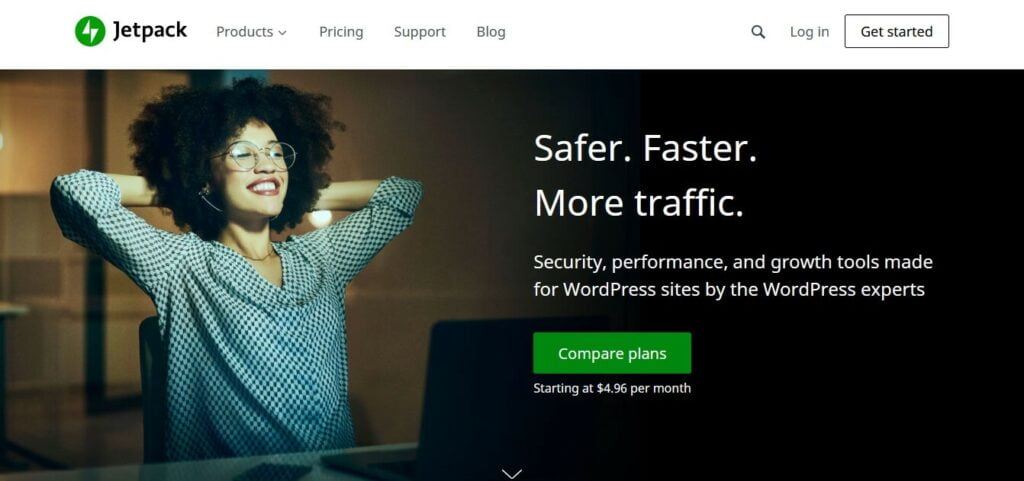 VaultPress is a real-time backup and security scanning service from Automattic, the same company that runs (and backs up!) millions of WordPress.com sites.
Every post, comment, media file, revision, and dashboard setting on your site is now automatically backed up to our servers via VaultPress, which is now powered by Jetpack. You're safe from hackers, malware, accidental damage, and server failures with VaultPress.
Backs Up: Database and File System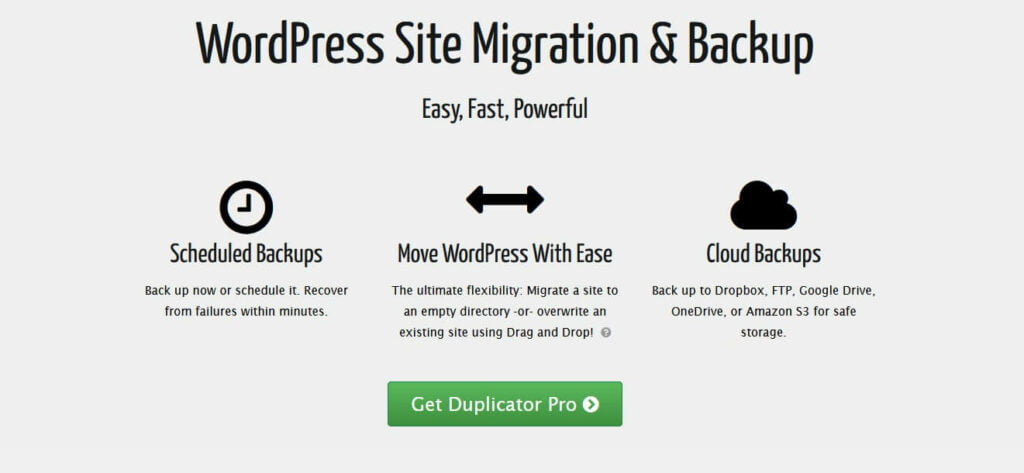 Duplicator is a popular and can say the best backup WordPress plugin that can be used to migrate WordPress sites as well as act as a backup tool.
It does not allow you to create automated scheduled backups, making it a poor choice as a primary WordPress backup solution for a well-maintained website.
Backs Up: Database and File System (manual backup)
Final thought
Above you see the list of the best backup WordPress plugin with their features and information about what they backup. So you can choose among them but when the term comes to the best backup WordPress plugin then I recommend the Everest Backup Plugin.
Everest Backup's capabilities go beyond backup and restoration. It's also the most efficient way to migrate a WordPress website. Copy and paste your migration key from the source website onto the destination website. With a single click, you may accomplish your site migration.
Benefits of Everest Backup Plugin:
Easy-to-use: Enroll in a simple interface that allows you to backup and restore your data with a single click on a timetable that works for you.
Client Trusted: Everest Backup is tested in more scenarios, installed on more servers, and rated higher than any other competitors.
Comprehensive: Everest Backup is a complete, general-purpose backup and restores plugin with a unique feature, Human readable logs.
Cloning and migration: Simply copy and paste the magic link to another domain and migrate within a minute.
Fast, personal support: Provides expert help and support from the developers whenever you are in need.
Network / multisite: Besides standard single sites, Everest Backup supports multisite network backup & migration.
Backup time and scheduling: Set the time to backup, restore, or delete the data and let the system do the job.
Additional benefits: You will get all the premium features in the pro version of the Everest Backup Plugin
If you need any kind of help regarding installing or with other features or any issues while using the plugin, then you can send an email at bug-report[at]wpeverestbackup. com and you will get a quick response.
Additional information:
Still, you don't have a website for your company. Get one for your business, it will help you a lot to market your business and communicate with your customers. If you are confused and don't know where to go, then visit N1Technology. Here you will get proper guidance about the website. If you want to work with a WordPress theme or customize your website, they create a website in both ways.
If you have no idea about the website then that's okay, professionals of N1Technology will explain to you about the website, the benefits of having the website, and help you to choose the best design according to your business.
What are you waiting for design your business website as your thought with N1Technology?