When it comes to building a thriving website, you need a WordPress theme that adjusts to different screen sizes. This is vital because many people use mobile devices these days. A responsive theme makes your website look and work great on various devices like phones, tablets, and computers, giving users the best viewing experience.
When you use a responsive WordPress theme, more people can see your website, and it will make their experience better. This boosts how much people interact with your site and the number of people who take action.
In this article, we'll explore the world of responsive WordPress themes and introduce you to the top 10 options for creating a visually appealing and user-friendly website.
What Are Responsive WordPress Themes?
Responsive WordPress themes are designs that ensure your website looks and functions optimally on any device, such as a desktop computer, tablet, or smartphone. These themes automatically adjust the layout, images, and content to fit the screen, providing an excellent user experience.
Why Are Responsive Themes Important?
In today's mobile-centric world, having a responsive website is no longer optional. Here are some compelling reasons why responsive themes are essential:
More people access websites through mobile devices than ever before. A responsive theme ensures your site is mobile-optimized, reducing bounce rates and keeping visitors engaged.
Improved User Experience:
Responsive themes enhance the user experience by providing easy navigation, legible content, and faster load times, regardless of the device used.
Search engines like Google favour responsive websites. By using a responsive WordPress theme, you improve your site's chances of ranking higher in search results. Also read this informative article about SEO to rank your website.
6 Best Responsive WordPress Themes are:
Let's dive into the world of responsive WordPress themes. Here are ten options that combine aesthetics and functionality to help you create a stunning website.
Theme 1: Divi.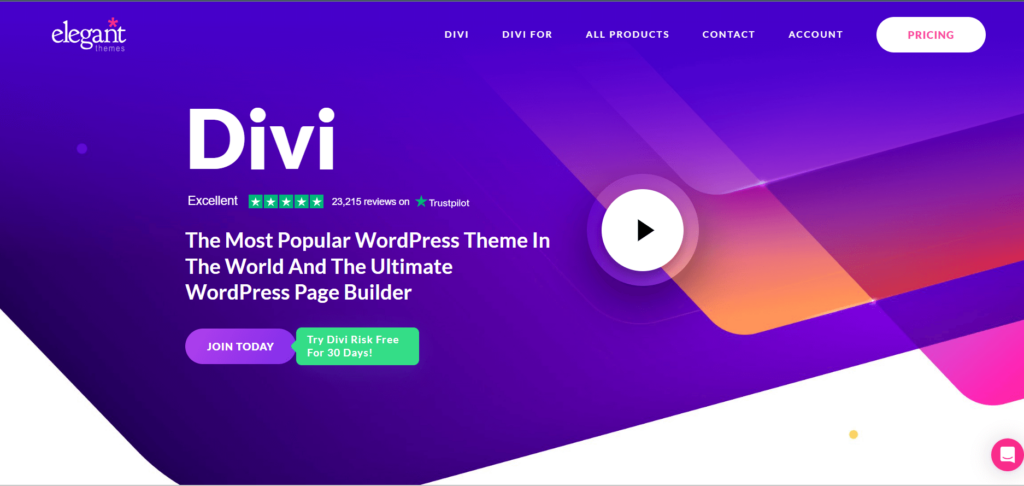 Divi is a highly versatile and popular theme that comes with a powerful page builder. It offers various customization options and is perfect for creating various types of websites.
Features and Functionalities of Divi:
Divi is a flexible WordPress theme that you can adjust to your liking, and it comes with lots of useful features and functions. Here are some key highlights:
Drag-and-drop Builder: Create stunning layouts effortlessly with a visual page builder, no coding needed. Just drag and drop elements and see real-time changes.
Responsive Design: It automatically adjusts to various screen sizes for a seamless user experience on all devices.
Pre-built Layouts: Access a library of professionally designed layouts with Divi. Choose from hundreds, customize to match your brand, and quickly create a unique website.
E-commerce Integration: Easily set up an online store and manage transactions with seamless integration with platforms like WooCommerce.
Products and Services Offered by Divi:
In addition to the powerful Divi WordPress theme, the team behind Divi also offers a range of products and services to enhance your website-building experience:
Extra Theme: Extra is a magazine-style WordPress theme that specializes in content-rich websites. It offers additional features such as advanced post layouts, a category builder, and a ratings and review system.
Divi Builder Plugin: If you prefer to use the Divi Builder with other WordPress themes, the Divi Builder Plugin allows you to do just that. It brings the power and flexibility of the Divi Builder to any WordPress site.
Divi Resources: It provides extensive documentation, tutorials, and a lively community forum to support users. Whether you're a beginner or an advanced user, these resources are invaluable in helping you make the most out of Divi.
Overall, Divi is a top choice for those seeking a responsive WordPress theme that offers unparalleled design flexibility, ease of use, and a wide range of features. Whether you're building a personal blog, an e-commerce store, or a corporate website, Divi has the tools and resources to help you create a stunning online presence.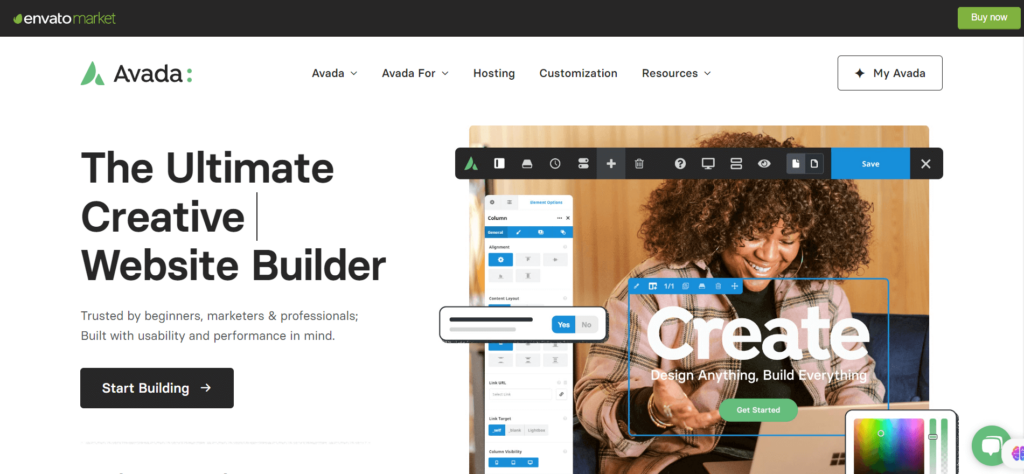 Avada is a multipurpose theme with a responsive design. It offers a vast array of features, is a fusion builder and is suitable for various types of websites.
Key Features of Avada Theme:
Avada is a widely loved and flexible WordPress theme with a wide array of features for making beautiful and adaptable websites. Here are some key features that make Avada stand out:
Fully Responsive Design: It ensures your website looks great on all devices for an excellent user experience.
Demo Content: Offers a vast library of ready-made websites and page layouts you can import with a single click, making website setup quick and easy.
Fusion Builder: Includes Fusion Builder, a powerful drag-and-drop page builder for custom layouts without coding. It provides various elements and design options.
Advanced Theme Options: Provides comprehensive theme customization options, from typography to colours, headers to footers, giving you complete design control.
WooCommerce Integration: Seamlessly works with WooCommerce, the top eCommerce plugin for WordPress, making online store creation and management easy.
Showcase of Avada's responsive tools:
Avada's responsive design is not just a theory; it's proven through its demo websites.
These demos cover different industries like photography, fashion, and business.
Avada adjusts the layout, images, and content for the best view on different screen sizes.
You can fine-tune your website's look on specific devices with Avada's advanced responsive options.
You can control things like spacing, font size, and image size for a consistent look on all devices.
Avada is great for making professional and visually appealing websites, whether you're a business owner, freelancer, or part of an agency.

Astra is a lightweight and fast theme that's perfect for building responsive websites. It's highly customizable and works well with popular page builders like Elementor.
Key Highlights of Astra Theme:
If you're looking for a highly versatile and responsive WordPress theme, Astra is a top contender. It offers a wide range of features that can help you create stunning and functional websites. Here are some key highlights of the Astra theme:
Lightweight and Fast: Known for its fast page load times with optimized code, ensuring a smooth user experience and improved search engine rankings.
Customization Options: Provides extensive options to personalize your website's look without needing to code. Easily customize headers, footers, colours, fonts, and more for a unique and professional website.
Responsive Design: Built with responsiveness in mind so your site looks perfect on all devices, from desktops to mobile phones, reaching a broader audience for an ideal user experience.
Pre-Built Templates and Layouts: Offers various one-click import templates for different industries, helping you start your website design quickly and save time.
Integration with Page Builders: Seamlessly works with popular page builders like Elementor and Beaver Builder, giving you design flexibility without coding expertise.
WooCommerce Compatibility: Fully compatible with WooCommerce, making it perfect for creating an online store. Easily set up products, create custom shopping cart pages, and provide a smooth shopping experience for customers.

Kadence Theme is known for its flexibility and customization options. It provides a user-friendly design for building websites with various features, making it a popular choice among WordPress users.
Noteworthy Features of Kadence theme:
If you're searching for a highly flexible and adaptable WordPress theme, look no further than Kadence. This well-liked theme provides a range of features that make it a great option for designing beautiful and effective websites. Here are some noteworthy features of the Kadence theme:
Lightweight and Fast: Known for its fast page load times due to lightweight code, ensuring a smooth user experience and improving SEO.
Intuitive Customization: Easily customize your website without coding with Kadence. Customize headers, footers, layouts, colours, and fonts using built-in options for total control over your site's look.
Responsive Design: It is designed to work well on all devices, be it desktops, tablets, or mobile phones, providing a seamless browsing experience.
Multiple Layout Options: Offers various layout choices to display your content attractively, such as grid, masonry, or classic blog layouts.
Integration with Page Builders: Seamlessly works with popular page builders like Elementor, Beaver Builder, and Gutenberg, making it easy to create custom layouts and unique designs without coding expertise.
Flexibility and adaptability of Kadence theme:
Kadence is renowned for its flexibility and adaptability, making it suitable for various businesses and industries. Here's why Kadence stands out in terms of flexibility:
Custom Blocks: Provides various custom blocks for easy use in the WordPress block editor or page builders. These blocks help you create visually appealing sections like testimonials, portfolios, and call-to-action buttons.
E-commerce Ready: Effortlessly set up an online store with popular e-commerce plugins like WooCommerce. Kadence offers special styling options for e-commerce pages, ensuring a smooth shopping experience.
Multi-language Support: Fully compatible with multilingual plugins like WPML, allowing you to create a global website, ideal for businesses operating in different countries or targeting diverse markets.
Ongoing Updates and Support: Regular updates ensure compatibility with the latest WordPress versions and add new features. The Kadence team provides excellent customer support, addressing any questions or concerns promptly.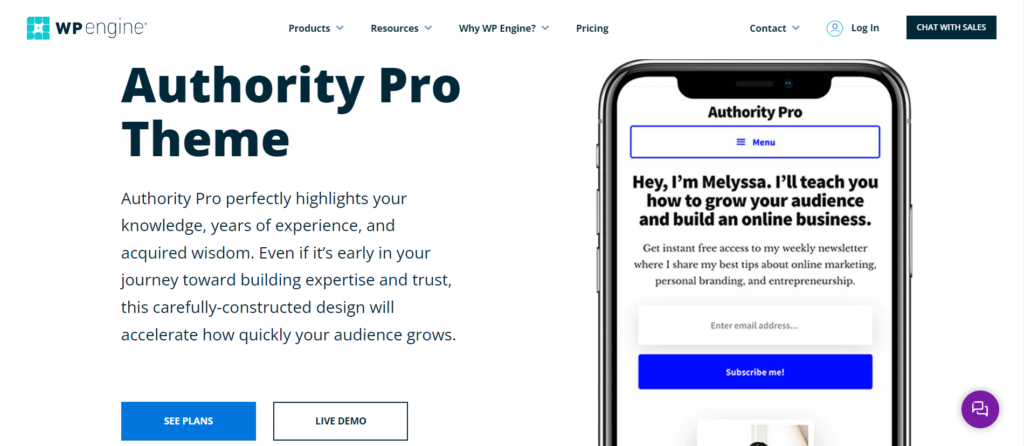 Authority Pro is a premium WordPress theme developed by StudioPress, known for its clean and modern design that prioritizes content, making it an excellent choice for creating professional websites. It offers customization options and mobile responsiveness, making it suitable for businesses and individuals looking to establish a credible online presence.
Specifics of Authority Pro theme:
Authority Pro is a professional and feature-rich WordPress theme.
StudioPress makes it and is great for creating professional websites.
It has a clean and modern design that focuses on your content.
This clean look is good for businesses and anyone who wants to seem credible online.
You can customize Authority Pro with your brand's colours and fonts.
It helps your website look good on smartphones and tablets with its mobile-responsive design.
Benefits of Creating Professional Websites:
It offers benefits like a clean and modern design.
It makes your website look professional and builds trust with visitors.
You can customize it with different colours, fonts, and layouts to fit your needs.
It's mobile-responsive, meaning it works well on any device, which is important for mobile users.
Authority Pro is an excellent choice for creating professional websites, whether for a business or an individual.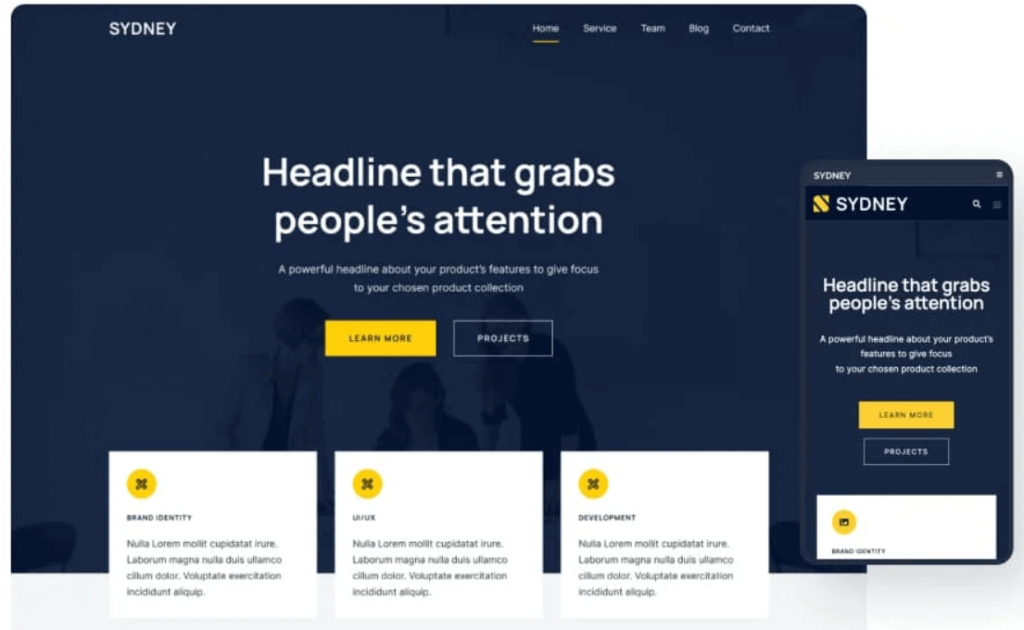 The Sydney theme is developed by aThemes, a reputable WordPress theme developer. Sydney is known for its modern and clean design, responsiveness, and wide range of customization options, making it a versatile choice for creating professional websites for businesses, freelancers, and individuals.
Key Features of the Sydney Theme:
Modern and Clean Design: It features a sleek and up-to-date design that's vital for a professional online presence, with a clean layout for a stylish and user-friendly website.
Responsiveness: The theme is fully responsive, making your site adapt to various screen sizes ensuring a consistent and optimal user experience on all devices.
Customization Options: Provides extensive customization choices to tailor the theme to your specific needs. Easily change colours, fonts, layouts, and more to match your brand and style.
Header Options: Offers various header styles, including a full-screen slider, static image, and more, giving you the flexibility to create a unique and engaging header section for your website.
Page Templates: It comes with pre-designed page templates that help you quickly set up essential pages like the homepage, contact page, and about page. This saves you time and effort during website development.
Custom Widgets: It includes custom widgets, such as the Sydney FP: Services, Sydney FP: Clients, and Sydney FP: Testimonials widgets. These widgets make it easier to add important content and functionality to your website.
Integration with Page Builders: It works seamlessly with popular page builders like Elementor. This means you can easily create and customize your website using a drag-and-drop interface.
Translation-Ready: If you're targeting a global audience, It is translation-ready, making it easy to localize your content for different languages.
Support and Documentation: It provides comprehensive documentation and support for the Sydney theme, ensuring you have the resources you need to set up and maintain your website.
How to Choose the Right Responsive Theme?
Selecting the perfect theme for your website is crucial. Consider your niche, target audience, and the features you need. Look for themes that provide customization options and support for essential plugins. To know more about such themes, refer to this article.
Installation and Customization:
Once you've chosen a responsive theme, installing it on your WordPress site is easy. Most themes come with detailed documentation. Customize your theme to match your brand's identity and style.
Performance and Loading Speed:
Responsive themes should be optimized for speed. Test your site's loading speed and make necessary adjustments to ensure a smooth and swift user experience.
Make sure to update your theme, WordPress version, and plugins regularly. This ongoing maintenance is essential to keep your website secure and working properly.
Conclusion:
Responsive WordPress themes are essential for creating a user-friendly, visually appealing website that performs well on all devices. With the right theme, your website can stand out in the digital crowd.