When it comes to building a website on WordPress, choosing the right theme is crucial. With so many choices, it can be tough to pick the right one.
This article aims to help you make an informed choice by highlighting the seven best WordPress themes in 2023.
Why choosing the best WordPress themes is important?
A nicely crafted website is crucial for drawing in and keeping visitors interested. Your choice of WordPress theme plays a big part in making a website that looks good and works well.
Here's why it's important to choose the right theme:
Professionalism: A high-quality theme lends credibility to your business or blog, helping you make a positive impression on visitors.
User Experience: A responsive and user-friendly theme ensures visitors can navigate your website effortlessly, promoting a positive user experience.
Customization: The correct theme provides customization choices, so you can adjust your website to showcase your special brand style.
Factors to consider when selecting a WordPress theme:
Before diving into the list of the best WordPress themes in 2023, keep these factors in mind:
Design and Layout: Choose a theme that has a design and layout that matches your brand and content.
Responsiveness: Make sure the theme works on mobile and looks good on various screen sizes to give users a smooth experience.
Speed and Performance: Opt for a lightweight theme that doesn't compromise on loading speed, ensuring a smooth browsing experience.
Customization Options: Search for themes that provide various ways to customize your website, so you can make it just the way you want.
Support and Updates: Consider themes that offer dependable help and frequent updates to make sure they work well with the newest WordPress versions.
Now that you know why picking the correct theme matters and what to think about, let's take a close look at the top 10 and best WordPress themes for 2023.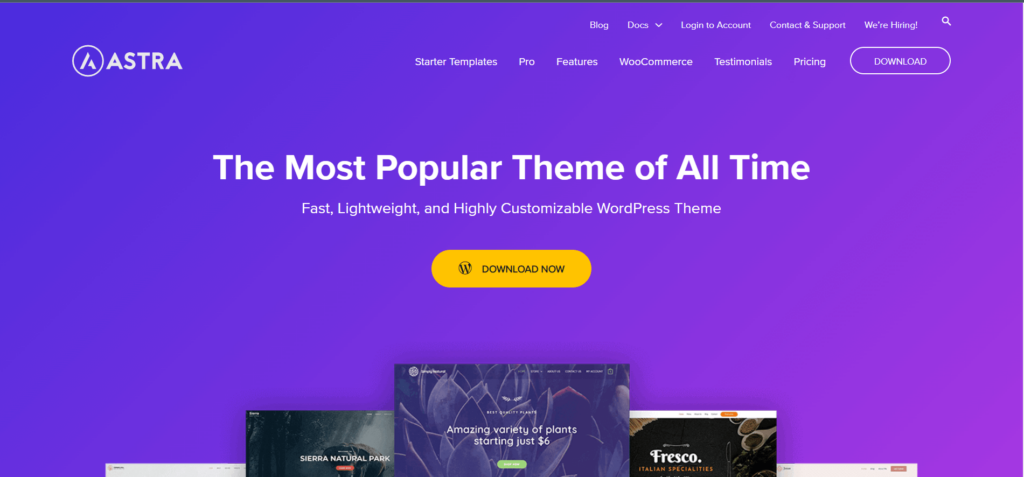 When it comes to WordPress themes, the Astra theme is a popular choice among users. It offers a range of features that make it ideal for various types of websites, from blogs to e-commerce stores. With its clean and modern design, it is known for its speed and customization options. It's lightweight and works well with popular page builders like Elementor and Beaver Builder.
Key Features of Astra Theme:
One of the main reasons why Astra is a top choice is its extensive list of features. Here are some key features that make Astra stand out:
Customizable and responsive: It offers a wide range of options for a unique brand look on all devices.
Pre-built Starter Templates: It also offers industry-specific templates for a quick start, easily customizable.
Page Builder Compatibility: It integrates smoothly with Elementor, Beaver Builder, and Gutenberg for coding-free website design and customization.
Speed and Performance: It is known for its lightweight design, ensuring fast loading times and optimal performance for your website.
SEO-Friendly Features: It incorporates SEO-friendly features and clean code practices to help improve your website's search engine rankings.
Customization Options and Flexibility:
It offers extensive customization options for full control over your website's design.
You can personalize fonts, colors, layout settings, and header options.
Astra's flexibility suits both beginners and experienced users.
Its user-friendly interface and intuitive settings panel simplify customization.
A versatile WordPress theme, It is ideal for blogs, portfolios, and online stores.
It provides the tools necessary to create professional and visually appealing websites.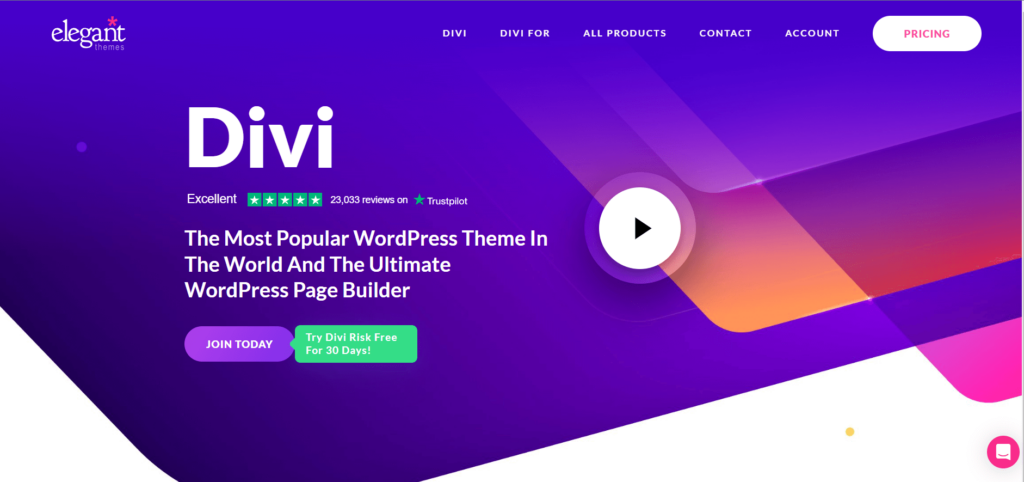 The Divi Theme is a highly popular and versatile WordPress theme that offers many features and customization options. It is known for its user-friendly interface and powerful functionality, making it an excellent choice for beginners and experienced users.
Key Features of Divi Theme:
The Divi Theme comes packed with numerous features that allow you to create stunning websites with ease. Some of its key features include:
Drag-and-Drop Builder: Build your website with a drag-and-drop editor for easy customization and real-time changes.
Responsive Design: Ensures a great viewing experience on desktops, tablets, and phones.
Pre-built Layouts: Access a wide library of professional layouts for various industries.
E-commerce Ready: Easily create a functional online store with WooCommerce integration.
User-friendly and Intuitive Interface:
User-Friendly Interface: Divi boasts an intuitive interface suitable for beginners with no coding or design experience.
Visual Representation: The Divi Builder visually represents your website for easy element customization.
Quick Customization: Easily adjust colors, fonts, layouts, and more with a few clicks.
Time-Saving: The intuitive interface saves time and ensures a professional website.
Powerful and Easy: Divi is a powerful, easy-to-use WordPress theme suitable for all user levels.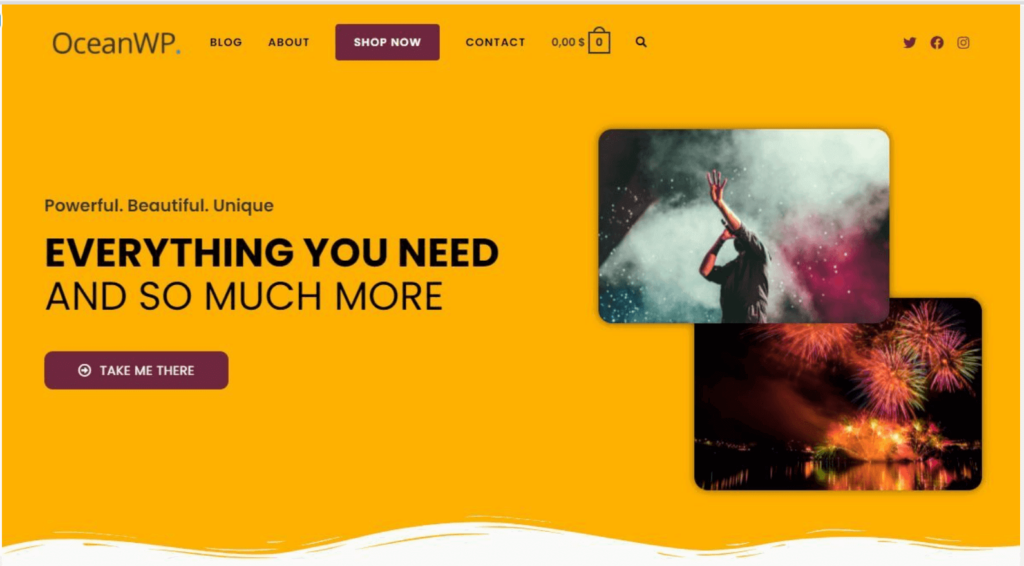 OceanWP is a highly versatile and powerful WordPress theme that offers various customization options for businesses and individuals.
Its user-friendly interface and extensive features make it suitable for various website types, including blogs, e-commerce stores, and portfolio websites.
Highlighting OceanWP Theme Features:
Responsive Design: Adapts smoothly to various devices, ensuring a great user experience.
Extensive Customization: Offers full control with numerous options for headers, layouts, and colors.
E-commerce Ready: Seamlessly integrates with WooCommerce, including cart, quick view, and wishlist features.
Fast Loading: Prioritizes performance with lightweight code for quick website loading.
SEO-friendly: Optimized for better search engine visibility and organic traffic.
SEO-friendly and Lightweight Design:
Ensures high search engine rankings and smooth browsing.
Well-organized code results in faster loading, reduced bounce rates and engaging users.
Suitable for business owners, bloggers, and freelancers.
Professional and Visually Appealing helps to create a polished website.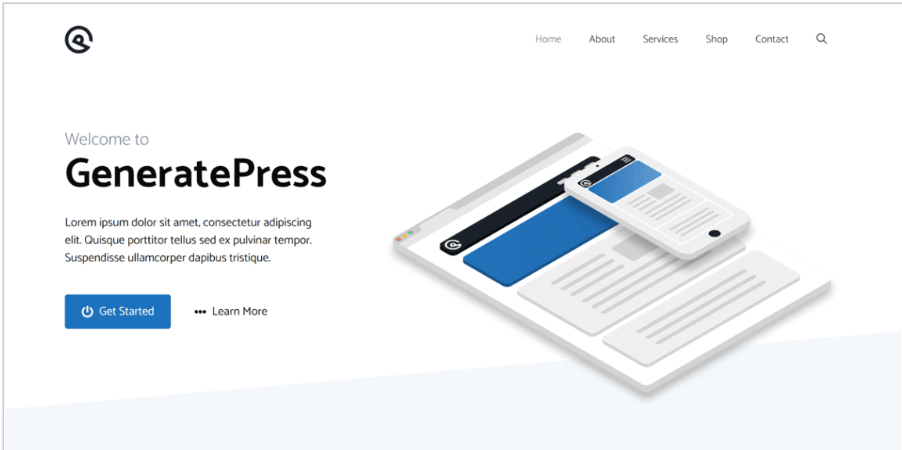 GeneratePress is a popular and easy-to-use WordPress theme appreciated for its adaptability. It's a light theme with many ways to customize, making it suitable for different website types like blogs, online stores, and businesses.
Plus, you don't need to know how to code, so even beginners can create a pro website.
Key Features of GeneratePress Theme:
GeneratePress offers a plethora of features that make it one of the best WordPress themes in 2023. Some of its key features include:
Responsive: Your website looks great on all devices (desktop, tablet, mobile).
Customization Control: You can adjust layout, typography, colors, and more.
SEO Optimized: Clean code and SEO-friendly practices enhance search engine rankings.
Fast Loading: It is optimized for speed, ensuring quick page loading.
Accessibility Ready: It prioritizes accessibility features, making your site more user-friendly.
Fast Loading and Versatile Design:
It prioritizes speed for better user experience and SEO.
It enables unique and visually appealing websites, from minimalistic to vibrant.
A top choice for those seeking a customizable and user-friendly WordPress theme.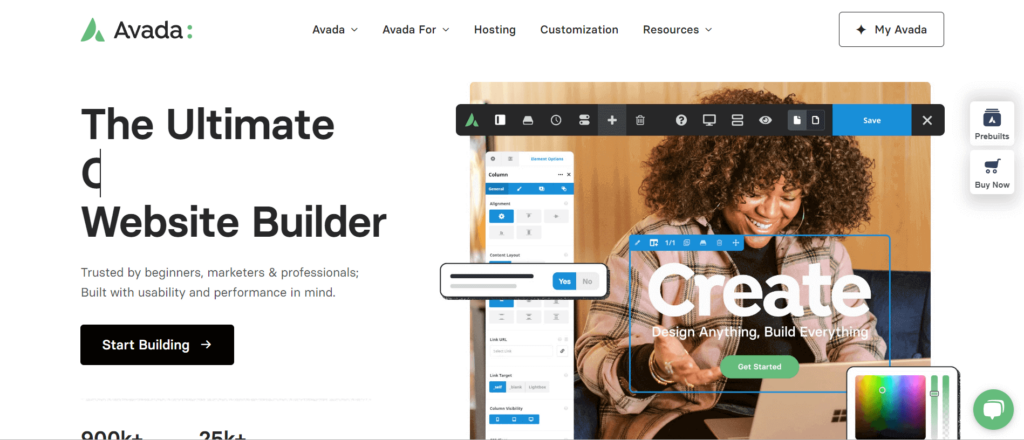 The Avada theme is among the top WordPress themes in 2023. It's well-liked because it can do many things, and it's easy to use. With over 650,000 satisfied customers, Avada is a trusted choice for businesses, bloggers, and individuals looking to create a stunning website.
Highlighting Avada Theme Features:
Avada offers a wide range of features that make it stand out among its competitors. Here are some of the key features that users love:
Demo Import: Avada offers one-click demo imports, saving you time on site creation.
Responsive Design: Ensures great looks on all devices for an optimal user experience.
Fusion Builder: A user-friendly drag-and-drop page builder for custom layouts without coding.
Advanced Customization: Customize colors, fonts, and layouts easily to match your brand.
Design and Customization Abilities:
Endless Design Possibilities: Avada offers high customization with numerous design elements and layouts.
Reflect Your Brand: Create a unique website that matches your brand's personality.
Professional & Visually Stunning: Ideal for a visually appealing and professional WordPress site.
User-Friendly: Avada's interface is easy to use, making it a top pick for 2023.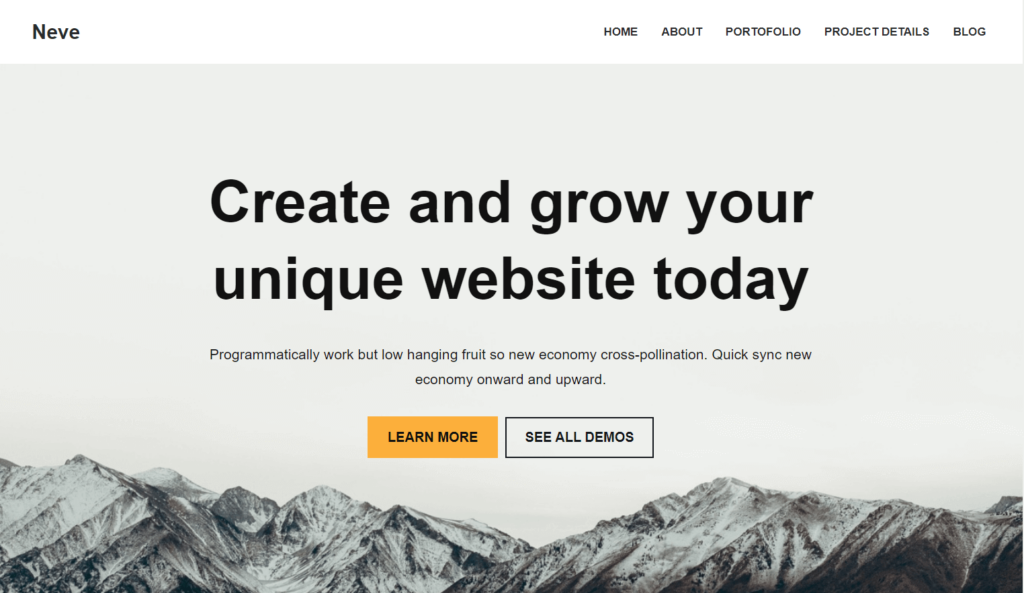 When it comes to WordPress themes, speed and performance are crucial factors. Neve is a theme that excels in this area with its fast and lightweight design. Having a website that loads quickly not only provides a better user experience but also contributes to improved SEO rankings. Neve's optimized code and minimalistic design make it a top choice for those who prioritize speed and performance.
Highlight the features and benefits of Neve theme:
Here are some of the standout features and benefits of the Neve theme:
Mobile-first approach: Neve is designed to provide an excellent user experience on all devices, including mobile phones and tablets.
Highly customizable: With Neve, you can completely change how your website looks. Adjust colors, fonts, and layouts to match your brand and style.
SEO-friendly: Neve is optimized for search engines, ensuring that your website ranks well in search results.
Regular updates and support: The Neve theme is regularly updated and backed by a dedicated support team, ensuring that you have a reliable and up-to-date theme.
One-click import: Neve offers pre-designed templates that you can import with just one click, saving you time and effort in setting up your website.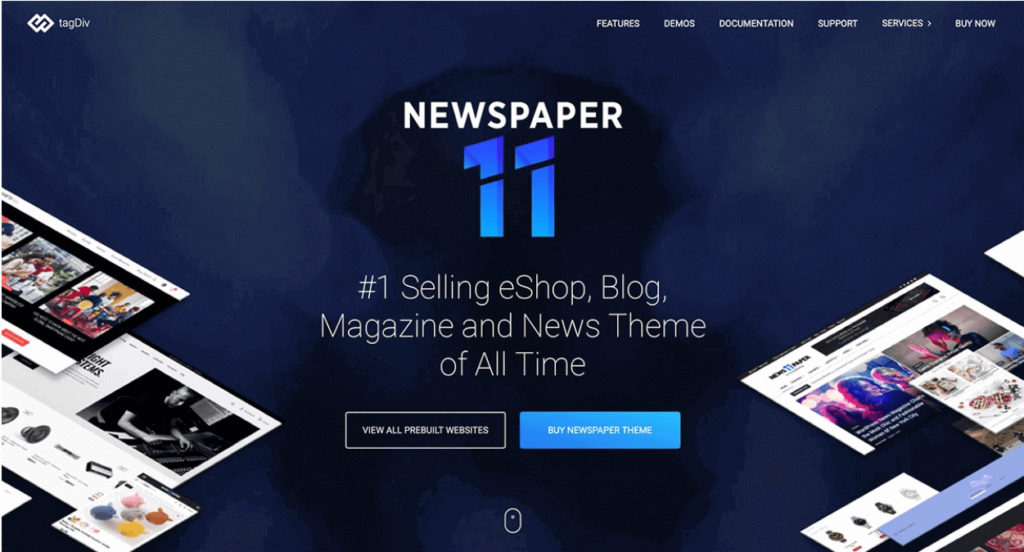 If you're looking to create a stunning website that emulates the feel of a professional magazine, Newspaper is the perfect WordPress theme for you. With its magazine-style layouts and typography options, you can enhance your website's visual appeal and captivate your audience.
Highlight its unique features and benefits:
Magazine-Style Layouts: It offers visually engaging and easy-to-navigate layouts and typography options.
Versatile Audience: Suitable for bloggers, journalists, and content creators.
Extensive Template Library: Over 100 unique demo designs available for customization.
Unique Features: Includes ad management, responsive design, SEO optimization, and social media integration.
Versatile and Popular: A highly versatile WordPress theme with broad appeal among content creators, journalists, and bloggers.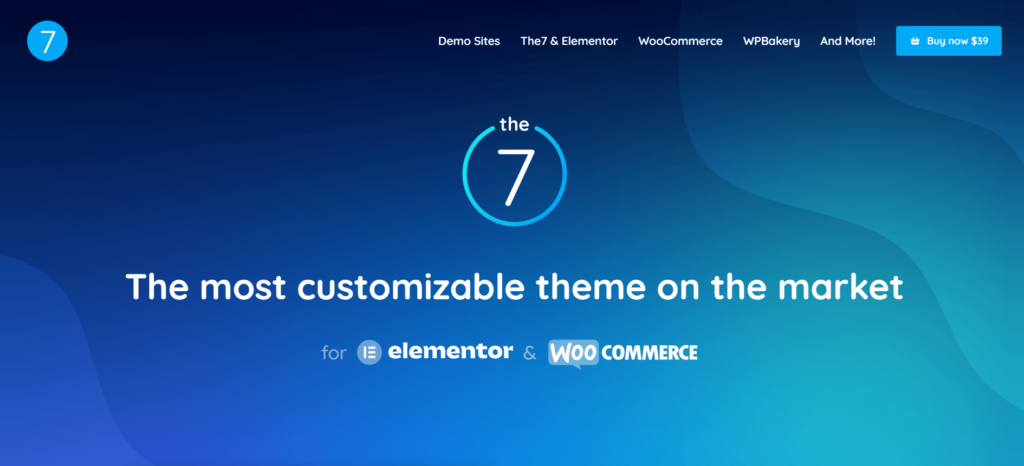 Choosing the right WordPress theme can significantly impact the success of your website. In 2023, one of the top choices is The7, a versatile and feature-rich theme that has gained popularity among web designers and developers. Let's take a closer look at what makes The7 one of the best WordPress themes in 2023.
Explanation of its key features and benefits:
The7 includes various features and advantages, making it a popular pick for WordPress users in 2023. Some of its key features include:
Pre-built Websites: The7 offers 40+ pre-designed sites for easy import and customization.
Mobile-Friendly: Ensures your site looks and works well on various devices.
SEO Optimization: Built for better search engine visibility.
WooCommerce Integration: Seamlessly integrates for visually appealing eCommerce.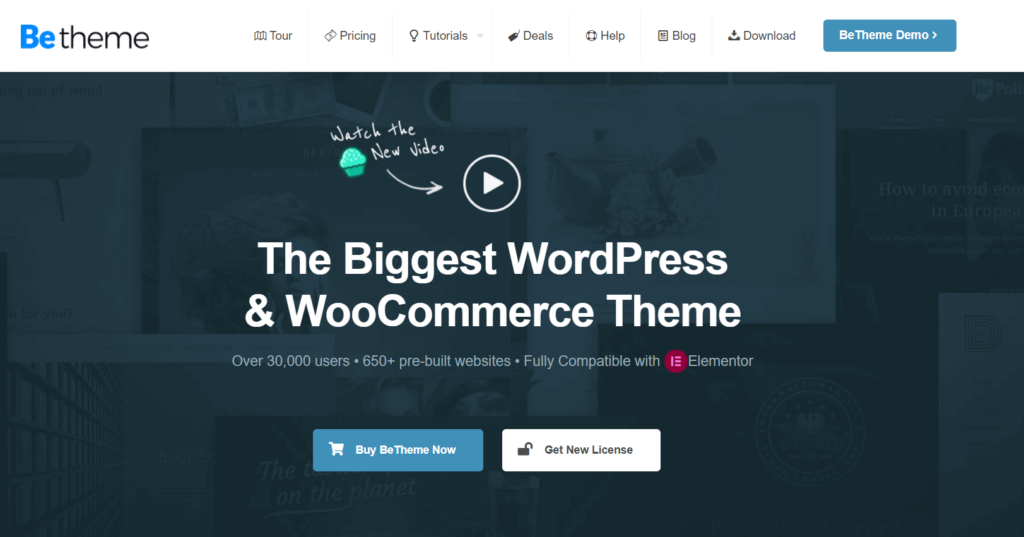 BeTheme is a popular choice in 2023 for building beautiful websites. Its many features and customization options offer endless possibilities for unique and attractive sites.
Top features and benefits of BeTheme's customization:
Unlimited color schemes: Choose from a wide range of color options or create your unique color scheme to match your brand identity.
Customizable header styles: It offers multiple header layout options, allowing you to create a header design that stands out.
Mega menu functionality: Enhance the user experience with a customizable mega menu, providing easy navigation and showcasing important content.
Responsive design: It ensures that your website looks great on all devices, from desktop to mobile, offering a seamless user experience.
Optimized for speed: It ensures your website loads quickly and performs well with its clean and efficient code.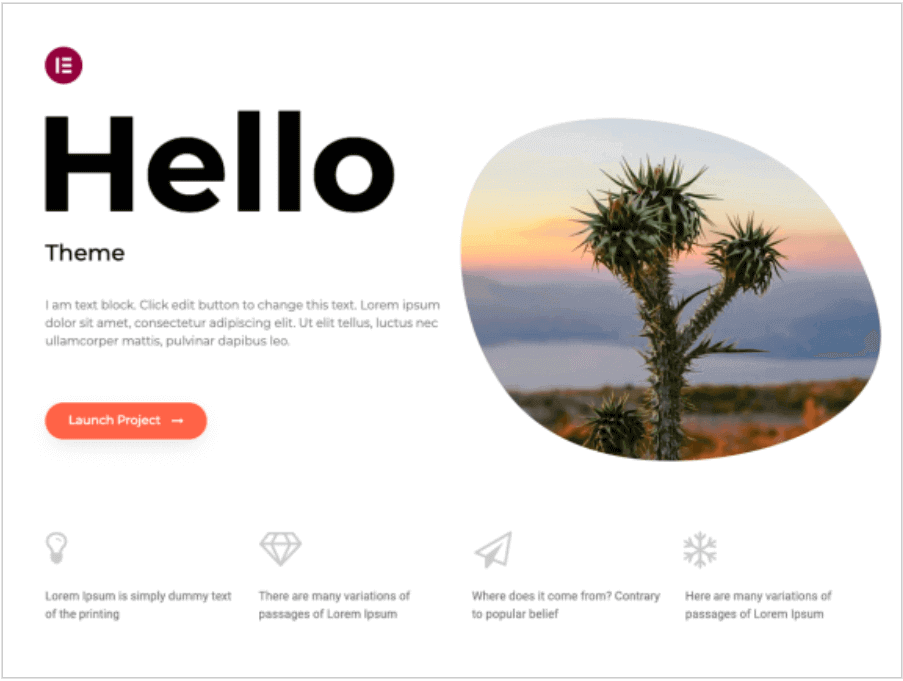 It's a well-liked WordPress theme with impressive features for website design. It's known for its clean and minimalistic design, suitable for many types of sites. If you want to learn more about Elementor Page Builder and how to use it to create your own website, check out this article. It's a great way to get started on building your website with Elementor's user-friendly tools and features.
Benefits of using Hello Elementor with Elementor page builder:
Faster Website Development: Hello Elementor, combined with Elementor's drag-and-drop and templates, speeds up site-building.
Lightweight & Performance-Optimized: Ensures quick loading, improving user experience and SEO rankings.
Regular Updates & Support: Continuously updated and supported by a reliable developer team.
Clean & Minimalistic: Ideal for users seeking a minimalistic theme with powerful design options.
Seamless Elementor Integration: Works seamlessly with the Elementor page builder for beautiful, functional websites.
If you're interested in discovering the most affordable and lightweight themes, take a moment to peruse this informative article. It's a valuable resource for enhancing your website's functionality and appearance.
Conclusion:
Choosing the right WordPress theme is crucial for creating a visually appealing and functional website. With the wide array of options available in 2023, deciding can be overwhelming. However, considering the key factors mentioned above, you can narrow your choices and find the perfect theme for your needs.