Nowadays, there are lots of frequent updates and this is why you are in danger of ruining your website with each upgrade. If you have a backup then no need to worry, but if not, then it's time to worry. So better take a website backup which helps to clone the WordPress website when needed.
If you've ever wanted to update a theme or plugin, test something new, maybe add a few things here and there, install new stuff, or give over your website to a professional team to troubleshoot, it's understandable.
In the worst-case scenario, your WordPress website will stop working and you won't be able to access the dashboard to fix it.
The greatest approach for reducing the risk and dread of losing your website entirely is to create a clone of the website and test whatever you want to test on your live site.
You might wonder how to create a clone of your WordPress website? Or Do I need help from an expert? Some might think it's the job of the developer, not mine but some want to learn about it and do it by themselves.
What the clone is, how it is created, and why it is necessary? These are some common questions that come to your mind so we prepare this blog to answer these queries if we are unable to answer the question on your mind regarding Cloning your WordPress website then contact us.
What is Clone?
Backing up and cloning your website are not the same thing. A cloning website is an act of making a copy of your existing website design or content to quickly construct a new one. Developers and designers can use website cloning to create blueprints, test compatibility, and make improvements without affecting your live site.
Why we should clone the WordPress website?
Clone the WordPress website can be appropriate in a variety of situations, including:
When a staging website is required: It's unsafe to test enormous modifications live, so having a clone of your site allows you to ensure that any changes go smoothly before upgrading your actual website.
For migration: If you want to switch web hosts, you may take your WordPress site and set it up on a new server just as it was before.
Changing your domain name entails the following steps: Changing your domain name entails "cloning" your website to a different location on your server in part.
How to clone the WordPress website?
It is best to use a WordPress Plugin to clone the WordPress website because It will be easy for you to perform. But What to do if you don't have any plugins. Can't I clone my website? Of course, you can clone.
1. Clone the WordPress website without using a Plugin?
Using a plugin means you need to do it all manually. So you need to clone contents separately and databases separately. Can't clone with a single command or single click.
1.1 Clone the content of the website
WordPress has a "Copy All Content" option using which you can copy the content of any page.
Go to Pages>>All Pages>>open the page you want to clone
The editor clicks on the white area directly above the title on the page to ensure that none of the blocks is selected. Otherwise, only the content of the specified block, not the entire page, will be copied.
In the top-right corner of your screen, click the three vertical dots icon. This will bring up a menu, where you must select Copy All Material to copy all of the content in the page editor. By going to Pages >>Add New, you can now create a new page. Copy the material to the next page, but don't forget to give it a title. Like this, you can only clone the contents of your website.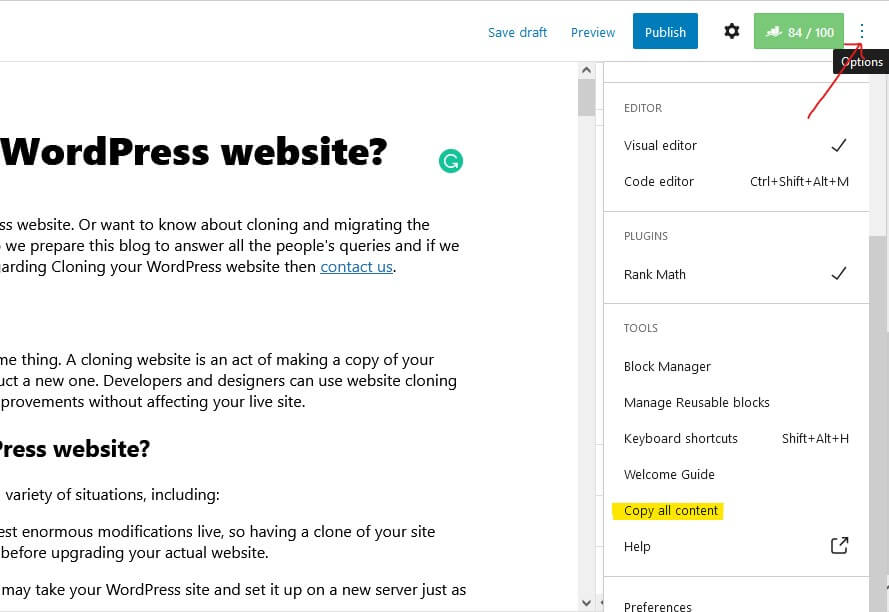 1.2 Clone the database of the website
Furthermore, to clone the database use phpMyAdmin. Download all the files, upload them back to the new site, set up WordPress, set up a database, import the database, and adjust your configuration file.
2. Clone the WordPress website using a Plugin?
Isn't it a confusing and tedious job to do? Why not install a plugin to clone WordPress Websites?
Among hundreds of WordPress Plugin with Cloning features, Everest Backup Plugin is the best one. With this plugin, a few simple steps and a single click can clone the whole website. Let's discuss it briefly.
Why Everest Backup Plugin to Clone the WordPress website?
Everest Backup's capabilities go beyond backup and restoration. It's also the most efficient way to migrate a WordPress website. Copy and paste your migration key from the source website onto the destination website. With a single click, you may accomplish your site migration. And clone your WordPress website in a few simple steps.
Easy-to-use: Enroll in a simple interface that allows you to backup and restore your data with a single click on a timetable that works for you.
Client Trusted: Everest Backup is tested in more scenarios, installed on more servers, and rated higher than any other competitors.
Comprehensive: Everest Backup is a complete, general-purpose backup and restores plugin with a unique feature, Human readable logs.
How can you clone the WordPress website using Everest Backup Plugin?
Before talking about how you can clone your WordPress website using Everest Backup Plugin, you need to install Everest Backup Plugin on your WordPress website. If you are going to clone your WordPress website from one website to another then on both websites you need to install Everest Backup Plugin. If you don't know how to install our Everest Backup plugin then
Here is the video tutorial for you:https://youtu.be/S742esAIaFg?list=PLJ9kDzVp2heF2Qa3Pfe2d8ZrOn60reYIt
Here is the step-by-step tutorial: https://wpeverestbackup.com/blog/how-to-install-the-everest-backup-plugin/
Clone the WordPress website using Everest Backup Plugin
Let us assume, we have two websites Website1 and Website2.
Login info of Website1:
Login info of Website2:
Steps to Migrate/Clone
Open your WordPress Website1 and Website2 dashboard.
Step 1: Go to Website1 Everest Backup plugin and select Migration/Clone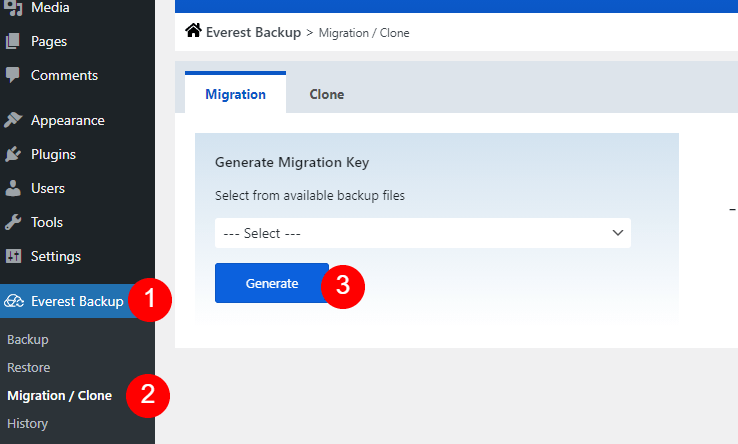 Step 2: Select from the available backup file.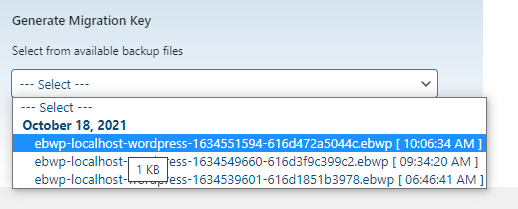 Step 3: Generate the key and copy it.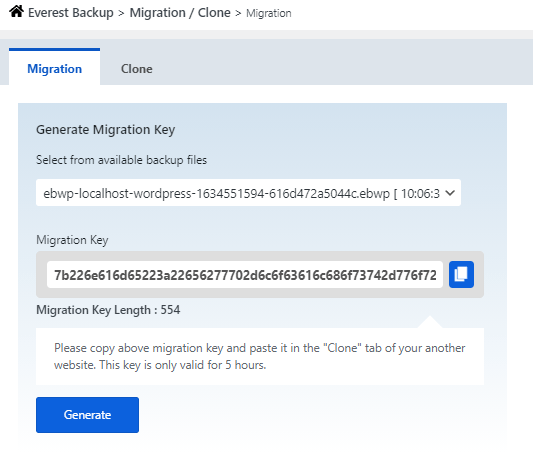 Step 4: Now paste it into the clone tab of Website2.
Step 5: Verify whether the information is correct or not (Check the migration key length). If you have any issues regarding this then, email us at bug-report@wpeverestbackup.com with the log screenshot and the error message you get.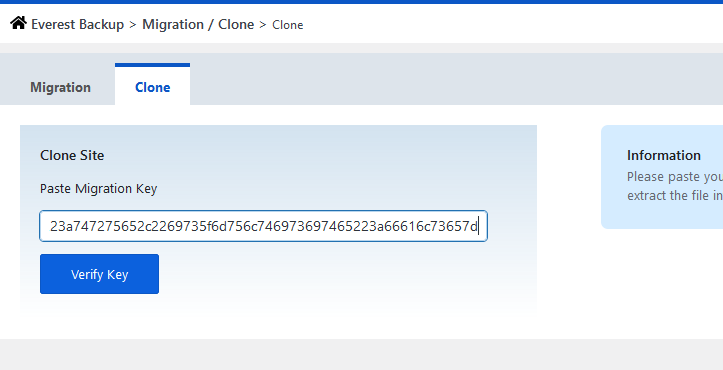 Step 6: Click on the clone.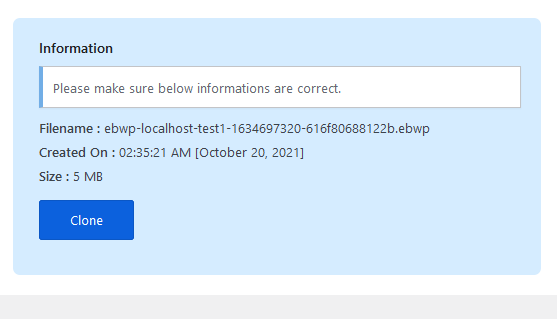 Step 7: After some time WordPress dashboard will be opened and login into the dashboard. While login you use the Website1 username and password.
use login info of Website1:
Step 8: After login, you will directly go to the "Log" page of the Everest Backup Plugin.
You can check the details of the clone website if you want by clicking on the dropdown.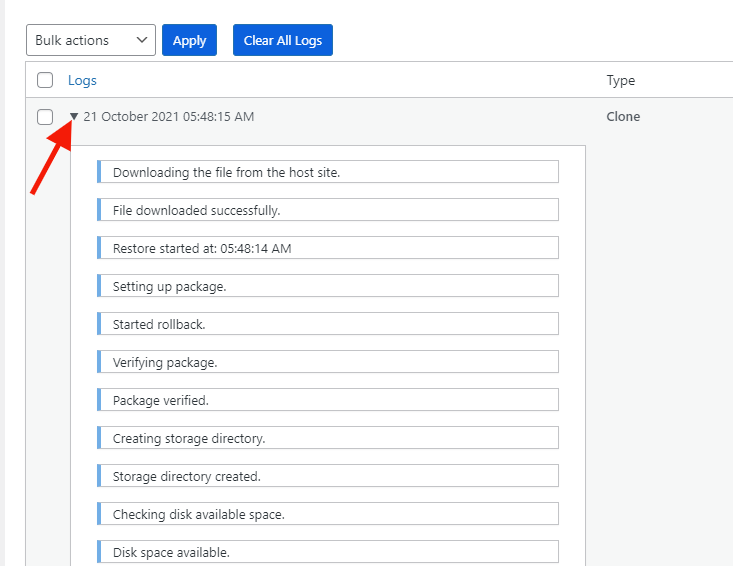 If you haven't backed up your files then you need to back up the files and then only migrate and clone your website. To know more about how you can backup and then clone go to the link below
Is there any other WordPress Plugin except Everest Backup Plugin which can be used for cloning?
Yes, there are, many that provide the same migration and cloning feature to your WordPress website. You can search the plugins at http://wordpress.org, where you can get hundreds of plugins with this feature. And some of them are the best ones for this cloning WordPress websites. But, most of the WordPress plugins which have cloning features are premium only. And why get something without testing. What if the plugin is not compatible or doesn't work properly. Why take risks?
If you don't know what to choose or confused about choosing the WordPress plugin then this might help you. Click on the link below. https://wpeverestbackup.com/blog/what-should-i-looked-at-to-find-the-best-wordpress-backup-plugins/
But here is Everest Backup Plugin that offers this Cloning feature in a free version also. And about Everest Backup we have already discussed above. Here are some other WordPress Migration plugins that offer cloning features but they might not provide cloning in a free version:
UpdraftPlus Premium
Jetpack
BlogVault
Duplicator Pro
WP Stagecoach
Migrate Guru
Aii-in-One WP Migration
XCloner
NS Cloner
FastDup
Total Upkeep
What Do you think…
Since Everest Backup Plugin is providing Migration and Cloning function in a free version also then why not give it a try to this plugin. If you choose other then you need to get a premium version to get this feature. So what do you think about this Everest Backup Plugin for cloning your WordPress website?
During cloning using Everest Backup Plugin, if you get any kind of error messages then you can directly email us at bug-report[at]wpeverestbackup. com with the error message you got, logs from the system, and information about your system.