Everest Backup Gets a Major Update – Version 2.0 is Here – A Look at What's New!!
Hello everyone,
We're excited to announce a significant update to our popular WordPress backup, migration, restore, and cloning plugin – Everest Backup. This update comes with several new features to help you have an even more excellent user experience.

Plus, we've included bug fixes and improvements so that you can get the absolute most out of your backup and restore process.
What's new in version 2.0 ?
Backup and Restore:
An Upgrade of Everest Backup and Migration/(Restore) Engine.
A user-friendly real-time progress report that provides in-depth details.
Improved and enhanced database backup processes for maximum efficiency and reliability.
Fixed issues with shared hosting and limited server resources.
Auto restore on successful upload feature added.
The ability to save uploaded backup files for future use has been added as a feature.
Significant enhancements have been made to the restoration process to increase its reliability.
Core enhancements:
The PHP zip archiver has been replaced with the Everest Backup core archiver for improved functionality.
Compatibility with versions prior to v2.0.0 has been removed.
Compatibility with versions prior to v2.0.0 has been removed:
It means that backups generated using version 1.1.7 will not be able to be restored using version 2.0.
If you want to restore any backup files prior to v2.0.0 you have to use Everest Backup version 1.1.7
In addition to these new features, we have also fixed several bugs that were reported by users to make Everest Backup even more reliable.
System Requirement:
WordPress latest version will be the good fit. (You can also use the previous version like 5.6 or 6).
PHP version 7.4 or later
MySQL 5.6 or later
PHP Zlibrary Enabled ( 99% web host have enabled this extension).(https://www.php.net/manual/en/ref.zlib.php)
How to Check Your System Requirement?
Navigate to Everest Backup >> Settings >> Information Tab.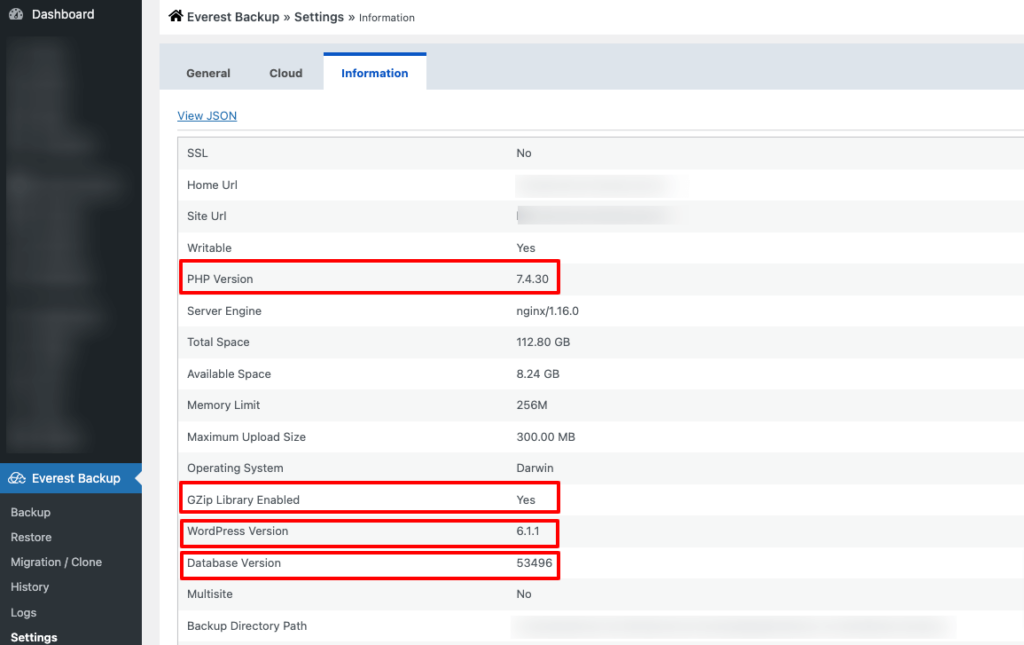 Updating Your Plugin is Simple:
Just log in to your WordPress dashboard.
Navigate to the "Plugins" section.
Click the "Update" button next to Everest Backup. (It will automatically update the plugins.)
We're excited to present our latest updates, and we continually strive to enhance Everest Backup and deliver the utmost satisfaction to our users. Should you have any inquiries or suggestions, please feel free to contact us without hesitation.
To discover additional information about our plugin and its offerings, we invite you to visit our official website and explore our blog section for valuable insights.
We hope you'll enjoy them!
Thank You. 😊