When it comes to securing the website first thing that comes to mind is having a backup and restoring the backup when needed. That's why we need the best WordPress backup and restore plugin for our WordPress website.
It is hard to get many features in one but WordPress has made it easy and possible to get. WordPress has many Backup and Restore plugins that have all the necessary features that a website needs to have. For example, a WordPress Backup Plugin not only backups up the website but also has features to restore the backed-up file. A Plugin has backup, restore, migration, and clone features.
The most difficult and confusing thing is that WordPress has many plugins with similar features like SEO plugins, Security Plugins, Analytics Plugins, Migration Plugins, LMS Plugins, Backup and Restore Plugins, and many more. That's why as a WordPress website owner, one must know the requirements of the plugin. i.e, You must have a vision or idea about what you need for your website or which features you need in the plugin. Then only you analyze the plugins and will get the one.
If you go with the flow of people advising you to get the plugin then you will end up installing lots of unnecessary plugins on your website which leads to slower website speed and other problems. So, either you test the plugin and then decide which to choose.
Or if the person has tested the plugin and works for his/her site then get that for your site but before getting the plugin test it once by yourself. Every plugin is not compatible with your website and if the plugin is working properly and smoothly on one website that doesn't mean it will work properly on your website.
Must-have features of WordPress Backup and Restore Plugin
The plugin must complete Website Backup
Incremental Backups
The plugin must support Cloud backup and restore
Scheduled, and Real-time Backups
Don't leave backup and restore of your sites on chances
Keep the capacity of the plugin in mind before choosing it for backup and restore
Keep migration on your list of essentials
Reliable Support
You will get all these must-have features of WordPress backup and restore plugin in the Everest Backup Plugin. Hold on you must be confused by the name, don't worry the name is a backup plugin but it will restore your available files as well as restore by uploading. Also, Everest Backup can migrate and clone your website easily.
Everest Backup Plugin – a complete backup, restore, migration, and cloning plugin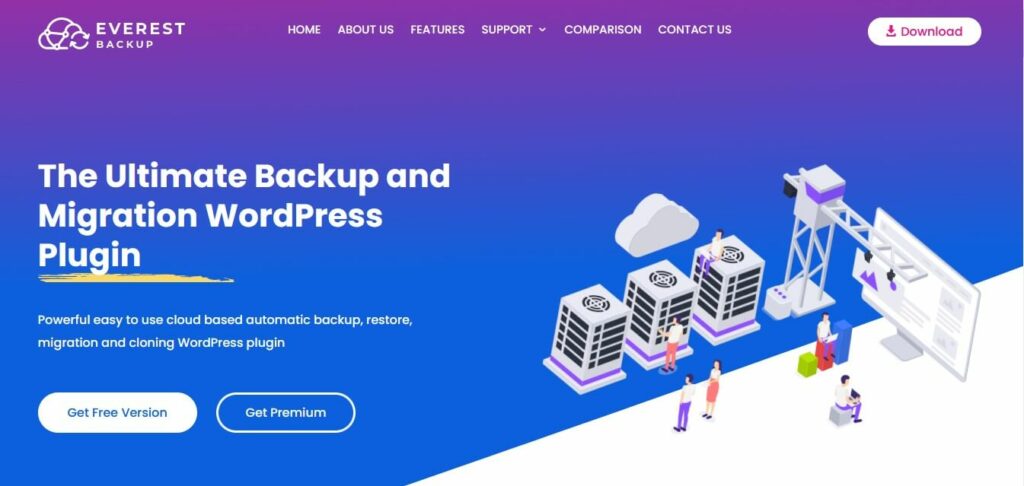 Everest Backup plugin is a modern tool that will take care of your website's backups, restoration, migration, and cloning. It is the fastest and most easy-to-use cloud-based storage backup plugin. In a few clicks connect your Google Drive and Schedule your backup.
Everest Backup has manual as well as automatic scheduled backup and pushes them to your Google Drive and restores them with a single click.
Everest Backup is not only limited to backup and restoration. It is also the best WordPress website migration plugin. Website Migration is as simple as copy and paste. Generate and copy your migration key from the source website and paste this migration key onto your destination website. In a single click, your migration of the site happens.
Human readable logs are one of the distinctive features, no technical knowledge is needed to understand what's going on during your website backup process. Get details of each backup in your email.
Free features:
Automatically and manually backup
Restore by uploading or available files
Migration and Cloning
Backup to Remote Cloud
Multisite Compatible
Price details: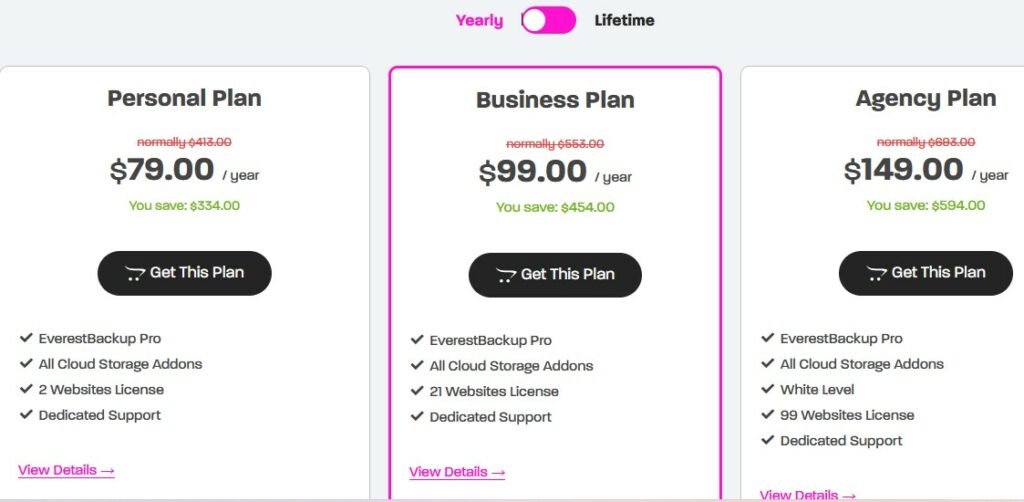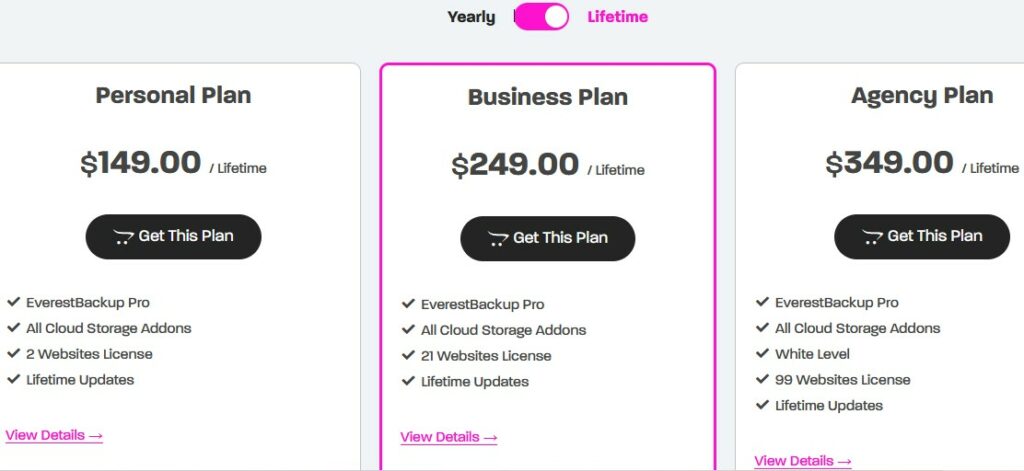 Premium features:
Backup and restore in a single click
Backups are taken automatically on a regular basis.
Backup and restore to a cloud destination
Allow picking database to backup
Migration and cloning in a single click
Logs that are viewable by humans
Immediate email notification
Organize multiple sites
Schedules that are effective
Individual roles and abilities are defined.
Required WordPress Version for Everest Backup Plugin is 5.6 or higher and tested up to 6.0. Also it required PHP Version 7.3 or higher.
How to Backup and Restore a website using Everest Backup
At first, you must install Everest Backup Plugin on your Website and then login into the website dashboard. On your left, you will see Everest Backup click on that and click backup. There you will get two options manual backup or scheduled backup. If you want to backup manually then go to manual backup and backup your website. And if you want to schedule your backup and make the system regularly backup your website automatically then go to Schedule backup and backup your website.
Next, restore the backed-up files. For restoration also there are mainly two options available files and uploading files. If you are going to restore files available on the system then go to available files and restore the available files. No, the file you want to restore is not available in the list then click on upload files and upload the file you want to restore from the file location (local webserver or any cloud servers) and restore the file.
For brief information about backup and restore go to How to Backup and Restore Your WordPress Site with Everest Backup?
WordPress Backup and Restore Plugin
Apart from Everest Backup Plugin there are other best WordPress Backup and Restore Plugin in the market that you might want to know. Here I have listed some of the best Backup and Restore plugins best for WordPress websites with a brief introduction, features, WordPress required version and its premium price details.
UpdraftPlus – Backup, Restore, and Clone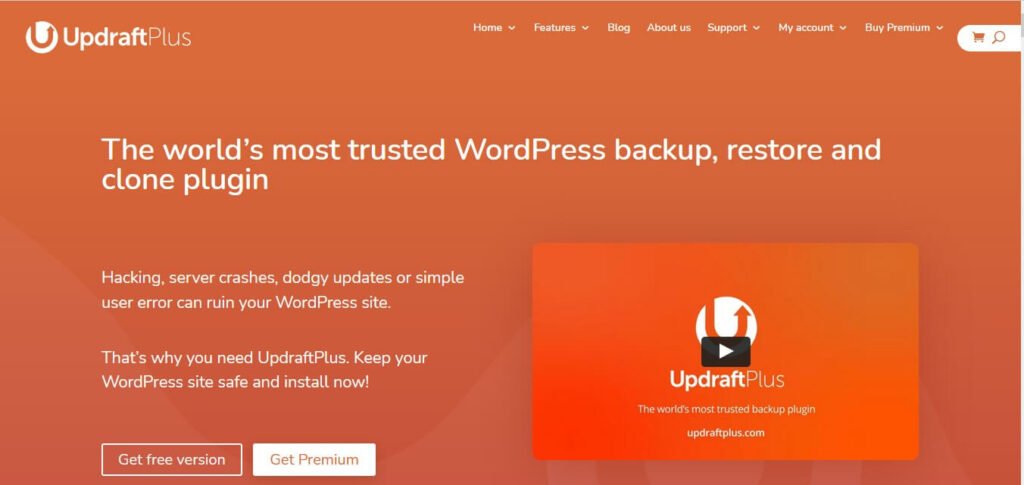 UpdraftPlus is one of the best WordPress backup and restore Plugins. It is the world's highest-ranking and most popular scheduled backup plugin, with over three million currently-active installs. Back up your files and database backups into the cloud and restore with a single click!
Backup into the cloud directly to Dropbox, Google Drive, Amazon S3 (or compatible), UpdraftVault, Rackspace Cloud, FTP, DreamObjects, Openstack Swift, and email. The paid version also allows you to back up to Microsoft OneDrive, Microsoft Azure, Google Cloud Storage, Backblaze B2, SFTP, SCP, and WebDAV.
Free features:
Backup and Restore
Backs up to more cloud options than any others
Allows you to set up automatic backup schedules, for the ultimate in convenience
Is faster, using up fewer server resources
Price details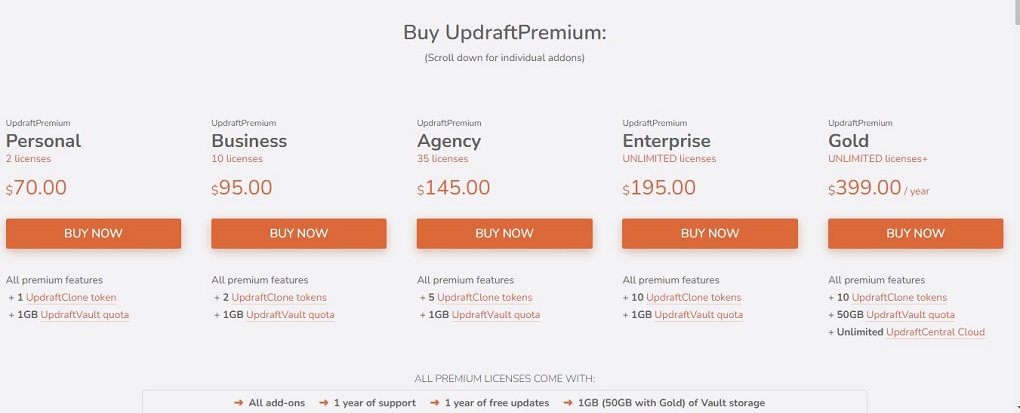 Premium features:
Incremental backups
Easily duplicates or migrates websites (with Migrator)
Multisite/multi-network compatibility
Backups of non-WP files and databases to multiple remote destinations
More storage destinations (e.g. OneDrive, BackBlaze, Azure, SFTP) and multiple destinations
Database encryption
Advanced reporting
Support for WP-CLI
Free dedicated expert support
Required WordPress version for UpdraftPlus is 3.2 or higher and tested up to 6.0.
WPVivid – Backup, migrate and staging

WPvivid Backup Plugin offers backup, migration, and staging as basic features, and is integrating more and more elegant features, such as unused images cleaner etc.
Create a staging site on a subdirectory to safely test WordPress, plugins, themes and website changes. Clone and migrate a copy of the WordPress site to a new host (a new domain), schedule backups, send backups to leading remote storage, and clean unused images before backup and migration. All in one backup & migration plugin.
Free features:
Easy Backups
Auto migration
Create a staging site
Scheduled backups
Offsite backup to remote storage
One-click restore
Unused images cleaner
Simple interface
Price details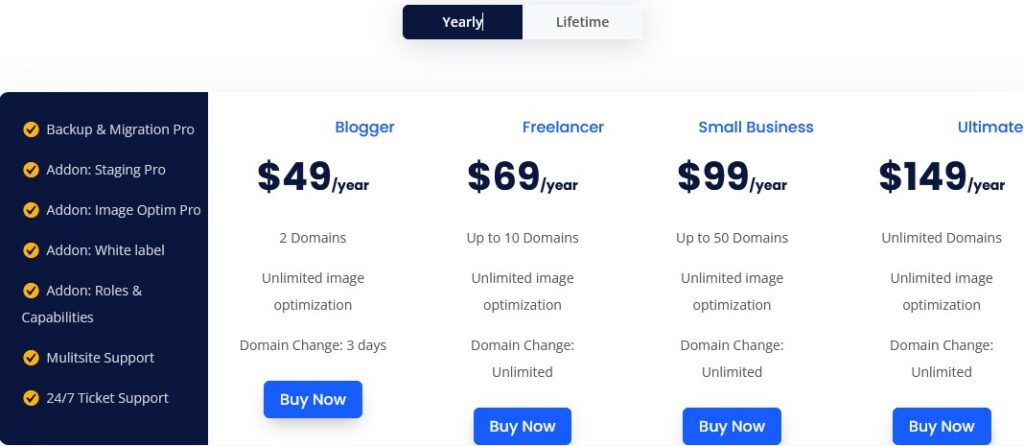 Premium features:
Store 7+ backups at a time
Set custom backup schedule
Include/exclude backup files
Advanced remote storage
Site staging and push staging to live
Incremental backup
Database encryption
24/7 dedicated support
Edit user roles
White Label
WordPress multisite backup
Custom migration
Backup splitting
Required WordPress Version is 4.5 or higher and tested up to 6.0. Also required PHP Version is 5.3 or higher
Blog Vault – Restore, Migration, and Backup

The Most Reliable Incremental WordPress Backup and Restore Plugin with Free Cloud Storage. The best Part, Comes with a FREE Staging Environment. BlogVault regularly backs up everything in your WordPress site – Including the WordPress database, WordPress files, themes, images, etc.
WordPress database and files backup using BlogVault is much safer and simpler than creating a backup manually.
Free features:
Reliable WordPress Backup
100% Successful Restores
Integrated free staging
Flawless site migrations
Manage multiple sites
WooCommerce Backups
Price details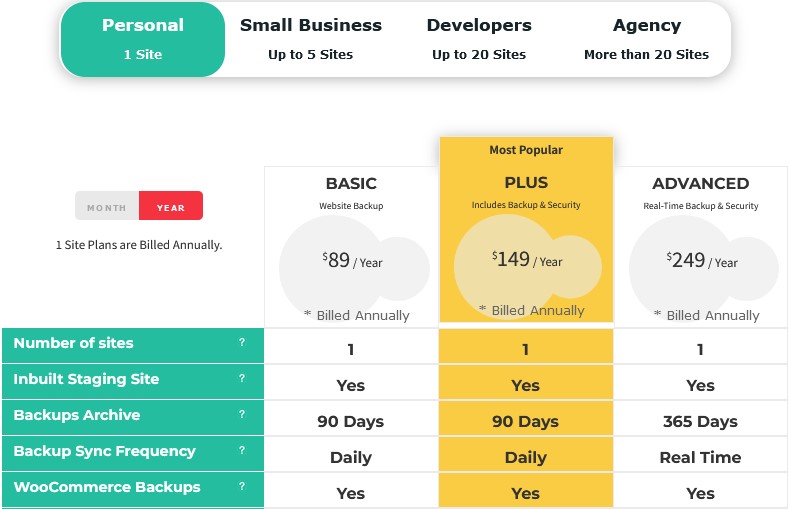 Premium features:
Incremental backups guaranteed to always work
Fastest website recovery within minutes
Deploy a staging site in one-click
Frustration-free website migrations in 1-click
Real-time backups for WooCommerce stores
Manage multiple websites from a single dashboard
Required WordPress Version is 4.0 or higher and tested up to 6.0. And required PHP Version is 5.4.0 or higher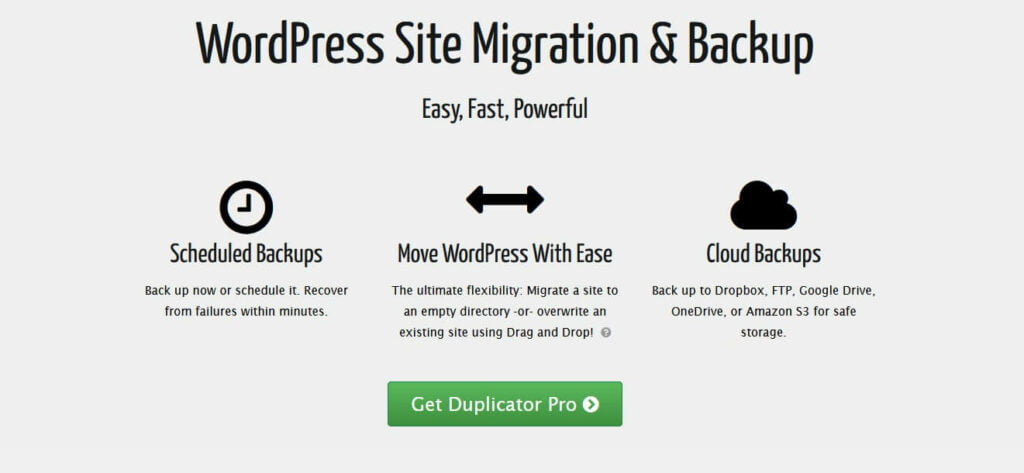 Duplicator is the most powerful migrator available. It enables you to move, migrate or clone a WordPress site between domains or hosts with zero downtime. Also, pull down a live site to localhost for development. Duplicator transfer a WordPress site from one host to another. With the manually backup feature, you can backup the whole WordPress site or parts of a site. It performs a full WordPress migration without struggling with messy import/export SQL scripts.
Duplicator creates a package that bundles all the site's plugins, themes, content, database and WordPress files into a simple zip file called a package. This package can then be used to easily migrate a WordPress site to any location you wish. Move on the same server, across servers and pretty much any location a WordPress site can be hosted. WordPress is not required for installation since the package contains all site files.
Free features:
Backup files and database
File and database table filters
Migration wizard
Overwrite live site
Price details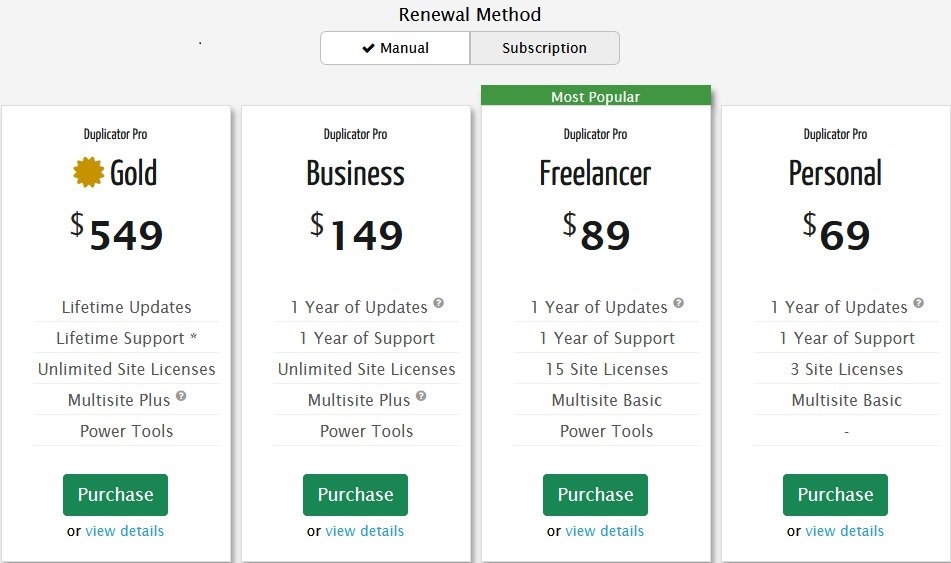 Premium features:
Drag and Drop install – just drag an archive to the destination site!
Scheduled backups
Cloud Storage to Dropbox, Google Drive, Microsoft OneDrive, Amazon S3 and FTP/SFTP
A special 2-step streamlined installer mode for mega-fast installs
Recovery Points added for very fast emergency site restores
Support for Managed hosts such as WordPress.com, WPEngine, GoDaddy Managed, and more
Multi-threaded to support larger websites & databases
Migrate an entire multisite WordPress network in one shot
Install a multisite subsite as a new standalone website
Database and user creation in the installer with cPanel API
Connect to cPanel directly from the installer
Email notifications
Professional support
Required WordPress Version is 4.0 or higher and tested up to 6.0. Also required PHP Version is 5.3.8 or higher
All-in-One WP Migration is verifiably one of WordPress' most trusted and utilized plugins for moving websites with absolute ease.
Intently built with the non-technical user in mind, All-in-One WP Migration comes loaded with newbie-friendly functions that allow you to migrate your WordPress website with little to no technical knowledge or experience.
Free features:
Ultra-fast export
Drag and drop import
Convenience Backups
Price details

Premium features:
Remove upload limits
Use on any number of websites that you own
Restore backup from the server
WP CLI commands
Premium support
Required WordPress Version is 3.3 or higher and tested up to 6.0. Also required PHP version is 5.2.17 or higher.
BackWPup – Backup and Restore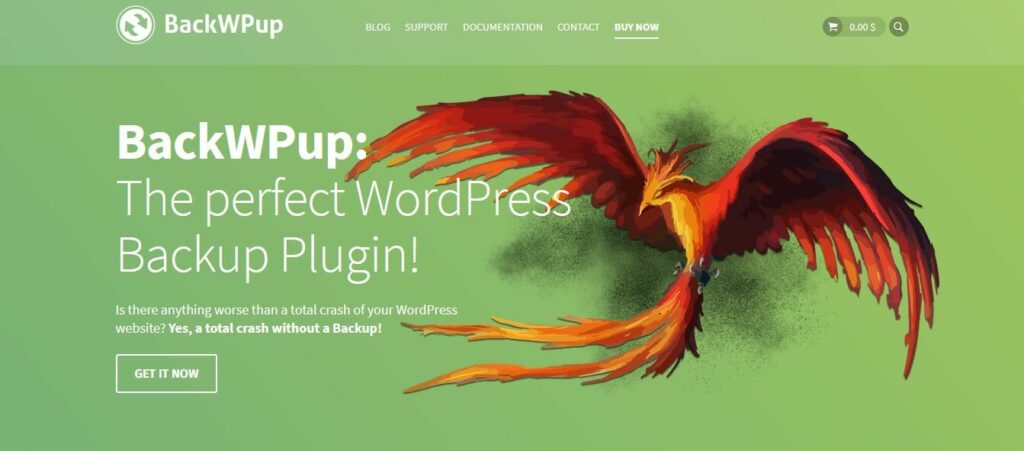 The BackWPup WordPress Backup and Restore plugin can be used to save your complete installation including /wp-content/ and push them to an external Backup Service, like Dropbox, S3, FTP and many more. With a single backup .zip file, you are able to easily restore an installation.
Free features:
Database Backup
Complete Automatic restore
Multisite Support
Backup archives management
Log report via email
Backup to Microsoft Azure, Dropbox, FTP server, S3 services
Price details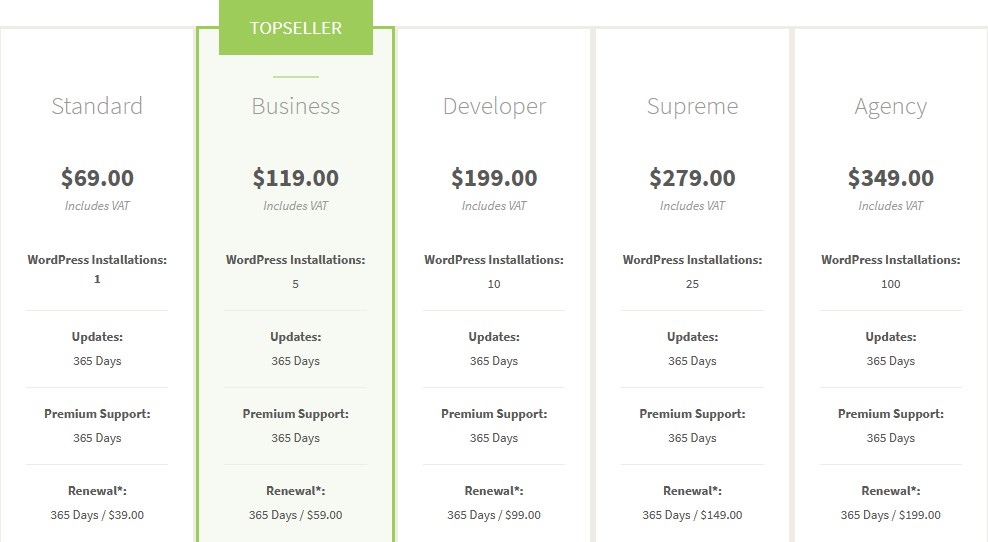 Premium features:
Backup to Amazon Glacier, Google Drive, OneDrive, HiDrive
Restore manually uploaded backup archives
Restore Backup archives from FTP server, DropBox, Google Drive, and S3 services
Encrypt Backup Archives
Differential backup of changed directories to Dropbox, Google Drive, Rackspace Cloud Files, S3, and MS Azure
Premium support
Automatic updates
Required WordPress Version is 3.9 or higher and tested up to 5.8.4. Also required PHP Version is 5.3.3 or higher.
What to do next???
Don't think there are limited plugins and you need to get one of the above. There are many you can find on wordpress.org and also you will find a premium as well as free WordPress Backup and Restore Plugin. And among them, Everest Backup Plugin is the best WordPress Backup and Restore Plugin. As I have mentioned above with a free version only you can take backup, restore, and even migrate/clone your website from one host to another. So think, what new surprises and great features you will get in the premium version Everest Backup Plugin.
It's not like you have to get what others say, try the plugin and if you like it then invest your money. For that, the Everest Backup Plugin has a great solution. Without installing Everest Backup Plugin into your website you can test the plugin.
Check the plugin before you install it on your website.