Sometimes we unknowingly delete the post or page of our website or we think it's not used so we delete it instead of converting that post or page into a draft. And later we search for that page or post but we have already deleted that. So in that situation what to do to recreate the page or post. That can be the solution but are you sure all the design and contents will be the same. So why not recover deleted file, or why not restore the file.
In the next scenario, someone might delete your most popular page or post from your website dashboard. And recreating the deleted file won't get you as traffic that the previous one had. So in this situation recreation won't work and somehow you must recover deleted file.
Restoring a deleted file is not as difficult a task as you think and hiring a professional to do that work. With the correct knowledge, you can do it by yourselves without investing any extra money. Doesn't it sound amazing?
In many ways you can restore the files, here we will discuss those ways to restore website post which needs less technical information and you can do it by yourself without any help from the professionals. But sometimes you can't do it by yourself and at that time you really need help from a professional. Apart from that difficult situation, you can do it by yourself.
Recover deleted file right after you delete
When you mistakenly delete an important file don't panic you can restore the file in a fraction of the time. Once you delete the file after a few seconds you will see a message which says "undo". And by clicking that undo you can redo the thing like the deleted file will be restored as it is.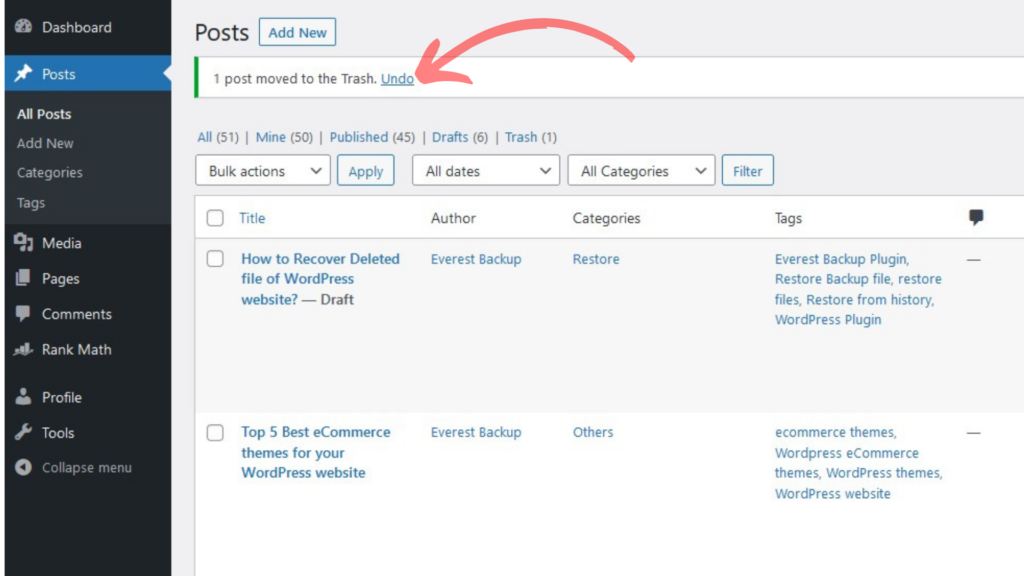 What if you are unable to click the undo button before time. Now you can't restore the file. Obviously, you can restore the file.
Restore the file from the trash
At home or office, we throw unnecessary things into the trash bin and sometimes we mistakenly throw important documents into the trash can and we search the trash can and get our file. Likewise, in the WordPress dashboard, you have a trash section where all the deleted files will transfer. And from there you can directly restore the file.
When you click delete and the file is deleted and then you will see a notification in your dashboard saying "click here to see the files of a trash" or other but the thing is it will direct you to the trash section. And from there you can recover deleted files easily in a few seconds according to the file size.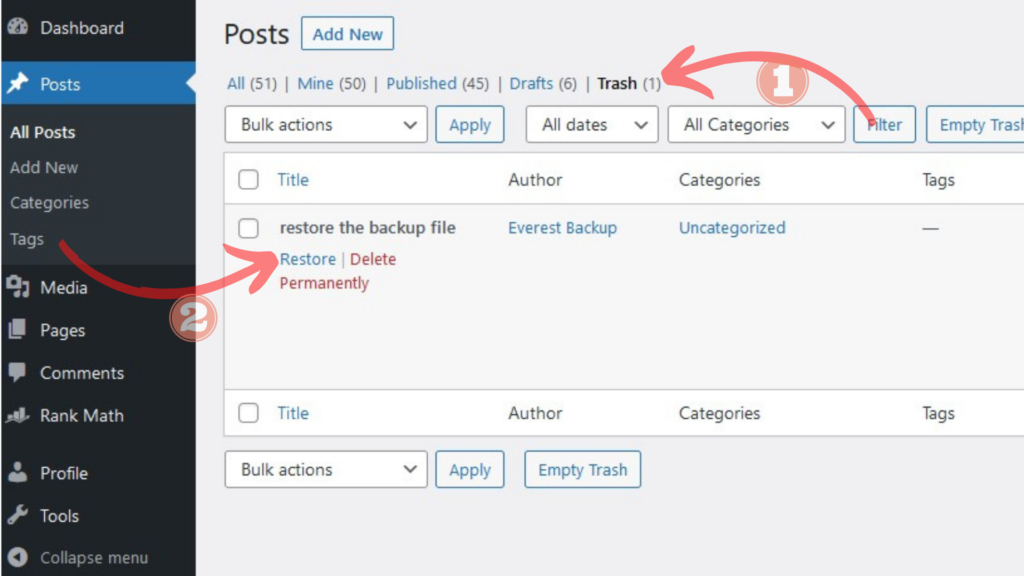 You can restore file from the "Trash" folder within 30 days because files will be deleted after 30 days.
Don't we have any systematic way to recover a deleted file? Of course, there is.
Restore the file using the restore plugin
Before discussing how you can restore the file using the WordPress restore plugin you need to check if you do have a backup of your website or not. If you have taken the backup of the website before you delete the file then with the help of the WordPress restore plugin, you can restore the file but if you don't have the backup of your website then you can't.
So let's say you have a backup of your website before you delete the important file and you tried to recover deleted files using the above two methods but unfortunately you couldn't restore the file. This method is slightly tricky and lengthy so please concentrate.
Step 1: Set up a Local website for restoring the deleted content
First of all, locate your backed-up file if it is in your local host or if you have stored in any cloud server then download the file. Now you must be thinking if we have a backed-up file then why set up a local website and restore it there.
Let me make you clear, you have a backed-up file of the whole website not a single page/post and if you restore the backup file to the live site then it will replace the current file. If you haven't changed anything after you took the backup then no problem but if you have changed anything then the restored file will replace your current file. That's why, why to take risk of losing the current file.
And another reason is what if the recovered file has lots of unnecessary files you deleted recently. In this situation, if the recovered file replaces the current file then you again have to filter the file and delete unnecessary ones.
Step 2: Install Everest Backup Plugin
Now you know why to restore the file to the local site. Let's go ahead. Once recovered you have to login into the dashboard and install Everest Backup plugin.
Everest Backup Plugin

Everest Backup is a modern tool for backing up, restoring, migrating, and cloning your website. It is the quickest and most user-friendly cloud-based storage backup plugin available. Connect with any cloud servers in a few clicks and schedule your backup. Everest Backup offers both manual and automatic scheduled backups, which it pushes to your selected cloud server.




Everest Backup is capable of more than just backup and restoration. It's also the most effective WordPress website migration tool. Copy & paste is all it takes to migrate a website. Create and copy your migration key from the source website, then paste it onto the destination page. Your site migration is completed with a single click.




Human readable logs are one of the distinctive features, no technical knowledge is needed to understand what's going on during your website backup process. Get details of each backup in your email.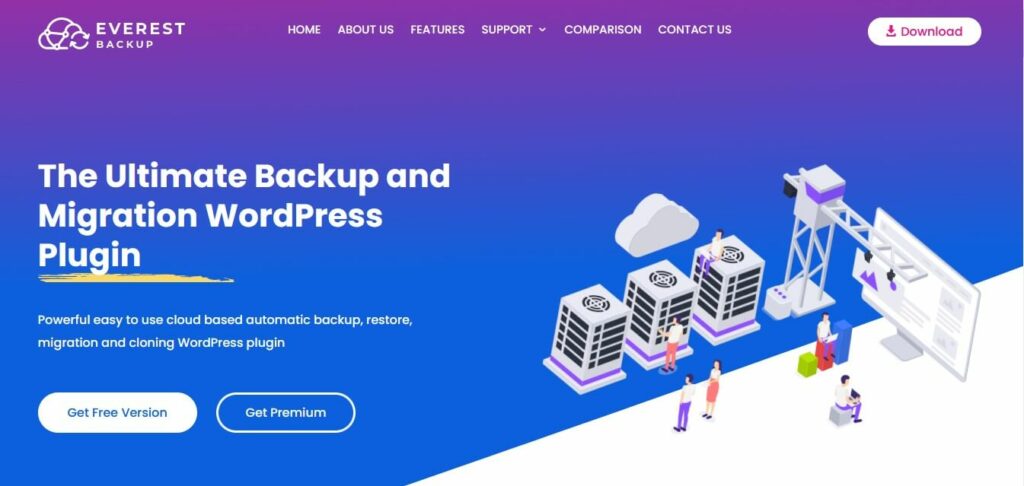 Features of Everest Backup Plugin free version:
Manual and Automatic Backup
For automated backups, just choose a date and time, or manually generate a backup at any time with a simple click. Similarly, the backup data can be restored with a single click.
Backup on Google Drive
Google Drive and other cloud services can be used to securely store backups. The automatic restore plan is compatible with this feature.
Migration and Cloning
Run Everest Backup on both websites, then create and transfer a backup file from the first to the second. Use our "magic link" to make things easier. No need to download and upload your files from your computer.
Advanced Reporting
Notify you, when Everest Backup completes or requires attention, ensuring that you always have a current and complete backup of your website.
Human Readable Logs
All of our logs are human-readable, which allows you to get the information happening on your backup files without the need for professional assistance.
Multisite Compatible
Everest Backup Plugin also supports WordPress Multisite installation. You can add an individual site as a subsite of a multisite and you can backup and restore the entire WordPress Multisite Network in the free version.
Features of Everest Backup Plugin premium version:
All the features of Everest Backup free version
More Options for Scheduled automatic backups
Remove hosting server uploads limit
Supports Google Drive
Supports Dropbox
Supports OneDrive
Supports AWS Amazon S3
Supports pCloud
One-click rollback from remote cloud
Advance logs
Download backup files from the cloud within WordPress Dashboard ( No need to log in to the cloud )
Delete backup files from the cloud within WordPress Dashboard ( No need to log in to the cloud )
Email notifications for the site's backup status
Premium Pricing:
Step 3: Take a backup of the respective file from the local site
Once you installed Everest Backup, now take the backup of the file you want to restore. For this, you have to backup manually. Save the backed-up file in the local webserver.
Step 4: Install Everest Backup Plugin on Live site
Now go back to the live site and there also install Everest Backup Plugin. Once it is successfully installed and activated you can add cloud addons to it or you can add Google Drive only as your wish. After that go to the restore tab of the Everest Backup plugin.
Step 5: Upload the file to recover deleted file
Since we don't have that file in our system so instead of restoring from available files we upload files to restore. Or you open the file on the local site and copy all the contents and paste it to the live site by creating a post or page and paste.
Additional information
Everest Backup plugin is not the only WordPress restore plugin, there are many other plugins also which have the same feature as Everest Backup Plugin. Among them, some of them are freemium versions ( free + premium) and some have premium versions only. You can choose the best WordPress restore plugin from wordpress.org.
Furthermore, with Everest Backup Plugin, you can easily migrate your website from one host to another or one website to another in a few simple steps. Likewise, there are many WordPress migration plugins in WordPress with similar features and you have to choose the best one for your website while needed. But Everest Backup Plugin can take backup of your website, restore files, migrate and clone the website, and many more.