Are you looking to create a website for your business or personal use but unsure which platform to choose? With so many options available, it can be overwhelming to make a decision. In this article, we will compare the three popular website builders, WordPress, Wix, and Squarespace, to help you determine which one is right for you.
Understanding the Basics: What Is WordPress, Wix, and Squarespace?
Before diving into the comparison, let's establish a fundamental understanding of each platform.
WordPress: It is a powerful, flexible, and open-source content management system (CMS) that allows you to create and customize websites. It provides a large range of features, plugins, and themes to suit various requirements and ability levels. However, it requires more technical knowledge and may be better suited for experienced users.
Wix: It is a user-friendly website builder offering a drag-and-drop interface with pre-designed templates. It requires little to no technical expertise, making it ideal for beginners or those with limited time. It also provides additional features like integrated e-commerce solutions and a built-in SEO wizard.
Squarespace: It is known for its visually appealing templates and intuitive interface. It offers a straightforward and streamlined website-building experience, with various design options and built-in e-commerce functionality. It's perfect for both individuals and businesses who want to make a professional website easily.
Comparison between WordPress, Wix, and Squarespace:
When comparing these platforms, several factors come into play, including flexibility, customization options, pricing, and ease of use. Here's a quick overview:
| | | | |
| --- | --- | --- | --- |
| | WordPress | Wix | Squarespace |
| Flexibility | Highly flexible and customizable with numerous themes and plugins. | Less flexibility compared to WordPress, but still offers customization options. | Offers a moderate level of flexibility with limited customization compared to WordPress. |
| Ease of Use | It is more suitable for users with web development experience. | Extremely user-friendly with a simple drag-and-drop interface. | User-friendly and intuitive interface, making it easy for beginners. |
| Pricing | Offers both free and paid options, but may require additional costs for themes and plugins. | Offers various pricing plans ranging from free to premium packages with additional features. | Offers different pricing plans for personal and business use, with additional costs for advanced features. |
Target Audience and Purpose of Each Platform:
WordPress: It supports a diverse user base, including bloggers, freelancers, small businesses, and large enterprises. It is suitable for those who require extensive customization options and have technical expertise.
Wix: It targets beginners and individuals who want a simple and hassle-free website-building experience. It is also suitable for small businesses, entrepreneurs, and creative professionals.
Squarespace: It focuses on creative professionals, small businesses, and individuals who value aesthetics and want a visually stunning website without extensive technical requirements.
Remember to consider your specific needs, goals, and level of technical expertise when choosing between WordPress, Wix, and Squarespace. Take advantage of their free trials or demos to explore the platforms and find the one that aligns with your requirements. Also read this informative article to know more about WordPress alternatives.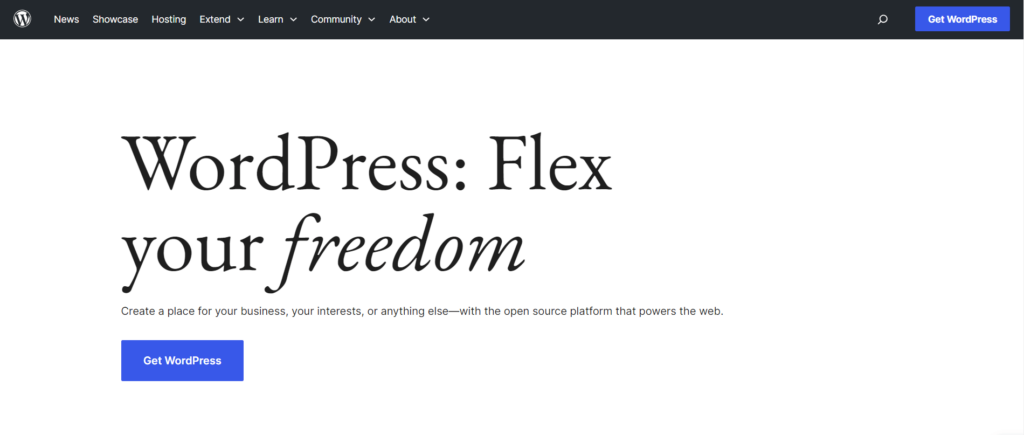 When it comes to choosing the right platform for your website, WordPress is a well-liked choice with plenty of features and ways to make it your own.
WordPress Features and Customization Options:
WordPress provides a wide range of features and ways to personalize your website to fit what you want. You'll have many choices available for themes and plugins that easily change how your site looks and works. Whether you want an online store, a blog, or a portfolio site, WordPress has what you need to do it.
Benefits of using WordPress for Flexibility and Scalability:
One of the key benefits of WordPress is its flexibility and scalability. As your business grows, you can easily expand your website and add new features without any limitations. WordPress has many SEO-friendly features that help your website rank high in search engines.
Pros:
Extensive design flexibility, thanks to thousands of themes and plugins.
Excellent for SEO, with plugins like Yoast SEO.
Robust blogging capabilities.
A vast, active community for support.
Regular updates for enhanced security.
Cons:
It can be overwhelming for beginners.
You're responsible for hosting and maintenance.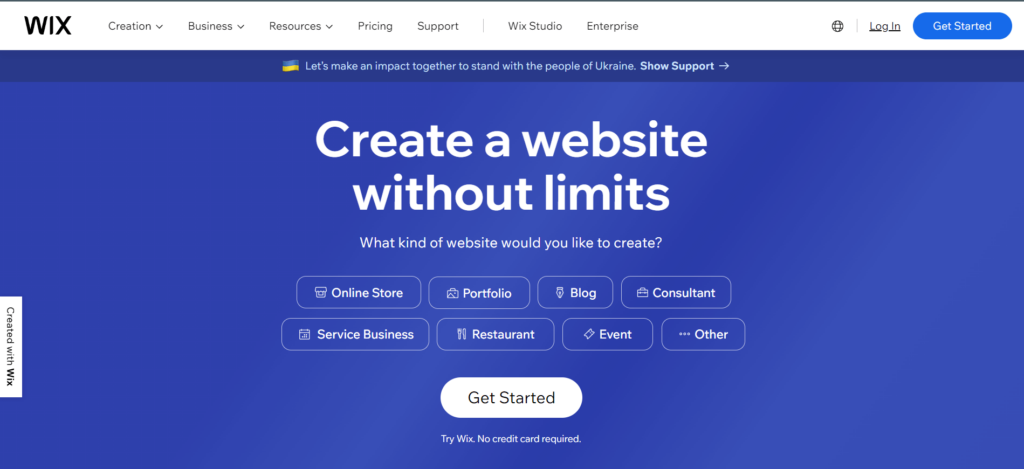 If you are looking for a user-friendly platform to build a website without any coding knowledge, Wix could be the perfect choice for you. With its drag-and-drop interface, Wix allows you to design and customize your website layout easily. The platform provides various templates and themes you can tailor to match your brand's look.
Advantages of Using Wix for Quick and Simple Website Creation:
Wix is known for its simplicity and speed when it comes to website creation. You can easily create your website by selecting a template, adding your content, and customizing it to meet your needs. Wix also provides a variety of intuitive tools and features, such as the Wix ADI (Artificial Design Intelligence), which can automatically design a website for you based on your preferences.
Pros:
Beginner-friendly with a simple and intuitive interface.
A wide selection of professionally designed templates.
Reliable and secure hosting is included in the subscription.
Built-in SEO tools for basic optimization.
Suitable for small to medium-sized e-commerce websites.
Cons:
Limited design flexibility compared to WordPress.
Less control over SEO compared to WordPress.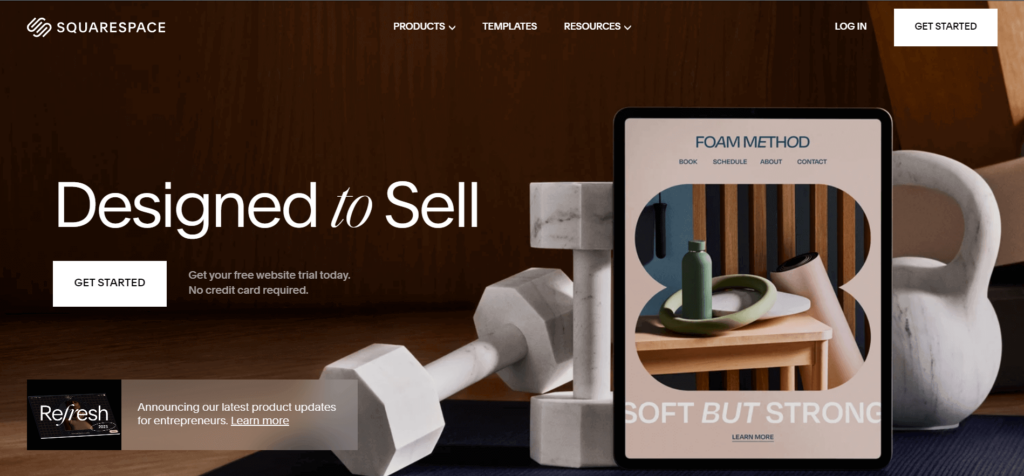 Squarespace is a top pick for creating beautiful websites. It has lots of stylish templates that you can customize. Even if you don't know how to code, you can make a pro-looking site with its user-friendly builder. It's got drag-and-drop tools to arrange and personalize your content effortlessly.
Why Squarespace is Suitable for Creating Visually Stunning Websites?
Squarespace is known for its clean and visually appealing designs. Whether you are starting an ecommerce store, a portfolio website, or a blog, it has templates and features specifically designed to make your website visually stunning.
The platform focuses on making things look good and gives you plenty of ways to make your website unique and attractive. It also comes with a built-in design that works well on both computers and mobile devices.
Pros:
User-friendly and elegant templates for a sophisticated look.
Basic SEO tools for optimizing your content.
Suitable for creative professionals and small business owners.
Built-in e-commerce capabilities.
Reliable hosting with 24/7 support.
Cons:
Limited design flexibility compared to WordPress.
Not as feature-rich as WordPress.
Access to Tutorials, Documentation, and Community Forums:
WordPress: Being the most widely used CMS, WordPress has a plethora of resources available. You can find tutorials, documentation, and support forums dedicated to WordPress on their official website and other community-driven platforms. Additionally, there are countless WordPress blogs and YouTube channels that offer valuable content for beginners and advanced users alike.
Wix: It provides an extensive collection of video tutorials and articles in their Help Center, covering various topics ranging from getting started to more advanced functionalities. Their resources are well-organized, making it easy to find the information you need. It also has a vibrant community forum where you can connect with fellow users, share experiences, and seek advice.
Squarespace: It offers a comprehensive help centre that includes detailed guides, video tutorials, and answers to frequently asked questions. Furthermore, they involve a community forum where you can engage with other Squarespace users, get inspiration, and find solutions to common problems. Squarespace's resources are user-friendly and cater to both beginners and experienced website builders.
Which One Is Right for You?
The best platform for you depends on what you need and what you like. Here's a quick guide to help you decide:
Choose WordPress if you are tech-savvy, need extensive customization, and plan to build a large, content-heavy site. WordPress is ideal for bloggers, businesses, and anyone who wants full control.
Choose Wix if you're a beginner or want a simple and visually appealing site. It is suitable for small businesses, portfolios, and personal blogs.
Choose Squarespace if you prefer a user-friendly, elegant design and need an online presence for your creative work or small business. It's a great choice for artists, photographers, and small e-commerce ventures.
Conclusion:
When it comes to choosing the right website-building platform for your business, there are several factors to consider. WordPress, Wix, and Squarespace each have their strengths and weaknesses, so it's important to make an informed decision based on your specific website needs and goals.