Are you looking for the best and Cheapest WordPress Backup Plugin for your website? No worries, I've got you covered.
Since you've arrived here in search of backup plugins, I'm pretty sure you already understand their importance. When it comes to securing your website from hackers, human errors, or server crashes, a WordPress backup solution plays a vital role. It's the smartest move you can make to quickly restore your website and cope with such catastrophic situations.
In this article, I will share with you the seven best and most affordable WordPress backup plugins, ranging from the least expensive to slightly pricier options. If you haven't been backing up your website yet, it's high time you pick one of these top-notch and budget-friendly backup plugins and start using it right away.
Remember: While many WordPress hosting providers offer limited backup services, you should not solely rely on them. After reading this article, you will fully understand the plugins available and which is the best fit for your website and budget.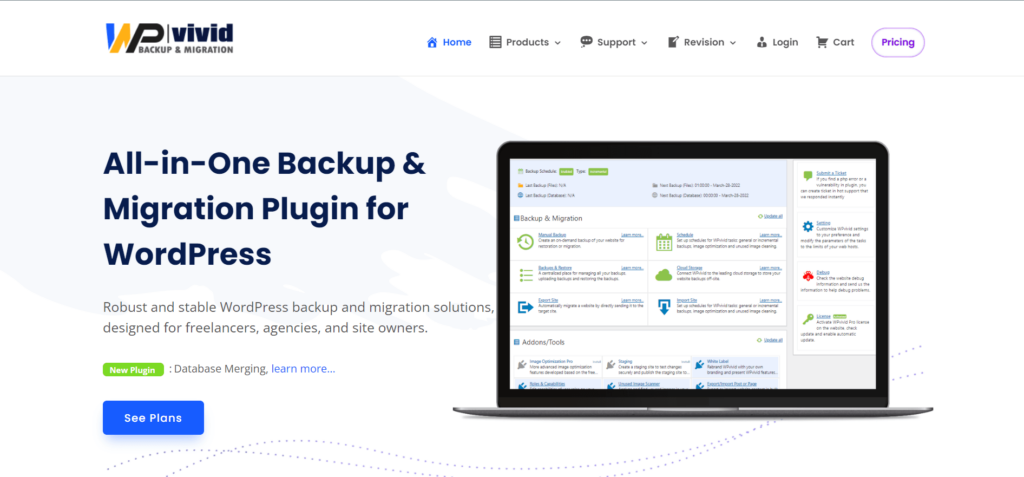 Rating: 4.9/5
Total Download: 4.4M Plus
Active users: 300k Plus
Wpvivid is a comprehensive and all-in-one WordPress Backup & Migration Plugin designed for freelancers, agencies, and primarily site owners, especially bloggers. It stands out as the most affordable backup plugin among all others, currently offering a 20% discount.
With this plugin, you can effortlessly automate backups and store them in a remote location, ensuring you can easily restore your website with just a few clicks. It boasts a user-friendly interface, making it easy to understand even for those who are not very technically savvy.
Key Features:
Incremental Backups: Utilizes advanced techniques for faster backups by saving only changes since the last backup, reducing server load.
One-Click Backup: Effortlessly creates complete WordPress website backups with files, databases, themes, plugins, and media.
Flexible Storage Locations: Users can choose backup storage locations like Google Drive, Dropbox, Amazon S3, local servers, or FTP/SFTP.
Easy Restoration: Enables quick recovery by effortlessly restoring the website to its previous state with just a few clicks.
Site Migration Made Simple: Intuitive feature for easy WordPress website transfer between hosts or domains.
Backup Customization: Offers various backup process customization options.
Direct Site Migration: Transfers the website directly between domains or hosts without intermediate backups.
Multisite Support: Easily manages backups and migrations for WordPress multisite installations.
Security & Reliability: Ensures backup security with industry-standard encryption techniques and reliable backup file integrity.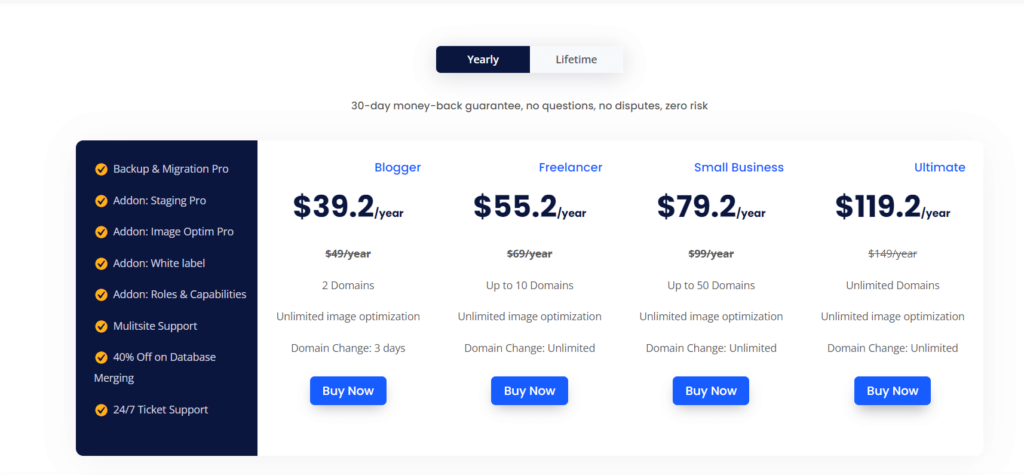 Plans & Pricing:
The pricing varies for different user types; for bloggers, it costs just $39.2 per year, whereas, for freelancers and small businesses, there are different price options. For more detailed information regarding the features and pricing, kindly visit their website.
2. Duplicator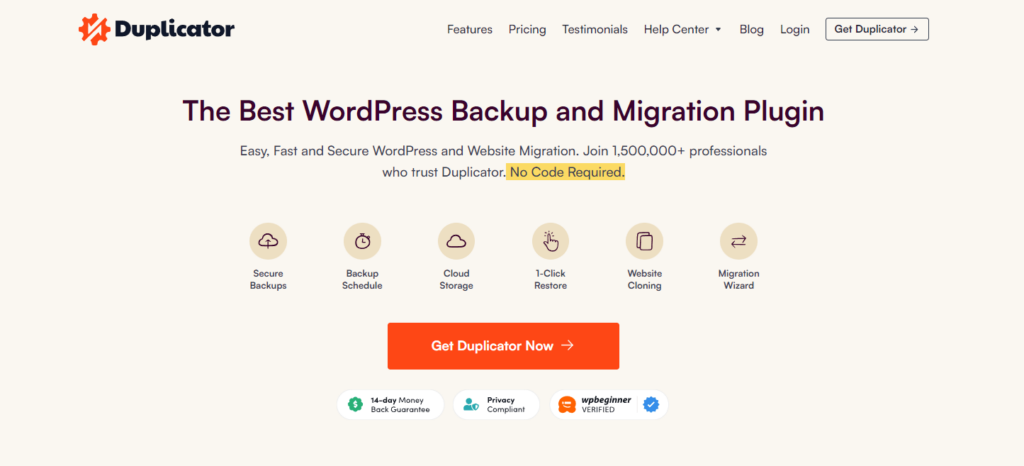 Rating: 4.9/5
Active users: 1.5M Plus
Duplicator is a popular and user-friendly WordPress Backup Plugin with over 1.5 million users. It simplifies the process of backing up, migrating, and cloning WordPress sites without requiring coding skills. The plugin supports various storage systems, including cloud options like Dropbox, Google Drive, Amazon S3, and OneDrive. Experience the convenience and peace of mind it brings now.
Key Features:
Complete WordPress Backups: Duplicator ensures comprehensive backups of your entire WordPress website, including files, database, and settings.
Automatic Backup Schedule: You can set up automated backup schedules so your website is regularly backed up without manual intervention.
Cloud Backup Storage: Duplicator supports storing your backups on cloud storage services like Dropbox, Google Drive, or Amazon S3, adding an extra layer of security.
1-Click Restore: With just a single click, you can easily restore your website from a previously created backup, simplifying the recovery process.
Secure Backup Encryption: Duplicator provides encryption options to protect your sensitive data during the backup process, ensuring data security.
Quick Website Transfer: You can quickly move or transfer your entire WordPress website to a new host or domain with Duplicator's seamless migration capabilities.
Multisite Network Support: Duplicator is compatible with WordPress multisite networks, enabling efficient backups and migrations for multiple websites within the network.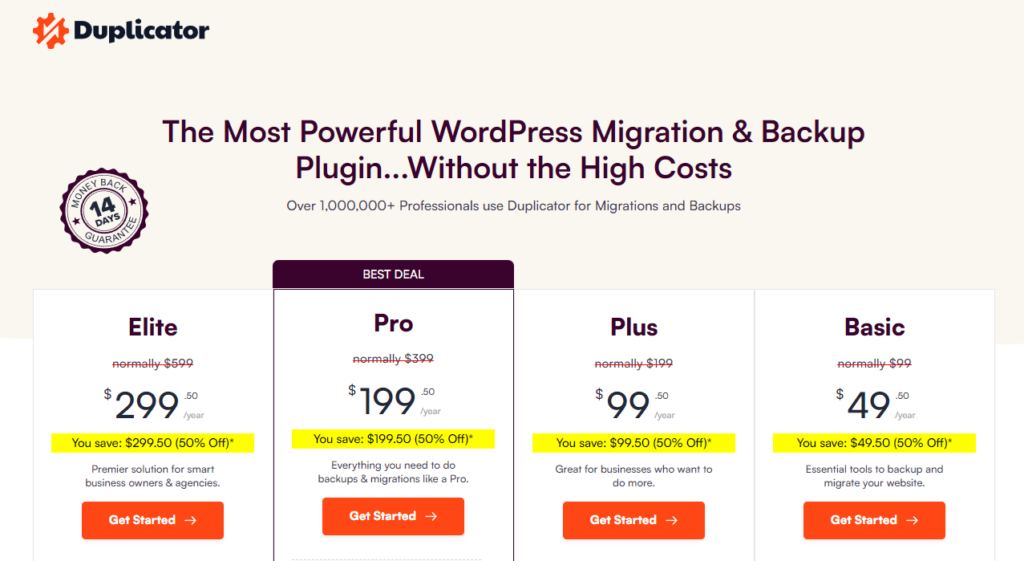 Plans & Pricing:
The Duplicator offers both free and paid versions, with additional features and support available in the paid version. The basic plan costs $49 per year, making it suitable for small-scale needs. For more information, please visit their website.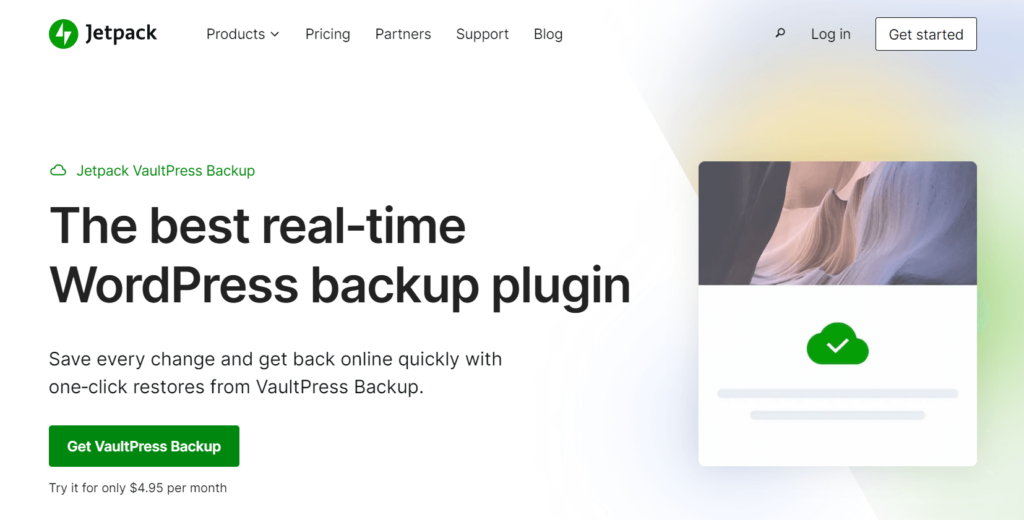 Rating: 4.6/5
Active Installs: 3000+
Jetpack VaultPress Backup is a popular WordPress plugin co-founded by Matt Mullenweg, and it offers extensive protection for your website by automatically backing up all changes. In case of a crash, you can easily restore your site to its latest state within minutes. With advanced features and a user-friendly interface, it ensures secure and easy data recovery. It also includes an activity log to track site actions, making it a top choice for WooCommerce stores.
Performance Features:
It improves site speed and SEO for a better visitor experience.
VideoPress enables ad-free Full HD videos within the WordPress editor.
It offers instant site search for better content discovery.
Jetpack Boost provides free speed enhancements to improve Google ranking.
It includes a free global CDN for instant content delivery.

Plans & Pricing:
Jetpack VaultPress Backup offers an introductory pricing of $4.95 per month for the first year. After that, the Complete plan costs $59.40 for the initial year when billed annually, and the regular price is $119.40 per year. The Complete plan comes with 10GB of backup storage, real-time cloud backups, one-click restores, priority support, and a 14-day money-back guarantee if you are not satisfied with its features.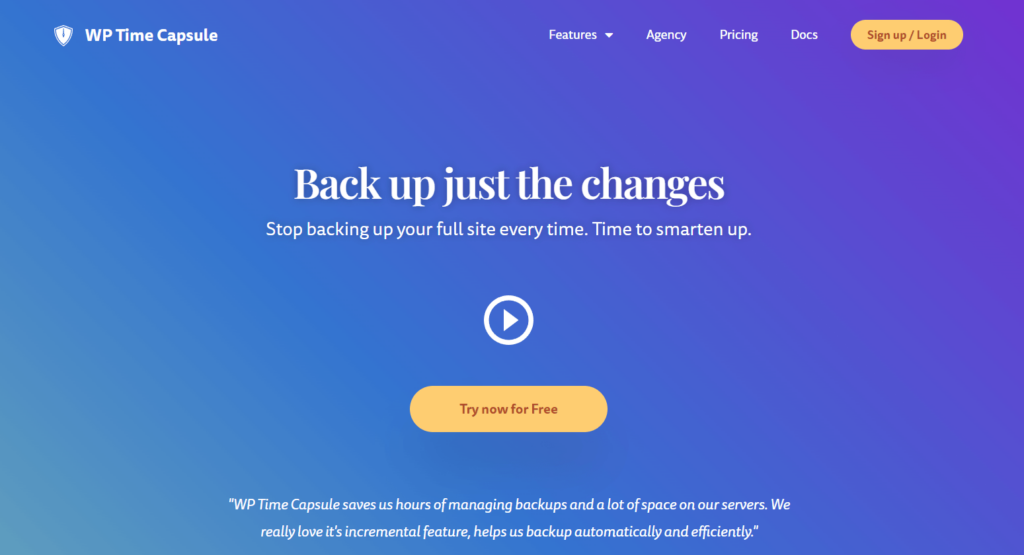 Rating: 4.1/5
Downloads: 12M plus
Active Installs: 20,000+
WP Time Capsule stands out as a trustworthy and exceptional incremental backup plugin, providing flawless safeguarding for websites. By employing its incremental backup feature, it effectively lessens the server's burden and conserves valuable storage space.
This plugin is particularly beneficial for those seeking to preserve recent file modifications instead of backing up the entire WordPress site.
Additionally, WP Time Capsule offers seamless integration with numerous cloud storage providers such as AWS S3, Google Drive, and Dropbox, simplifying backing up WordPress files. Be sure not to overlook these key features when considering this plugin for your website's protection needs.
Key Features:
Real-time Backup: WP Time Capsule ensures instant and automatic backups for WordPress sites.
Staging Area: Preview updates and modifications in a secure staging environment.
Clone/Migrate: Effortlessly clone or migrate your website to a new location using WPTC backups.
Incremental Backups & Restores: Save space and time with incremental backups and easy restores.
Multiple Storage Support: Back up your data to various storage services like AWS S3, Google Drive, and Dropbox.
Plans & Pricing: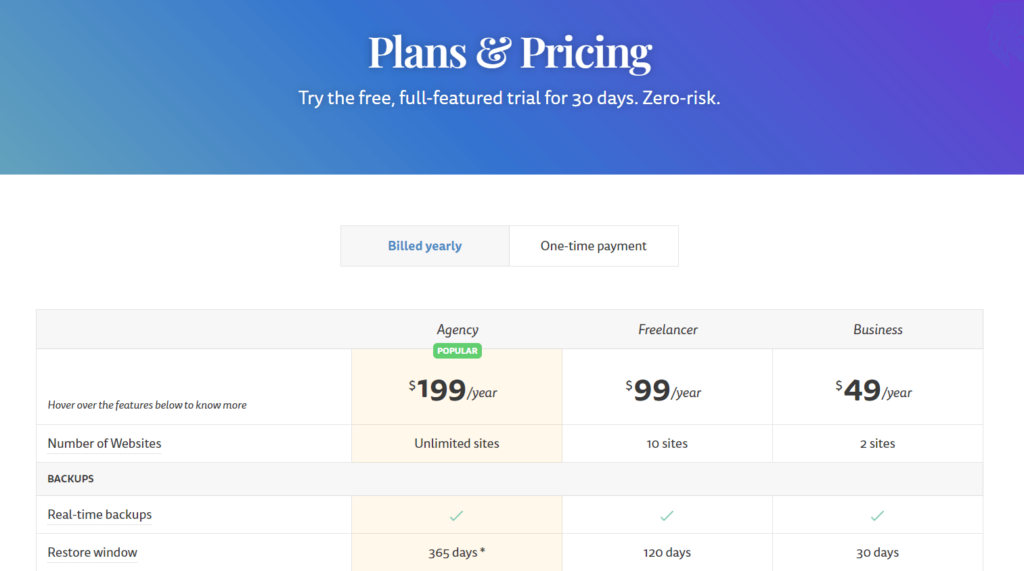 WP Time Capsule provides various plans for both yearly and one-time payments, including a 30-day free trial. The business plan costs $49 per year or $149 for a one-time payment and includes 2 site hosting. It is an excellent option for both businesses and freelancers, as it allows hosting 10 different sites for just $99 per year. For more information, please visit their official website.
5. BackWPup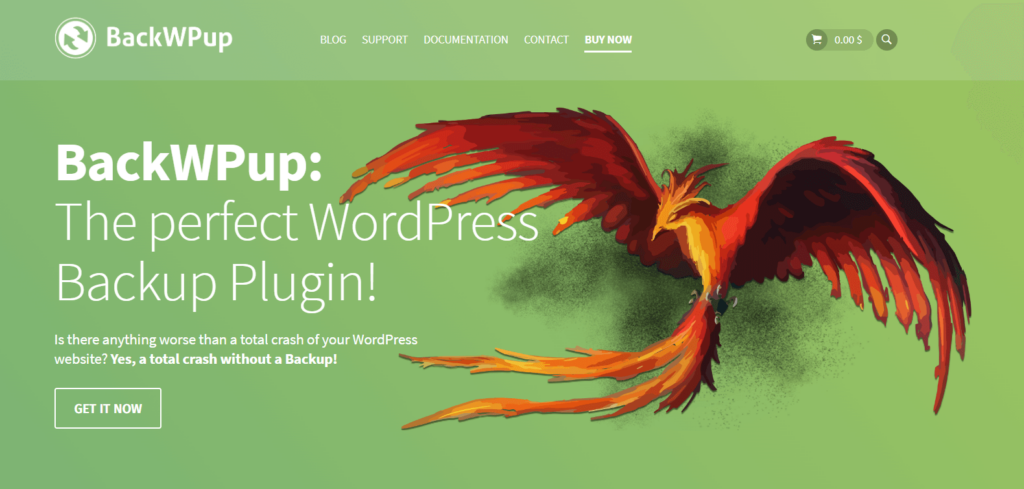 Rating: 4.4/5
Downloads: 12M plus
Active Installs: 700,000+
As a WordPress user, you know how crucial it is to protect your website's data. BackWPup is the perfect solution, making it easy to create and restore backups effortlessly. It's used by millions and offers flexible storage options like the cloud, FTP servers, and email.
The free version provides robust backup choices to safeguard your site from data loss. For more advanced features, consider the commercial edition. The best part? BackWPup is entirely free, letting you create complete backups on the cloud (Dropbox, Amazon S3, etc.) or your local computer. Automatic backups keep your data safe and up-to-date hassle-free.
Key Features:
Effortless Backup and Restore: Easily create and restore backups of your WordPress site.
Multiple Storage Options: Choose from various locations like cloud, FTP, and email for storing backups.
Free Version with Robust Backup Choices: Comprehensive backup options to protect your site for free.
Automatic Backups: Schedule backups based on your site's update frequency.
Complete WordPress Backup: Save your entire installation, including /wp-content/, in a single .zip file for easy restoration.
Free Cloud Storage: Store backups on popular cloud services like Dropbox and Amazon S3 at no extra cost.
Local Computer Storage: Save backups directly to your computer for easy access.
Priority Support (Pro Version): Upgrade for faster assistance with backup-related issues.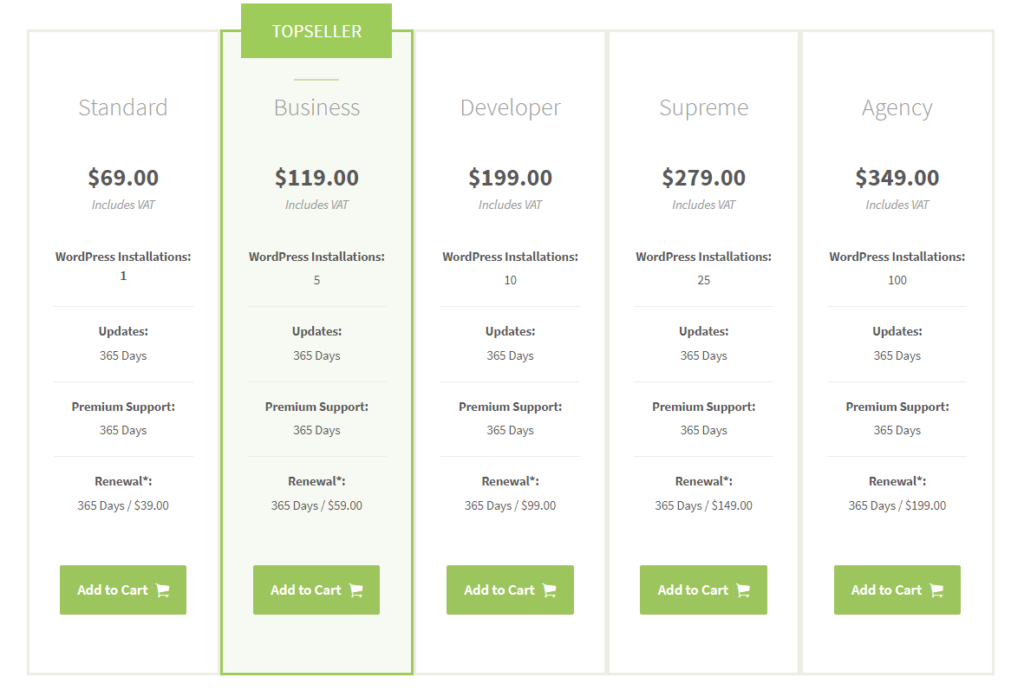 Plans & Pricing:
The BackWPup plugin's core version is available for free, but it also offers various paid options for users who want additional features. The standard plan costs $69 per year and supports a single WordPress installation. Different pricing is available for businesses, developers, and agencies. For current offers and pricing, visit BackWPup's official website.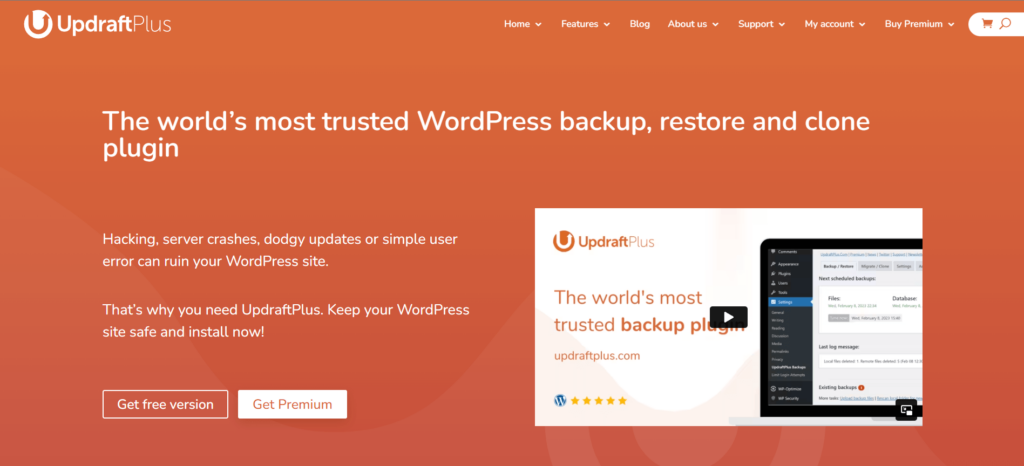 Rating: 4.8/5
Downloads: 12M plus
Active Installs: 700,000+
UpdraftPlus is a popular and reputable WordPress plugin that offers reliable and efficient backup solutions with its user-friendly interface and advanced features. Trusted by over 3 million websites, it enables easy data safeguarding and restoration.
From beginners to experienced users, it provides versatile backup options, including scheduled backups and remote storage, making it an essential tool for ensuring website security and stability.
Key Features:
Automated Backups: Updraft schedules regular backups of your website's files and database, offering customizable frequency and timing for data protection.
Multiple Storage Options: Store backups securely on popular cloud storage services like Dropbox, Google Drive, and Amazon S3 for easy access.
Selective Backups: Choose specific files, folders, or database tables to include in backups, saving time and storage space.
One-Click Restoration: Quickly restore your entire website or select files in case of data loss or website failure.
Migration and Cloning: Effortlessly migrate your website to a new domain or hosting provider and create clones for development and staging purposes.
Incremental Backups: Efficiently backup only the changes made since the last backup, reducing backup size and time.
Backup Encryption and Compression: Option to encrypt and compress backup files, ensuring security and minimizing storage requirements.
Backup Retention: Define the retention period for backups, allowing efficient management of storage space.

Plans & Pricing:
UpdraftPlus provides free and paid versions for various users. The personal version costs $70/ year, allowing hosting for two sites, while the business version costs $95/ year, allowing hosting for ten sites. Additional offers are available for different users. For more information, visit the official website. (Site Link)
7. BlogVault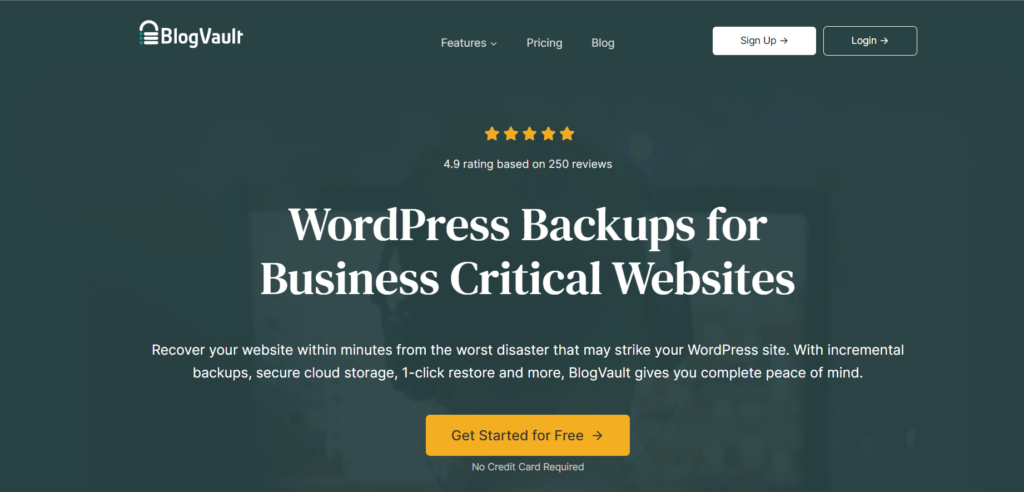 Rating: 4.3/5
Active Installs: 100,000+
BlogVault is not just a typical backup plugin. It's a comprehensive WordPress and WooCommerce backup solution that operates like a SaaS. With an independent dashboard, you can manage backups for multiple websites, view uptimes, and schedule backups. Restore your website instantly with just one click, even in the event of losing access to both your website and hosting account. Utilizing incremental technology, BlogVault optimizes website performance and speed while securely storing backups on off-site servers. Protect your valuable data effortlessly with BlogVault!
Key Features:
BulletProof Backups: A fail-proof backup solution for your WordPress site.
WordPress Migrations: Easily migrate your WordPress site with just one click.
Monitoring: Advanced monitoring features tailored specifically for WordPress sites.
WooCommerce Backups: Real-time backups designed for WooCommerce sites for enhanced data protection.
Data Security: Enterprise-grade data security at no extra cost.
Multisite Backups: Backup, restore, and migrate multisite installations effortlessly, including subdomains and sub-directories.
Security: High-performance WordPress security measures to safeguard your website.
Reliable Restores: Quick and dependable restoration from your WordPress backups.

Plans & Pricing:
BlogVault offers a free trial with a 100% success rate. Their basic paid plan starts at just $89 per year, which includes a year of license, backups, and staging features. Additionally, they offer plus and pro plans with different prices and numerous extra features compared to the basic plan. For more information, kindly visit their website.
Bonus Plugin:
As we reach the end, allow me to introduce you to the top-notch backup plugin, boasting a wide array of great features. Enjoy an incredible discount of up to 45%, along with 24/7 customer support. Furthermore, we offer a 14-day money-back guarantee if you find the features unsatisfactory.

Rating: 4.6/5
Active Installs: 4000+
Everest Backup, a top-notch WordPress plugin loved by many users. It's famous for its awesome features and easy-to-use interface. With just one click, you can quickly back up your WordPress website without any hassle. No wonder it has earned numerous 5-star ratings from satisfied users. Keep your website safe and secure with Everest Backup, the reliable companion for your WordPress journey.
However, the plugin's capabilities extend beyond backup and restoration; it also allows seamless website migration through simple copy-and-paste actions. Moreover, Everest Backup doesn't only offer multiple storage options but also provides a free integration with Google Drive. This means you can connect your Google Drive and automatically upload all backup files to a designated folder.
The free version includes Google Drive integration, and you can easily manage all backup files directly from your WordPress Dashboard without needing to log in to Google Drive. Additionally, the plugin offers more cloud integrations such as OneDrive, Dropbox, AWS Amazon S3, pCloud, and Backblaze as optional add-ons.
Key Features:
Automated and Manual Backups: Everest Backup offers automated and manual backups with easy scheduling and restoration.
Migration and Cloning Made Easy: Effortlessly transfer backup files between websites using the "magic link" without manual downloads or uploads.
Cloud Storage with Google Drive: Securely store backups on Google Drive or other cloud services, compatible with automatic restore plans.
Advanced Reporting and Human-Readable Logs: Get notified about completed backups and easily understand logs without technical assistance.
Multisite Support: Full support for WordPress Multisite installations, including backup and restore for the entire Multisite Network in the free version.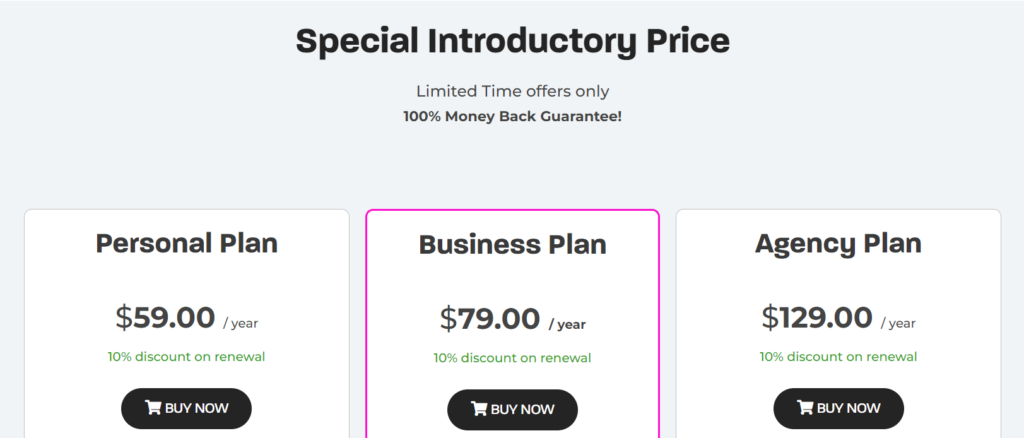 Plans & Pricing:
Everest Backup offers free and premium plans. The personal plan costs $59, and the business plan costs $79 per year, with up to 45% off on the first purchase and 10% off on renewals for all other plans. The plugin provides numerous features and excellent support in the premium version. For more information, please visit its official website.