In the era of hackers, bad plugin updates, data fraud, and random content overwriting, backing up your WordPress website regularly are crucial. But, when it comes to WordPress backups, how frequently should we perform them, and what types of backups should we implement? These are the questions that come to our minds while backing up our data.
The sort of site you operate and how frequently the site's files and data change will determine the success of your backup strategy. There are three ways to backup your website
Manual Backup
Backup through a web host provider
Install WordPress Backup Plugin
Among these three backup with a plugin is the most secure, reliable, and easy.
Issues with Manual Backup
Restores are unreliable for large sites
Restores may fail because of network issues
Storage is now your concern
Time-consuming process
Backup manually: To build a backup of your WordPress data, you can use a WordPress Export. Go to the Tools menu and pick Export. Then, on the Download option, choose all options.
Here we have an article related to Which WordPress files you should back up and what is the right way to do it.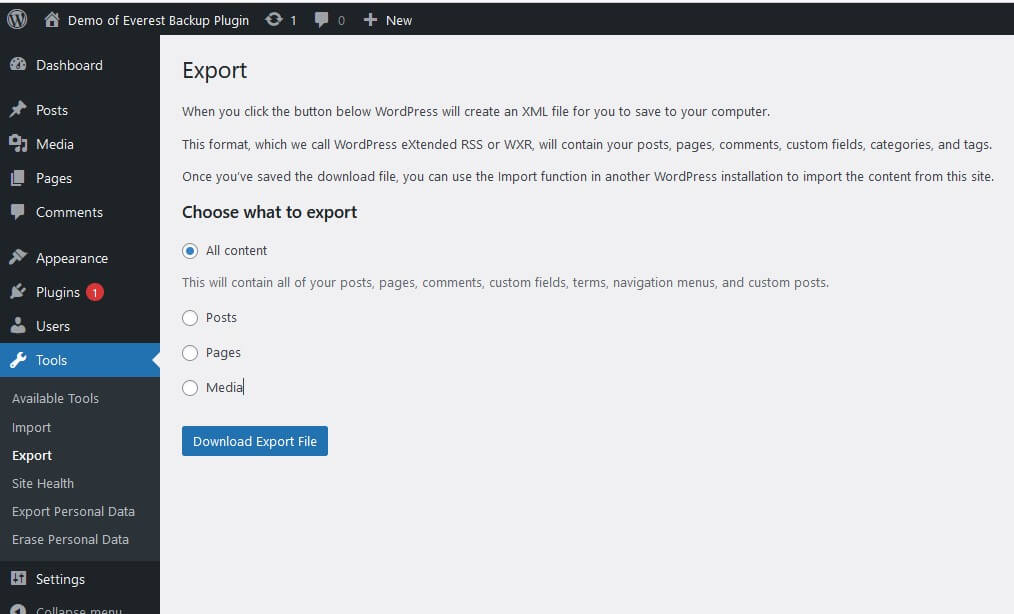 This technique is only for backing up the content of your WordPress site. Because it does not back up your site files or databases, this invokes a secondary backup. This is because a backup like this is insufficient if the files are corrupted or destroyed. As a result, you should employ a backup data plugin to back up all of your WordPress site's files and databases or contact your host provider.
Issues with Web Host Backups
It is true that you can take backups from your web host providers when needed. So you might think "Why to install the plugin for that". It is a good way to start backing up your website but for s sustainable solution you need a plugin to do this job.
To make you more clear about having a WordPress backup plugin let's discuss the issues with web host backups.
Because backups are frequently kept on the same server as the website, any issues that arise with the server or any of the website's extensions also impact the backup. As a result, if your server crashes, you won't be able to extract the backup.
When available, web host offsite backups are not directly available to you.
Some web servers will simply erase your website if it has been compromised.
Possibly making a mistake like neglecting to renew your hosting
With all these issues don't you think installing WordPress Backup Plugin will be the best option to take backup of your website?
But before jumping to any conclusion about getting the WordPress Backup Plugin for your website first you must know what are the must-have features of the WordPress Backup Plugin.
Must-have features of the WordPress Backup Plugin
secure storage because it will be saving your sensitive information
quick customer support when you need help regarding your backup plugin
Easy to backup and restore WordPress
WordPress full backup
Real-time backups for WooCommerce and high-traffic sites
Unlimited offsite backup storage
Incremental backups
100%safe and complete resotes
Secure and encrypted backups
Automated and scheduled backups
Handles large sites effortlessly
No impact on website performance
Independent dashboard
It is obvious that you will find many WordPress Backup plugins with similar features with must-have features in them. So what to do next? Make a list of the WordPress Backup Plugin and compare their features, price, WordPress and PHP version compatibility, Latest updates (how frequent the plugin updates its feature), reviews, and many more.
If you go through the plugins one-by-one then it will take ages for you to choose the best WordPress Backup Plugin for your website. And before you choose the best one, either it will be late (many unfortunate things can happen like hacking, virus attack, data fraud, and others) or your website will be old in comparison to the latest trends and you need to migrate your website to a new one.
That's why to make your work easy we have an article related to Totally Free WordPress Backup Plugin and Solutions.
The Everest Backup data plugin is the perfect solution if you're seeking a simple way to WordPress backup your files and databases, as well as your valuable content.
Everest Backup's capabilities go beyond backup and restoration. It's also the most efficient way to migrate a WordPress website. Copy and paste your migration key from the source website onto the destination website. With a single click, you may accomplish your site migration.
Everest Backup compresses a backup of the website, no matter what size it is. You may roll back your backup from your WordPress dashboard with a single click. This Everest Backup data plugin will backup all of your files, and the best part is that you can schedule your backups or do them manually. It also allows you to efficiently restore the backup whenever you need it.
Furthermore, you can also choose what to backup and what not to backup. With a single click, your data will be restored. You can clone your site for development, staging, or testing. You can also quickly transfer your site to a new host, domain, or table prefix.
After each backup, you'll receive an email with a status update. Human-readable logs are one of our distinctive features, allowing you to interpret charts without the need for professional assistance. Other features include Google Drive connection, Woocommerce compatibility, and multisite support.
Let's discuss briefly Everest Backup backup methods
You can back up your files in two ways:
Schedule Backup (Automatic backup)
i.e; Either you do the backup manually every time you change anything on the website. Or set the time, location, and what to backup files then let the system do this job.
How to backup Manually?
Go to the Everest Backup plugin and select Backup. There you will see two options: one manually backup and another scheduled backup.
Select what to backup (plugins, themes, media, or database). After that, choose the location where to store the backup file. Then click on backup now. It will take a few seconds, and then click on download. Within that few seconds, you can abort the backup also.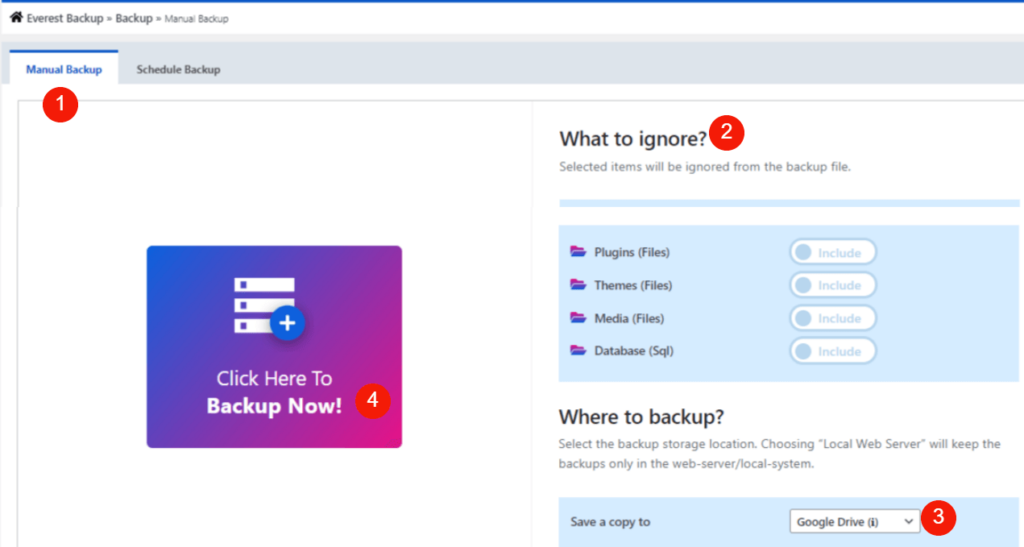 For more details: https://wpeverestbackup.com/blog/how-to-backup-manually/
For video tutorial:
How to schedule backup?
Go to the Everest Backup plugin and select Backup. There you will see two options: one manually backup and another scheduled backup. Click on schedule backup.
Set the Cron Cycle to run periodically at a fixed time to backup. After that, choose the place to save the backup file and then, select what to backup( plugins, themes, media, and database).
Then enable the notify button so that it will email you once the scheduled backup is completed. At last, save the settings. According to the time you have set, location, and selected items will be backup. You will be notified once it is completed.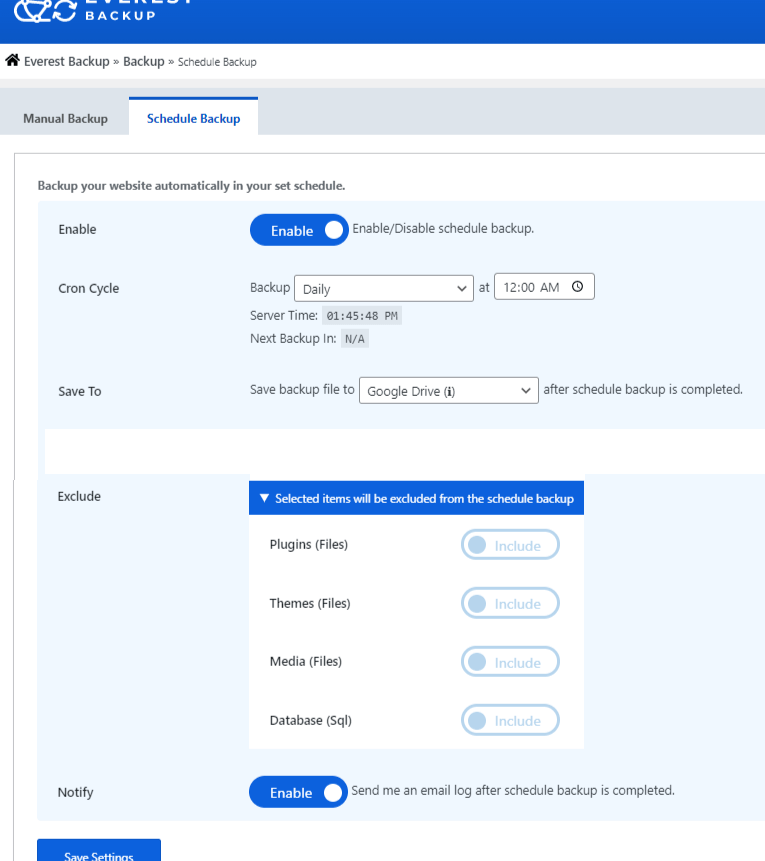 For more details: https://wpeverestbackup.com/blog/how-to-schedule-backup/
For video tutorial:
Some other features of Everest Backup data plugins:
Easy-to-use: Enroll in a simple interface that allows you to backup and restore your data with a single click on a timetable that works for you.
Client Trusted: Everest Backup is tested in more scenarios, installed on more servers, and rated higher than other competitors.
Comprehensive: Everest Backup is a complete, general-purpose backup and restores plugin with a unique feature, Human readable logs.
Other features:
Cloning and migration: Copy and paste the magic link to another domain and migrate within a minute.
Fast, personal support: Provides expert help and support from the developers whenever you are in need.
Network / multisite: Besides standard single sites, Everest Backup supports multisite network backup and migration.
Because of all these imposing features of the Everest Backup data Plugin, we recommend installing this plugin to backup your WordPress website. We promise you that with the revised version of the Everest Backup data Plugin, you will get new and productive features that are best for your website.
Learn more features of the Everest Backup Plugin Here…
Additional information
Except for Everest Backup Plugin, there are plenty of WordPress Backup Plugins with similar features. Here is the list of WordPress Backup Plugins
Total Upkeep – WordPress Backup Plugin plus Restore and Migration by BoldGrid
WP Staging – WordPressBackup Duplicator and Migration
BackWPup
UpdraftPlus
WP Time Capsule
Ultimate WP-DB manager
WP Database Backup
WPBackItUp
BackUpWordPress
BlogVault
BackupBuddy